Waiting in Amsterdam made easier for inland navigation
Port of Amsterdam is convinced that access to the port can always be smarter, faster and cleaner.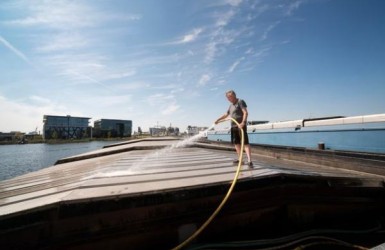 Port of Amsterdam has become connected to the national Inland Shipping Berth Information System (BLIS). In order to be able to facilitate and serve the inland navigation customer group even more effectively. BLIS provides the inland navigation sector with an easier way to gain insight into and extensive information about the occupation of the berths for inland navigation in Port of Amsterdam.
BLIS lets boatmasters see which berths are available
The information that the participating Dutch ports enter into BLIS can be seen on the 'Blauwe Golf' website.
The current availability of the public inland navigation berths is shown on a map, which will now also include Amsterdam.
A boatmaster can set a specific course because the map shows exactly where an unoccupied waiting space is located. This results in an elimination of unnecessary movements, lower fuel costs, fewer emissions and an improved traffic flow in the port.
De Blauwe Golf
'De Blauwe Golf' is part of the 'Better Utilisation' programme. Businesses, knowledge institutions and governmental agencies are collaborating within the context of this programme to develop smart solutions for improving accessibility. The objective is to make transporting people and cargo faster, safer, cleaner and more comfortable.
The Dutch Ministry of Infrastructure and the Environment and various regional players are joining forces to create optimum transit. The improved information exchange, particularly concerning lock and bridge opening times and the availability of berths, will result in reduced travel time for all waterway and road traffic.
Further development
Inland navigation is of great importance to the Amsterdam port region. More than 56% of all the cargo transport from and to the region occurs by inland navigation. This percentage is also growing every year.
Inclusion of Port of Amsterdam in the national BLIS is one of the results stemming from the 'Inland Navigation Client Centricity' programme. Based on this programme, work is being done to deliver improved facilities at the right price, to invest in contact and communications and to streamline the processing of inland navigation.
The next development is already underway. Push barges proved to be too specific for inclusion in the BLIS. This is why Port of Amsterdam has initiated collaboration with Port of Rotterdam to develop a Push Barge Information System (PBIS).