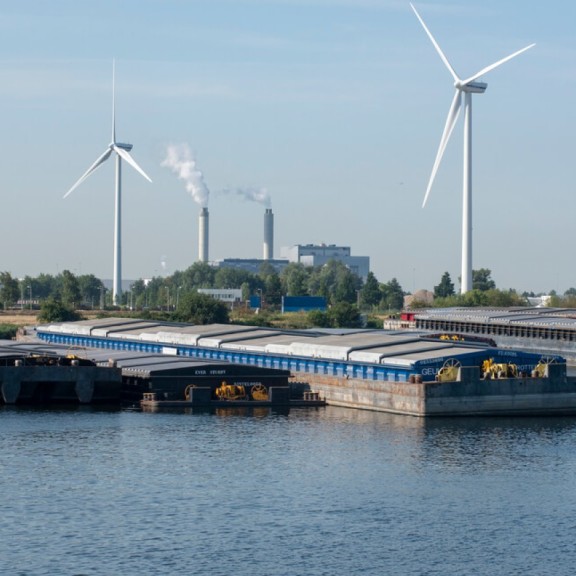 The Energy Cooperative Amsterdam Harbour (ECAH); a collective solution to congestion
Grid congestion on the electricity network in the Amsterdam port is preventing Liander from distributing extra power at the Westhaven, IJ-polder, Basisweg and Ruigoord substations. Collectively, we can solve this.
The impact of congestion
Congestion means that established companies cannot expand their capacity, and newly established companies cannot get the capacity they need on the electricity network. This results in a slowdown of economic development and energy transition within the Amsterdam port. The Energie Coöperatie Amsterdamse Haven (ECAH) is an effective solution that helps companies located in the port get the electricity they need.
Our approach
Port of Amsterdam would like to establish the Energie Coöperatie Amsterdamse Haven (ECAH) with these companies. This cooperation has the common aim of making more effective use of the existing capacity on the electricity grid by smart real-time sharing of the available grid capacity of individual companies. Locally generated green energy can contribute to this as well.
Data analysis shows that a large amount of unused capacity can be made available for the companies within the cooperation. This approach is similar to the already existing Energie Collectief Schiphol Trade Park.
Contact our specialist
Interested? Contact Reinoud Botman for more information or an introductory meeting.
Learn more about the congestion problem
To learn more about energy congestion and everything that has to do with it, you can read more about the topic here.
Shared Energy Platform
SEP was built from a collaboration between Port of Amsterdam and Entrnce, a subsidiary of network company Alliander. SEP operates a mutual (peer-to-peer) electricity trade between companies in the Amsterdam port. The aim is to better coordinate joint electricity use and sustainable electricity production (e.g. solar and wind) to save costs. This will also make more effective use of the overhead electricity network possible. SEP is the co-initiator of the collective solution to grid congestion in the Amsterdam port. Want more information? Click here.