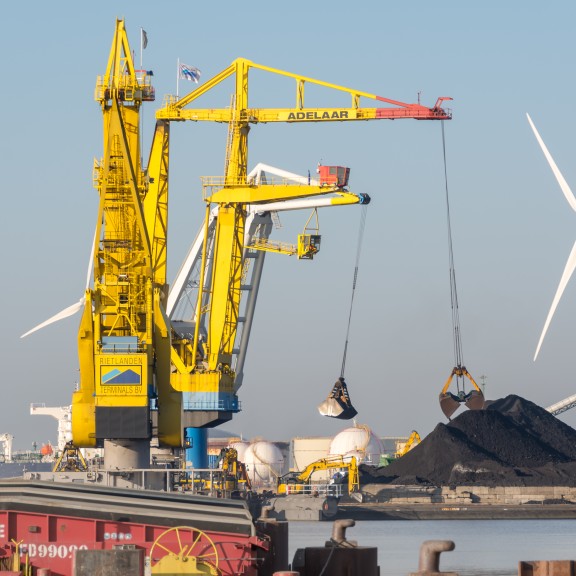 New owner Rietlanden bids farewell to coals
Coals terminal Rietlanden, which was owned by the Japanese company JERA Global Markets, has been sold to Rhenus Group, a big logistics player in tranport and storage. In a joint statemnt, both companies confirmed this today. With the sale, Port of Amsterdam has secured there will be no more coal transhipment from 2030. The new owner will transform Rietlanden into a terminal where other types of non-fossil cargo will be transhipped. Rhenus and Port of Amsterdam will work this out further in the future.
Coal-free port
In 2017, Port of Amsterdam declared to be a coal-free port in 2030. Despite the growth in the quantity of coals over the past two years due to geopolitical developments, we still have this ambition. The sale of Rietlanden and the new owner's ambition to transform into a non-fossil terminal fit into our strategy. Rietlanden's transfer to the German Rhenus will take place in two phases. The first starting this year, with a second phase in 2027.  
Departure for cargo, not clients
Koen Overtoom, CEO Port of Amsterdam: "Since we announced our goal to be a coal-free port in 2030, great strides have been taken to transform the coal terminals in our port. We are saying goodbye to the cargo, not the clients. Together with our clients, we are working on a future-proof, climate-neutral port. We are overjoyed that this new and big logistics player is joining us, as they are able to further expand our shared ambitions and transform Rietlanden into a terminal that has great potential for the future.  
JERA Global Markets and Rhenus' joint press release can be found here.