Sea Lock: built for the future
The Port of Amsterdam's new front door
Thanks to the new sea lock, the Port of Amsterdam is assured of a reliable entrance to the North Sea for a long time to come. With this, we can work together with the North Sea Canal municipalities and other parties in the area to develop the port as a sustainable and circular energy and raw materials hub. That's how we plan to facilitate the necessary steps towards the sustainability of the economy and our society. Learn more about the exact steps below.
Sea Lock IJmuiden is the largest sea lock in the world. How big is the lock exactly? And what kind of ships pass through it?
Sea Lock IJmuiden is 500 metres long, 70 metres wide and 18 metres deep.
Over 630 million litres of water go into the lock. That's equivalent to 252 Olympic swimming pools. 
Ships of up to 399 metres long and 57 metres wide can use the lock.  
The new sea lock isn't dependent on the tide and can be used 24/7.
Sea Lock IJmuiden is a replacement for the Noordersluis lock, which was completed in 1929.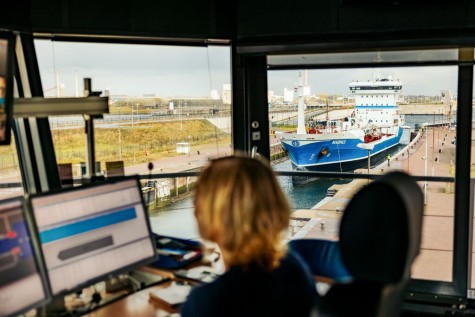 Naast Zeesluis IJmuiden vind je op het sluizencomplex in IJmuiden ook:
De Zuidersluis
Dit is de kleinste en eerste sluis van het complex, gebouwd in 1876.
De Middensluis
Deze sluis, gebouwd in 1896, was tot de opening van de sluizen bij Panama (1913) de grootste ter wereld.
De Noordersluis
Deze sluis wordt ook nog veel gebruikt om grotere schepen te schutten en is in 1929 opgeleverd.
De Spuisluis
Het huidige spuicomplex werd in 1945 in gebruik genomen en heeft een capaciteit van 700 kubieke meter per seconde.
Het Gemaal
Het gemaal vervult een belangrijke rol in de afwatering van een groot deel van Noord- en Zuid-Holland.
Selectieve Onttrekking: bouw van de zoutdam
Met de komst van Zeesluis IJmuiden komt er per schutting meer zout vanuit de zee het Noordzeekanaal in. Te veel zout in het kanaal is niet goed voor het milieu, land- en tuinbouw en de kwaliteit van ons drinkwater. Om te voorkomen dat het zoutgehalte in het Noordzeekanaal teveel toeneemt, bouwt Rijkswaterstaat daarom in het Binnenspuikanaal op het sluizencomplex aan een zoutdam, met een grote opening onderin. In een animatie legt Rijkswaterstaat uit hoe dat werkt.
A personal view on Sea Lock IJmuiden
What is it like to operate the largest lock in the world? And what do local residents actually think of the IJmuiden sea lock? We ask various stakeholders about their relationship with the lock in a series of online videos. Check out the full series on our LinkedIn page and stay tuned.
A look back on the construction of the IJmuiden sea lock
Sea Lock IJmuiden is one of the largest infrastructural projects in our country. A structure to be proud of. The lock was commissioned by the Dutch Directorate-General for Public Works and Water Management (Rijkswaterstaat), and built by contractors consortium OpenIJ. It was a collaboration between the Ministry of Infrastructure and Water Management, the Province of North Holland, the City of Amsterdam, the Municipality of Velsen and the Port of Amsterdam.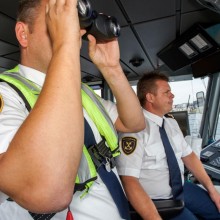 Port News
Don't miss any news about the Port of Amsterdam. Our newsletter is filled with all the ins and outs, straight from the source. Sign up and stay informed.
The participating organisations