Sea Lock: built for the future
The Port of Amsterdam's new front door
Thanks to the new sea lock, the Port of Amsterdam is assured of a reliable entrance to the North Sea for a long time to come. With this, we can work together with the North Sea Canal municipalities and other parties in the area to develop the port as a sustainable and circular energy and raw materials hub. That's how we plan to facilitate the necessary steps towards the sustainability of the economy and our society. Learn more about the exact steps below.
Sea Lock IJmuiden is the largest sea lock in the world. How big is the lock exactly? And what kind of ships pass through it?
Sea Lock IJmuiden is 500 metres long, 70 metres wide and 18 metres deep.
Over 630 million litres of water go into the lock. That's equivalent to 252 Olympic swimming pools. 
Ships of up to 399 metres long and 57 metres wide can use the lock.  
The new sea lock isn't dependent on the tide and can be used 24/7.
Sea Lock IJmuiden is a replacement for the Noordersluis lock, which was completed in 1929. 
A personal view on Sea Lock IJmuiden
What is it like to operate the largest lock in the world? And what do local residents actually think of the IJmuiden sea lock? We ask various stakeholders about their relationship with the lock in a series of online videos. Check out the full series on our LinkedIn page and stay tuned.
A look back on the construction of the IJmuiden sea lock
Sea Lock IJmuiden is one of the largest infrastructural projects in our country. A structure to be proud of. The lock was commissioned by the Dutch Directorate-General for Public Works and Water Management (Rijkswaterstaat), and built by contractors consortium OpenIJ. It was a collaboration between the Ministry of Infrastructure and Water Management, the Province of North Holland, the City of Amsterdam, the Municipality of Velsen and the Port of Amsterdam.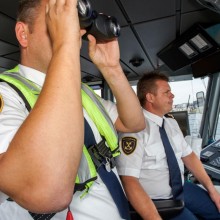 Port News
Don't miss any news about the Port of Amsterdam. Our newsletter is filled with all the ins and outs, straight from the source. Sign up and stay informed.
The participating organisations