Drones in the Amsterdam port area
Port of Amsterdam stimulates and facilitates where possible emerging technologies such as the development and deployment of drones. On this page all information can be found regarding the use and conditions for deployment of both flying and sailing drones.
Marine and aerial drones
By drones, Port of Amsterdam means both the unmanned flying, and the sailing and diving variants. We follow developments and focus on three different roles:
User. As a Port Authority, we are actively exploring the possibilities that drones can bring to our own operations.
Network partner. As a spider in the web, the Port Authority helps companies in the port area with the deployment of drones where possible, for example by communicating the current state of laws and regulations.
Port Authority. As a nautical authority we actively seek the balance between added value and safe and responsible deployment of drones. For flying drones, ILT and LVNL are still the most.
Why focus on drones?
Drones in the air, and on and under the water, have long been a part of our world. It is almost certain that the number of drones will only increase. Progress in technology and applications is rapid, and at the same time laws and regulations are changing. Port of Amsterdam is committed to encouraging the use of drones as much as possible, but also to making this happen as safely and responsibly as possible.
At the moment we are slowly seeing applications in the port grow. In particular, inspections of infrastructure and other objects in the port are leading the way. Think of the 3D scanning of buildings and pipelines, detecting heat leaks in roofs, measuring bulk cargo, or inspecting spaces that are difficult for people to reach, such as ships' ballast tanks.
But also air quality measurements, deployment in emergencies, or deployment as an extra pair of eyes for surveillance are examples of how drones will change work in the port in the future. Drones will contribute to a port that operates more efficiently, faster, and safer.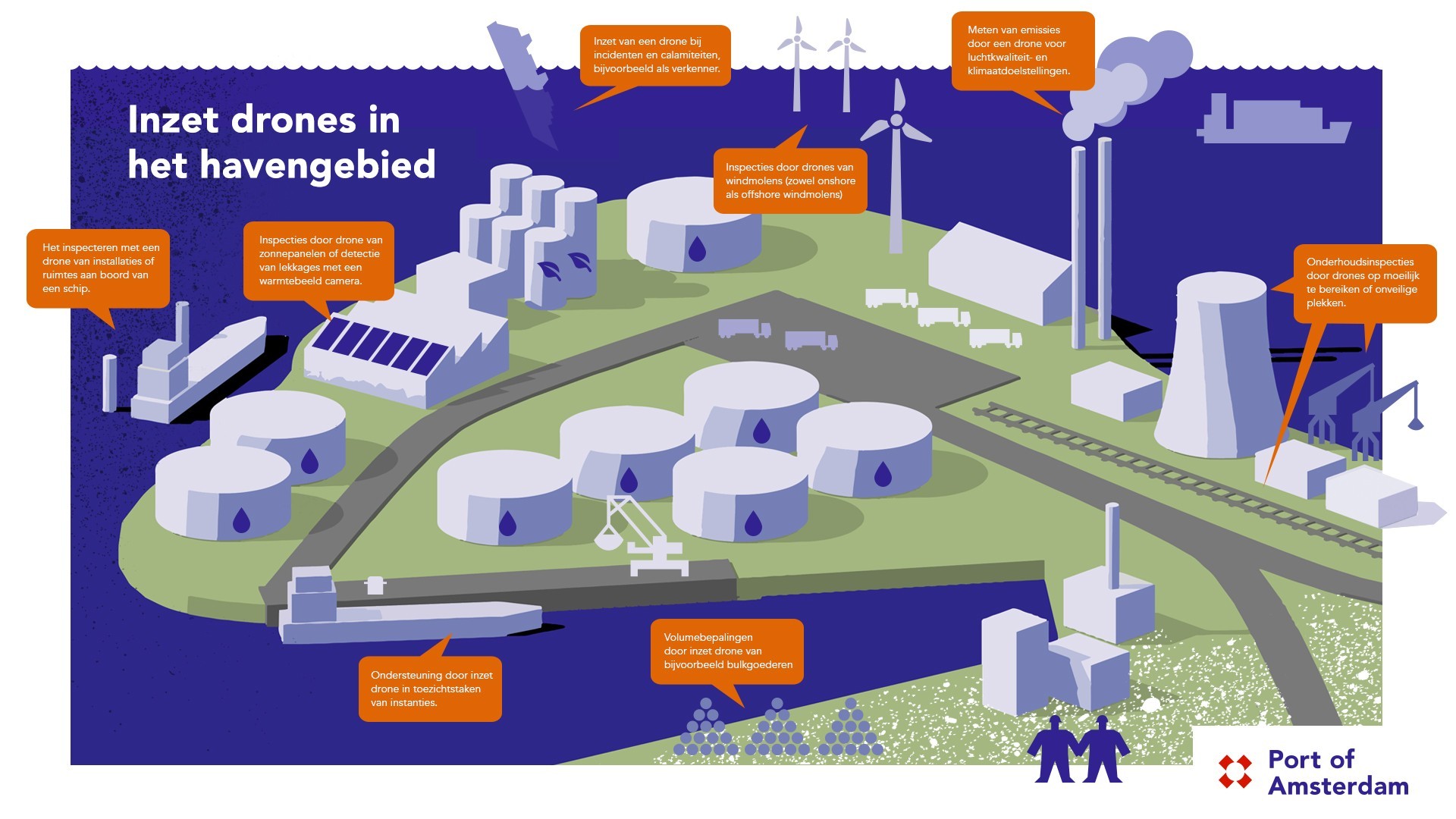 Marine drones
Sailing drones can be used in the port for various tasks, such as scanning the bottom (hydrography), taking water quality measurements, or inspecting hard-to-reach locations such as under jetties and quays. Port of Amsterdam is also experimenting with sailing and diving drones, and has partially explored the impact this technology may have on its own nautical operations in a pilot in 2019.
Legislation for sailing drones
Like legislation for flying drones, that for sailing and diving drones is also constantly evolving. To sail with (semi/autonomous) sailing drones, you need a license, which is granted by the Port of Amsterdam in the Central Nautical Management Area (CNB, which also includes the Port of Amsterdam).
Application for permit for sailing drone
At the end of 2018, the Ministry of Infrastructure and Water Management established this permit procedure in a policy rule (viewable via this link). This sets out, among other things, the requirements that a permit application must meet. Through the website of the Smart Shipping Loket more information can be viewed and an application can be started. This application will automatically be submitted to the Port of Amsterdam. Make sure you submit the application on time, as processing can take up to 8 weeks.
Want to apply for a permit for a sailing drone? Click here.
Aerial drones
Just as for sailing drones, Port of Amsterdam also sees many opportunities and applications for flying drones in our port, both in our own operations and those of companies in and around the port area.
EU legislation
As of January 1, 2021, new EU legislation for flying drones applies nationwide. This legislation determines which type of drone may be flown where, and the conditions that must be met. As port authority, Port of Amsterdam has no official role in this legislation or the issuing of permits. More information about the new legislation can be found on the websites of the central government and the Human Environment and Transport Inspectorate (ILT).
New zoning
One of the changes in the new legislation is the division of airspace into zones that indicate which types of drone flights are allowed. Within this, a distinction is made between three categories:
Category Open. Deployment of all types of drones is permitted. No separate permission is required, regardless of regulations.
Category Specific. Use of larger drones is permitted subject to coordination with and permission from ILT.
Category Certified. The heaviest category of drones/zone to which the same regulations apply as regular manned aviation.
Type of drone flights in the port area
The port area of Amsterdam (being Westpoort) is in the new zoning measure, together with other port areas, classified for the categories Specific and Certified. This means that no flights are allowed in the port without permission and/or a license from ILT; the Open category of drone flights is not allowed. In addition, the CTR of Schiphol Airport also plays a role for drone flights in the western port area. Through this link you can see on a map where all zones are located. It is advisable to consult these before applying for a drone flight.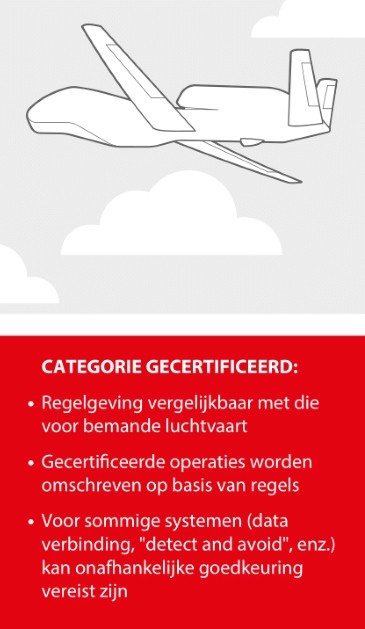 Application flying drone
Port of Amsterdam has no official role in granting permits and/or permission to fly drones in the port, this task lies with the Inspectorate for the Environment and Transport (ILT). On the ILT website you can find all information about laws and regulations, and how to apply for permission to fly a drone.
Want to apply for a permit to fly a drone? Click here.
Announcement drone flight
Nevertheless, for the supervision of our Division Harbour Master, Port of Amsterdam appreciates it if drone flights are announced via our Port Office. To do so please send an email with short explanation to portoffice@portofamsterdam.com.
Drone flying area
The drone flying area for the Amsterdam port area only is shown on the map below. Outside the red and orange zones (at IJmuiden, for instance) the standard laws and regulations imposed by the Ministry of Infrastructure and the Environment apply, supplemented by local laws that apply for the local helicopter landing places at the site concerned.
No rights can be derived from this map.
Veelgestelde vragen over drones
Contact our specialists
For questions or extra information on drones.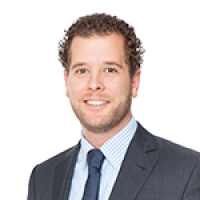 Joost Zuidema
Project Manager Strategy & Innovation