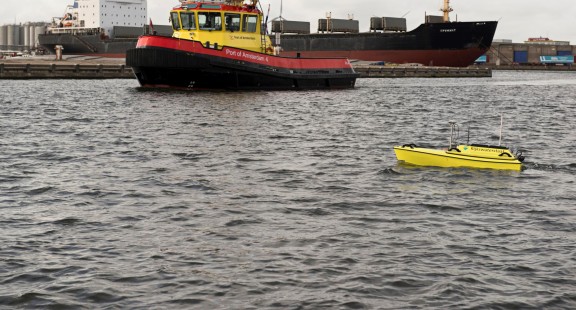 Drones in the Amsterdam port area
Port of Amsterdam supports the development of emerging technologies, such as the use of drones. This enables us to work faster, smarter, cleaner and safer in the port of Amsterdam.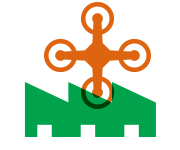 Marine and aerial drones
Drones can be both unmanned (aerial) vehicles and diving or marine vessels. A combination is of course also possible. Drones can serve as an extra pair of eyes for Port of Amsterdam in our supervisory duties, support inspections of infrastructure, or assist in the event of emergencies.
There are many possibilities for parties that are active in the port of Amsterdam. Examples include maintenance inspections on board of a ship or at a terminal. Or the monitoring of activities at the terminal for operations and safety. Drones can also be used to record images, for instance for promotional purposes.
Applications of drones (theoretical)
maintenance inspections on quays, buildings, pipeline routings and other infrastructural objects
inspections of material such as cranes and cargo holds
use in incidents and emergencies
support in supervisory duties of authorities
measurement of environmental aspects and quality in both air and water (CO2, NoX, particulate matter)
inspections of solar panels or detection of leaks of volatile substances with a thermal imaging camera
finding drowning/drowned persons
determining volume or dimensions of bulk goods or building pits, for example
recording images (for promotion of own company) or on commission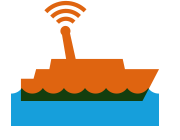 Marine drones
A test zone for marine and diving drones has been available in the Moezelhaven section of the Port since 2017. Here innovative businesses can test and demonstrate new models in practice. The test zone is located behind the Prodock innovation hub.
Prodock test zone
Prodock is the innovation hub of the port of Amsterdam. By opening this test zone we intend to bring together drone innovators and businesses that are interested in their applications.
The opening of the test zone is an invitation to innovative parties to demonstrate what is already possible. Innovation is often a question of trying, coming up against a problem and trying again. And that is something we are eager to accommodate.
Prodock has applied for an event licence for the test zone, and the Port Office has granted permission.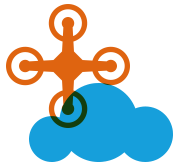 Aerial drones
Aerial drones are also known as Remotely Piloted Aircraft System or RPAS. For aerial drones, the situation differs per section of the port of Amsterdam, given the proximity to Amsterdam Airport Schiphol.
Standard rules aerial drones
Standard rules naturally apply, for instance:
You are not permitted to fly higher than 120 metres above the ground or water.
You must give priority to all other aircraft at all times.
You must fly at a safe distance from people and buildings.
The drone must always be visible.
Flying in the dark is not permitted.
Do you want to take pictures and video recordings with your drone? You must always comply with the privacy laws.
Zones and regulations
Since 2018, it is also possible to fly a drone for professional purposes within part of Schiphol's Control Traffic Region (CTR), namely in the outer 3700 metres of the CTR. In consultation with Air Traffic Control the Netherlands (Luchtverkeersleiding Nederland - LVNL), certified drone parties are permitted to carry out flights there.
The map at the bottom of this page depicts where this area is located. The port of Amsterdam is divided into three zones. Each have their own separate rules for using a drone:
Red zone: flying prohibited. At present, flying drones is still prohibited at all times in the inner ring of the CTR.
Orange zone: flying permitted to a limited extent. Flying a drone is permitted subject to strict conditions in the area within the CTR with an isorand of 3,700 metres from the outer boundary of the CTR: by pilots of certified businesses, via a filed flight plan, and there must be communication with air traffic control via a transponder. This zone covers around 60% of the Amsterdam port area.
Free zone: area outside the CTR. The standard laws and regulations imposed by the Ministry of Infrastructure and the Environment apply in this zone. Bear in mind that the map on this page does not show rules such as the prohibition of flying near traffic, contiguous built-up areas or crowds, designated nature conservation areas above which a prohibition applies, or temporary restrictions or prohibitions! A distinction is drawn between private/recreational use and professional use. For more information see the website of Ilent.
It is expected that the restrictions will be eased further in the period ahead and that flying drones will be permitted throughout the entire Amsterdam port area in due course.
Drone flying area
The drone flying area for the Amsterdam port area only is shown on the map below. Outside the red and orange zones (at IJmuiden, for instance) the standard laws and regulations imposed by the Ministry of Infrastructure and the Environment apply, supplemented by local laws that apply for the local helicopter landing places at the site concerned.
No rights can be derived from this map.
How to determine whether you are permitted to fly at a location
In this diagram (only available in Dutch) you will find the steps to determine whether or not flying is permitted at a certain location. In case of doubt, always contact the relevant authorities.
Contact our experts
For questions, requests and more information about drones.