By 2030, we want to be among Europe's top most sustainable ports. We want to grow through sustainable and socially responsible business practices (CSR). This is not only our responsibility, but also an inspiration for innovation and development of new initiatives. On this page you will discover more about what we are doing in the field of sustainability.
Adding sustainable value
Our ambition is to add sustainable value by taking initiative, implementing and persevering. In order to contribute to local and international sustainability goals. We do this at three levels:
Organisation
We are reducing our footprint and investing in being a good employer. We are committed to reducing the CO2 emissions of our own organization, for example by running our own vessels on cleaner fuels. We also work together with Pantar, a learning-working company for people distanced from the labor market, and with Emma at Work. This is a foundation that helps young people between the ages of 15 and 30 with a chronic illness or physical disability find work.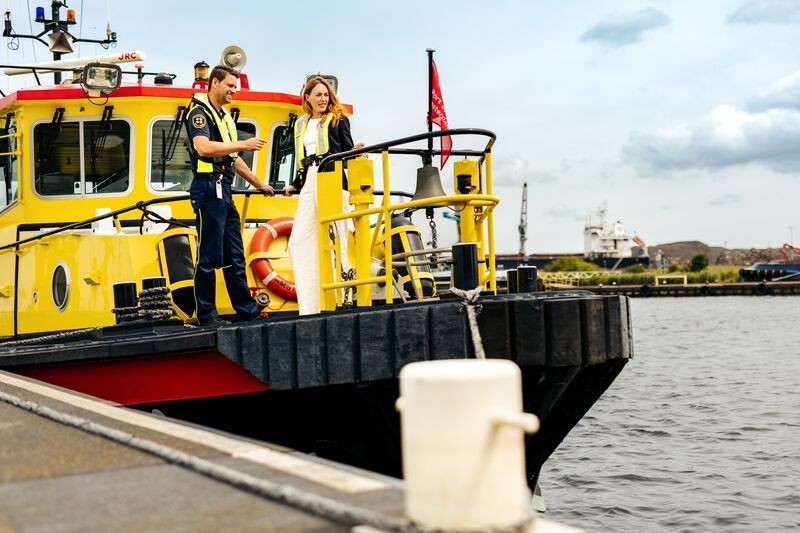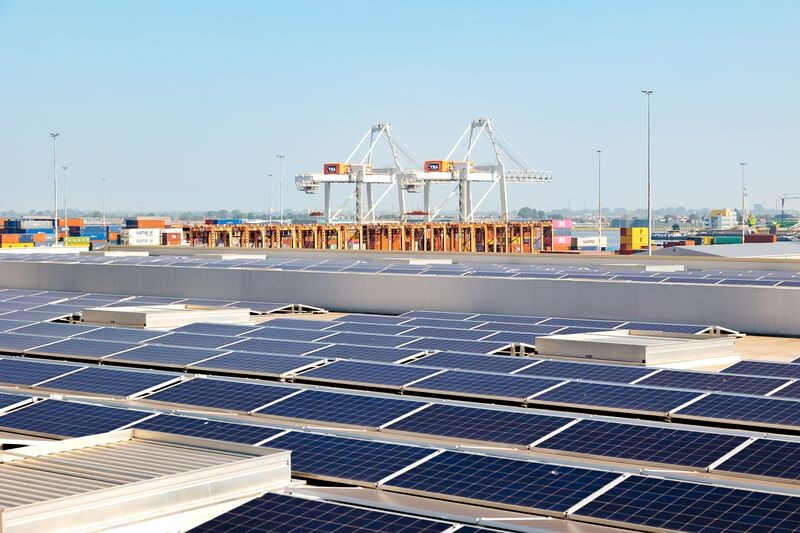 Port
We are working towards a clean, future-proof port and livable environment. We do this for example by encouraging clean shipping, supporting customers and companies in the port in the transition to clean energy and sustainable fuels, and increasing biodiversity in the port area.
Chain
We are a committed chain partner and feel responsible for the direct and indirect port activities on people and the environment, worldwide. Therefore, we encourage a responsible and sustainable chain. For example, by including this in a location framework for new companies or customers wishing to expand. We also investigate the origin of cargo flows, such as cocoa.
Strategy
Sustainability is woven into our business operations and an important key theme of our 2021 - 2025 strategy: to be at the forefront of the transition to a sustainable society.
Important sustainability topics
Livability
Port activities involve noise, odour, light and dust. We take various measures to counter such nuisances and work with customers on innovative solutions. We are also committed to preserving and increasing biodiversity in the port area.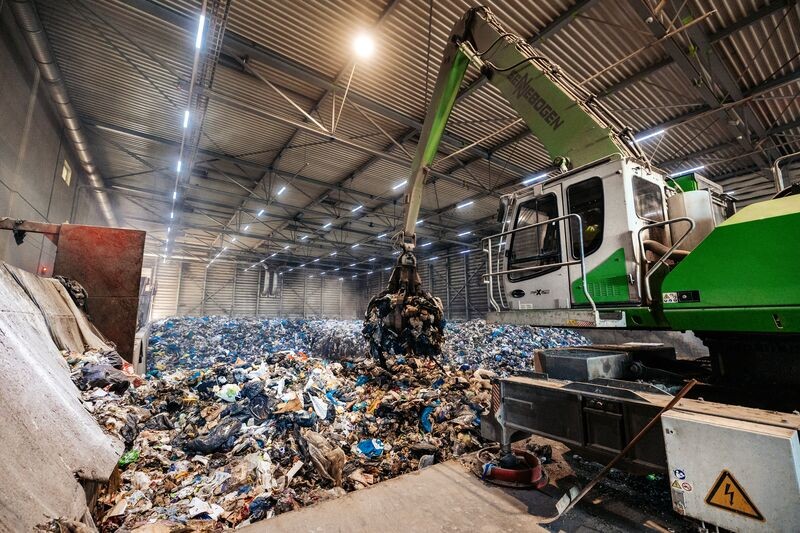 Circular economy
The port plays an important role in realizing the circular economy in Amsterdam. The port is home to many circular parties who give new life to waste, such as plastics but also scrap metal or old sports fields. We connect supply and demand of waste streams and offer start-ups and scale-ups the opportunity to connect with other (circular and biobased) initiatives industries through crossovers.
Energy transition
The Port of Amsterdam has traditionally been an energy port. We want to remain so. That is why we are encouraging the transition to a post-fossil port and scaling up sustainable energy production and storage of alternative fuels, such as hydrogen. We are also committed to sharply reducing the CO2 emissions of the port and our organization.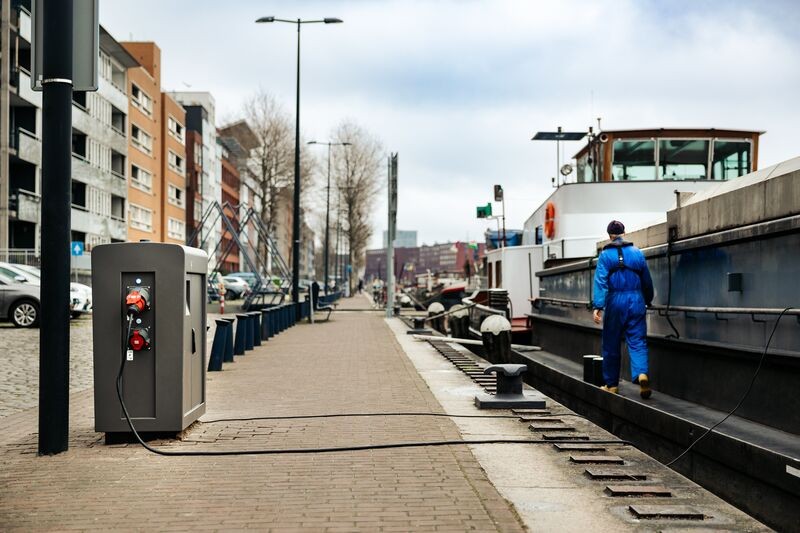 Clean shipping
Clean shipping plays an important role in the transition to a more sustainable society. In our Clean Shipping Vision, we set goals for reducing CO2 emissions, among other things. Furthermore, by 2030 sea cruises at the quayside must be emission-free and by 2050 all shipping in the Amsterdam port must be emission-free.
Sustainable and responsable trade chains
For 750 years, Amsterdam has been an international port and trading center. A logistics hub, where raw materials and products from all over the world come together for storage, transshipment, processing and transit. Extraction, cultivation, production, transport and/or use of raw materials and goods, can have a negative impact on the environment, ecosystems, living environment or working conditions. That is why we want to promote the sustainability of these chains. We have anchored this aim in our establishment and purchasing policy, and influence it through participation in multi-stakeholder initiatives and active cooperation with chain partners and port-based companies.
Frequently asked questions about sustainability
All about sustainability
Yes, we work closely with other ports in the field of sustainability. For example, we share knowledge with Port of Rotterdam on degassing installations, air quality, digitalisation and the production of sustainability reports. In this way we create more support and we can implement important developments more quickly.
We also work closely with the other Dutch seaports and hold structural sustainability consultations. This includes chain responsibility. We have even won a prize for this.
The general public is becoming more critical when it comes to the origin of products. Expectations are high in terms of our impact on improving the sustainability of the trade supply chains.
We share the public's sense of urgency when it comes to clean and safe trade. We recognise the necessity of reducing the negative impact on society of products passing through our port.
We feel responsible and committed, but are nevertheless realistic: we are most influential in the Amsterdam port area. This makes it possible for us to reward good behaviour and fair and responsible trade, while at the same time discouraging undesirable practices.
We work together with other ports, through the Branche Organisatie Zeehavens (BOZ), the European Seaports Organization (ESPO) and IAPH, as well as through our membership in industry associations. We work with customers and governments on lobbying and agenda setting in partnerships and international networks. This is how we work together on building a sustainable, responsible and safe supply chain.
Yes, we are. We feel it is important to contribute to solving various social and community challenges in our region.
For example, our Infrastructure and management department works with Pantar, a company that provides training to disadvantaged job seekers, along with the opportunity to gain work experience. Through Pantar, we provide employment and support to around 3,000 residents of Amsterdam and the nearby town of Diemen.
Our office and our port are places where young people registered with social employment organisations such as Emma at Work and School2Work can acquire work experience. We also explore ways of promoting internships for students in the senior secondary vocational education (MBO) system. And we work with JINC, a non-profit organization that fights against inequality of opportunity among young people.
Through these initiatives we facilitate job participation for young people and adults with disabilities or social disorders. They receive more opportunities in society by working on increasing their self-sufficiency.
Yes, we do. We are measuring more and more social indicators. We do this because we are also steering more and more towards this and attach increasing importance to it. We want to be a future-proof port for the region. We also want to be increasingly open about our social impact and our efforts.
For example, we report annually in accordance with GRI and since 2019 we have voluntarily participated in the Transparency Benchmark of the Ministry of Economic Affairs and Climate.
In addition to increasingly transparent communication, we will soon start measuring the total emissions in the port area. For several years now, we have been monitoring odour nuisance by means of eNoses in the port area. We want to reduce the impact of emissions and odour in order to ensure that we too make a valuable contribution to achieving the climate agreement.
Furthermore, together with the sector association ORAM, we are investigating propositions that make energy-saving measures such as the installation of solar panels more interesting for customers.
No. Our port is surrounded by Natura 2000 areas, such as the North Sea coastal zone and the Oostvaardersplassen. These areas are protected.
Growth of the port means more shipping and possibly more emissions and crowds. In port projects adjacent to Natura 2000 areas, such as the construction of the new sea lock, we are taking measures to ensure that nature is affected as little as possible by our activities.
We are also committed to increasing biodiversity in the port area through specific projects such as the construction of swallow walls, fish spawning grounds and toad pools.
Since 2015, we have been measuring our reputation through an independent research agency every two years. Our aim is a score of at least 71 points (out of 100) for all stakeholder groups. In 2015 we achieved a score between 56 and 89 on the Reputation Barometer®. In 2017 the scores were between 56 and 91 points.
The reputation survey is conducted in addition to the periodic customer satisfaction survey, waterway user survey and employee satisfaction survey. It gives us a total overview from a broad stakeholder perspective.
Get in touch
Want to know more about sustainability in the port of Amsterdam? Get in touch with us!