Rail freight transport vital to Amsterdam port companies
The rail freight transport breakfast session took place on Wednesday, 6 March 2018. Port of Amsterdam organised this session for clients and stakeholders who have an interest in rail freight transport.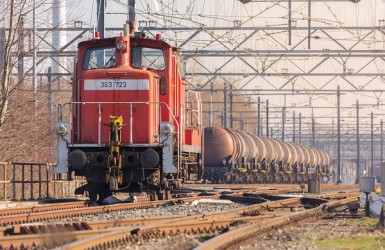 This is because the accessibility of rail freight transport in the Amsterdam port area is not a given. It faces a clear challenge through the intensification of passenger train travel. At the same time shipping companies and terminals are launching a range of initiatives for using rail more extensively for the transport of cargo, including containers and liquid bulk cargo.
A delegation representing ProRail attended the session in order to give a presentation on the plans to expand the rail infrastructure. The Dutch Ministry of Infrastructure and Water Management presented the Package of Measures for Rail Goods Transport. Clients were given the opportunity to share their wishes and interests.
The session resulted in greater insight into and understanding of each other's initiatives, needs and wishes. Including those of ProRail, the Dutch Ministry of Infrastructure and Water Management, our clients and Port of Amsterdam. 'We really need each other!' said Ankie Hectors, Project Manager at ProRail. A distinction was made between expanding the capacity of the physical infrastructure, the growth in the number of trains for cargo and passenger and distributing the capacity across cargo trains and passenger trains.
It has been agreed that Port of Amsterdam will set up a taskforce of rail freight transport experts from businesses from the port region. This taskforce will work out the details of the Package of Measures and the schedule for the different rail infrastructure expansion projects.
A management-level meeting of ProRail, the Dutch Ministry of Infrastructure and Water Management, Tata Steel and Port of Amsterdam will also take place.
In closing, Port of Amsterdam and ProRail will put a communications line in place. So that they can keep each other informed of developments and share questions and needs. It's a fantastic challenge that we are excited to take on!