Questions? Now over to Eef
'Hi! I'm chatbot Eef, and I look forward to answering questions about your inland navigation visit.' These are the opening words of Eef, our brand new chatbot, that will be inviting boatmasters to ask questions about their visit to Amsterdam.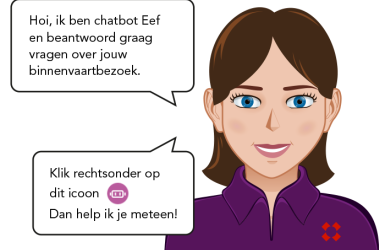 Eef will be coming online this month. At the moment she only speaks Dutch. 'We hope that this chatbot will make it far easier for inland navigation boatmasters to obtain information.'
From berths to waste disposal
Where can I dispose of my waste? What about the harbour dues I have to pay? Where can I find a berth? Not all boatmasters regularly come to Amsterdam.
'They have a lot of questions,' says Stefanie Meltzer, Manager of Customer Experience & Digital at the Port of Amsterdam. Last year, together with her colleague Pascale van Ommeren and various teams, Melzer conducted research into the boatmasters' customer journey. 'Time and again, we noticed and were told that they found our information very fragmented.'
Chatbot Eef helps everyone
Our chatbot Eef will benefit more than the boatmasters alone. 'It will also help our colleagues,' explains Stefanie. 'For example, the people who constantly take phone calls for all manner of questions. The port service is also hoping that the marine radiotelephone will be quieter. These days staff often find themselves having to answer practical questions that should be asked elsewhere. Once chatbot Eef is well-established, this will improve overall efficiency.'
Unique in the port community
According to Stefanie, Eef's success will depend on a range of issues. 'First of all, we will need to carefully look into whether the chatbot gives satisfactory answers to the boatmasters' most important questions. At present, Eef knows a lot about harbour dues, reports, berths, facilities, registration and contact. But we also have to bear in mind that a chatbot is an entirely new application for the boatmasters. It is still unique in the port community, and we're dealing with a target group that isn't used to being assisted in this way.'
Getting better and better
And yet, people are already growing accustomed to the chatbot. It's already been used a few times a day after being online for just under a month. For now, Eef is still a closed chat function. 'This means that a visitor to our site can scroll through a menu to find her answers,' says Stefanie. 'In the future, we'll see whether that proves sufficient or if we want to switch to an open chat session. Perhaps even a "real" colleague behind the scenes in case Eef doesn't know the answer. In the coming period, we'll continue to make improvements to the chatbot. Then we'll think about how to move forward.'
A tough name for a tough target group
So why is Eef called Eef? 'We cycled to the harbour with our laptops and asked the boatmasters what they thought about the chatbot', recounts Stefanie. They expressed a preference for a female chatbot. After a brief brainstorming session, we thought Eef seemed like a suitable name. A bit tough, but not too girlish because she does have to assist a tough target group, after all.'
Promote Eef
Curious? Meet Eef on our inland navigation page. We need user data to find out whether Eef adds value to our website. The more users, the better. So, it would be great if you could promote Eef in your network! And if you have any feedback for us or receive any responses in your network, please let us know by sending an email to pto@portofamsterdam.com.