Port of Amsterdam reopens for river cruise vessels
In welcome news, the second lockdown will be lifted per Saturday, the 5th of June. This means that river cruise vessels, with a maximum of 50 passengers in one space, can visit the port of Amsterdam again.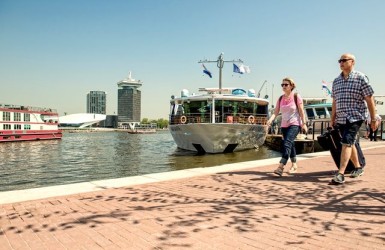 The lifting of the lockdown was announced by the Dutch prime minister Mark Rutte on Friday, the 28th of May. Despite the easing of restrictions, a number of corona measures will remain in force.

To ensure the relaunch will be as safe and responsible as possible for everyone, we will adhere to the guidelines of the national government. Below you will see what this entails for the river cruise:
The 1.5-metre rule still applies. Both on board and on the quay.
We have mapped out walking routes on the jetties and quays, placed signposts and deployed stewards to encourage guests to observe the guidelines.
Ships need to follow the EU Healthy Gateway protocol and the Outbreak Management outlines which were setup by IG Rivercruise and EBU (European Barge Union). This protocol is also approved by the Governmental organizations.
On the website port-see.com you can find which other ports are open and which measures apply.
The exact details and other measures can be found on the website of the Government.
Need to know more?
Check our FAQ.