Port of Amsterdam opens sustainable and 'circular' building
The new building where Port of Amsterdam's technical staff, planners and part of the operational staff will be based opened this week. This completely 'circular'-built building replaces the current building on Capriweg.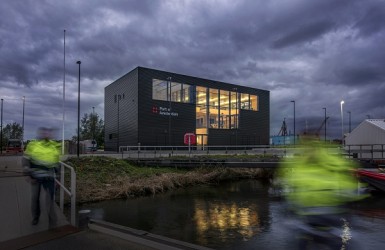 The new premises have been built sustainably and on circular principles.  Hence a closed geothermal energy system is being used which enables the building to be heated and cooled in an efficient and sustainable way. In the summer the system extracts heat from the building in order to heat the building from the soil in the winter. This results in a substantial energy saving and a significant reduction in carbon emissions.
All the energy consumed by the building is generated by solar panels on the roof and on the facade. The building thereby supplies 100% of its energy needs.
Saving drinking water
Alongside the sustainable energy system, the building incorporates a greywater system. Rainwater is collected in a special underground tank in order to be reused for flushing the toilets and watering the plants, amongst other things.
Circularity was a determining factor in selecting the materials used. This led to the choice of concrete foundations with a steel (primary) load-bearing structure and timber frame finish. This allows the specific benefits of each construction system to be utilised. The raw materials used will retain their value after dismantling.
BREEAM
The new-build will receive a BREEAM NL Certificate. This certificate is an internationally recognised quality mark that rates buildings across a range of sustainability categories and only rewards performance that exceeds statutory requirements. It means that a building has been erected in accordance with the most recent sustainability requirements and technologies, and is also fully focused on the users.
Focused on comfort
The port's 24-hour economy means that the new building will be continuously occupied. As a result elements such as the position of windows, the layout of the floors and the technology are entirely focused on comfort. This includes noise, (day)light, a healthy indoor climate and a smart layout which results in logical walking routes.
The second floor features a 40 m² internal roof terrace. The lighting can also be controlled by users, including during night shifts. These applications give the building a domestic feel, making it feel cosy even during the hours of darkness.
Case study
A fabulous design was produced in collaboration with the employees of Port of Amsterdam and WRK Architects. Building contractors Dozy BV carried out the construction.
If you would like to find out more about the development and execution of this project, you can download the case study (in Dutch).