Amsterdam Vaart! results in reduced emissions and congestion in the city
37% fewer CO2 emissions, 1,600 fewer truck trips in the city and a reduction of 19,700 trips outside the city. The Amsterdam Vaart! project is making a difference. The results were achieved over the past 2 years by using construction logistics by water in 9 construction projects in & around the city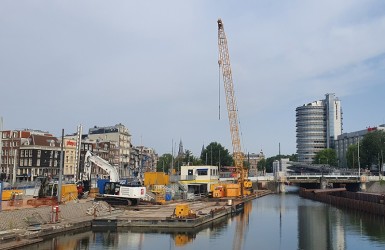 This is evident from the report published today by Amsterdam Vaart!, prepared by TNO. Freight over the canal appears to be a dire necessity. Yesterday additional research by the municipality revealed that the condition of the bridges and quays is very poor. Further relief of the urban infrastructure by more transport over the water seems inevitable.
Accessibility and livability
But not only wear and tear on bridges and quays is the result of intensive freight transport. Accessibility and air quality are also under pressure. This affects the quality of life in the city. According to Top Sector Logistics, approximately 27% of CO2 emissions in the city are related to construction logistics.
With the project Amsterdam Vaart! a consortium of Waternet, City of Amsterdam, TNO and Port of Amsterdam, supported by the Ministry of Infrastructure and Water Management, supports nine construction projects in reducing construction logistics flows in the city center. The goal is to shift urban traffic from trucks to transport by water.
There are several hubs in the port of Amsterdam where construction materials are collected and then transported by water to construction projects elsewhere in the city. Among other things, transport by water should lead to lower CO2 emissions, fewer inner-city trips and less heavy transport by road.
Koen Overtoom, CEO Port of Amsterdam: "The results of Amsterdam Vaart! show that water transport contributes to improving the quality of life in Amsterdam. It makes the city and port more sustainable and brings us closer to our common goal: zero-emission transport."
More efficient construction process and less failure costs
The motivation for construction companies to participate in Amsterdam Vaart! is to improve the efficiency of the construction process, in part by reducing failure costs in transport by water. Nine construction projects have received support over the past two years in drawing up a logistics plan to make the most of waterborne transport of goods. Waterborne transport is also being anchored in Amsterdam policy. Opportunities are being worked out for waterborne transport without further increasing congestion on the water.
More information about the results of Amsterdam Vaart! can be found in the TNO report or on our website.