The Amsterdam port region has an outstanding industrial minerals network. The port is excellently located within the international logistical ARA hub for mineral shipping and transport.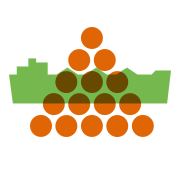 Network for industrial minerals
The Amsterdam port area has a considerable network for industrial minerals. Fifteen companies are involved in the storage and transshipment, processing and end-use of minerals.
Approximately half of the imported minerals are processed in this region. About half of these are then sold in the immediate vicinity of Amsterdam. All other minerals are transported - processed or not - to the hinterland via the excellent hinterland connections (water, rail, road, air) the port of Amsterdam offers.
Industrial minerals
There are several companies in the field of industrial minerals in the Amsterdam port.
Direct contact with our expert
For questions, wishes or more information on industrial minerals.