As one of Europe's largest energy ports, Amsterdam is a leading player in the coal market.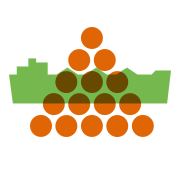 Large energy port in Europe
By investing in intensive use of space and various sustainable adjustments, coal transhipment can be accommodated at our existing, large and flexible terminals.
At the same time, the energy transition is a fact and the Amsterdam port has the ambition to grow sustainably. Therefore, together with our clients, we are preparing for a future in which the port will be coal-free in 2030.
The port of Amsterdam has excellent hinterland connections and is directly connected to frequent inland shipping and rail shuttles into Europe.
Coal
There are several companies in coal in the port of Amsterdam.
Direct contact with our expert
Fore more information or questions about coal.