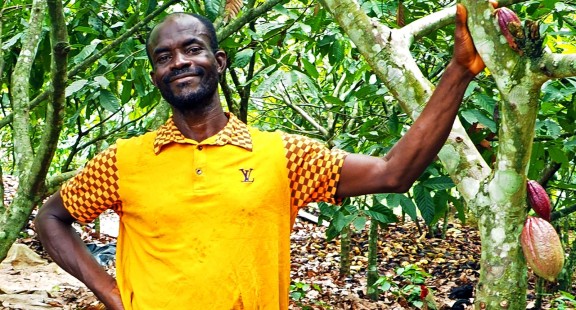 In spring 2019, Marika Santvoort travelled to Ghana and Cote d'Ivoire on behalf of Port of Amsterdam. She spoke with several cocoa farmers. This resulted in some beautiful stories and portraits.
Hannah Asiamah (63 years old)
I was born in the village of Yaw Barima where I still live. Two years ago my husband died. That was sad, but I am very happy that I was allowed to keep the piece of land he owned. That is very unusual here in Ghana. Most of the times the land is taken back by the husband's family when he dies.
My children live in the city and I take care of my grandchildren. That is my most important task. I cannot make ends meet with the cocoa. My body is too old and the work is very hard.
It is different for women here than it is for men. Women do not have the strength or the time to work on the farm fulltime. So in order to earn extra money, I sell meals at my grandchildren's school. If I had more money, I would build a bigger house for me and my children. That is my dream.
Emmanuel Asiamah (48 years old)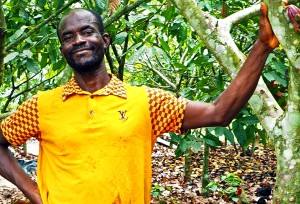 My wife and I are very happy. We share everything and work together on our farm. She helps dry the cocoa and I do the heavier work, like harvesting. I have more than 14 hectares of land with mostly cocoa and also some cassava and jams. Half of the land belongs to another man, whom I pay with half of my proceeds.
I invest a lot, especially in inputs, such as fertilizers and pesticides. Sometimes I also hire an extra person to help out on the farm. It took me seven years before I started earning something, but now I can make a living on my own.
I am proud to be able to support my wife and three children (19, 12 and 8 years old). Right now I am saving up for a spraying machine that you can wear on your back. It can help water the trees more efficiently. It has been a dry season and all the watering of the trees had to be done by hand.
I produce about 80 bags (64 kilograms per bag) of cocoa per year. I prefer to keep this information to myself though. Because if others find out, they might get jealous and perform black magic on me or my family.
Rebecca Atwima (54 years old)
I have six children, two of them still live with me. My husband died two months ago. My land is three acres and I produce about 12 bags of cocoa a year. I can earn about €600 a year with this production.
When I get paid at the end of the year, I make sure I pay all the children's school fees first. But unfortunately I do not earn enough and the money runs out fast. That's why I also grow cashew and kola nuts that I can sell well locally.
The government helps us out a little. They give free inputs, but this is never enough for the whole village. Also, you often have to wait for your money. I work on the farm every day, except Sundays. It's my wish to have a big cocoa farm, so I can make more money.
Akwasi Boateng (56 years old)
I used to be able to harvest 32 bags of cocoa a year, now I only produce 19 bags on the same land. This means I earn a lot less money. I also have to spend more money on inputs. Cocoa is important to me and our country because it is always in demand.
It is possible to get a small loan from the bank if you can prove that you own a piece of land. I work 6 days a week, 7 hours a day. On Sundays, I go to church.
I don't understand why Western countries don't come and invest. We work hard to make sure people in these countries can eat chocolate. I have tasted chocolate once, but it's too expensive for me to buy some chocolate myself. A small bar costs €0.80. If I had more money, I would buy a motorcycle so I don't have to walk to my land with those heavy bags all the time.
Cocoa mission Ghana and Cote d'Ivoire
Port of Amsterdam went on a cocoa mission to Ghana and Ivory Coast in March 2019. Together with the Municipality of Zaanstad, the Municipality of Amsterdam, customers, partners and NGOs. This mission aimed to explore new possibilities by creating a dialogue with local companies and governments. We also paid attention to youth entrepreneurship and women's emancipation in the cocoa sector.