Port of Amsterdam International organized a cocoa mission with 25 parties, including processors, storage companies, governments, banks and NGOs. Find out more on this mission and the cocoa policy.
Port of Amsterdam International
Port of Amsterdam International operates in ports on various continents, including Africa.
Port of Amsterdam International cooperates with the Ivorian ports of San Pedro and Abidjan. The aim is to make the logistics of cocoa sustainable, together with authorities and (international) customers.
On the basis of signed cooperation agreements, various projects have been carried out in these ports.
Cocoa mission 2019
From 11 to 15 March 2019, Port of Amsterdam organized a cocoa mission to Ghana and Côte d'Ivoire that was dominated by the Corporate Social Responsibility (CSR) agenda.
In addition to Port of Amsterdam, the group that went to Africa consisted of representatives from the government: the province of North Holland, the Ministry of Foreign Affairs, the municipality of Amsterdam and Zaanstad. Representatives from the business community included Cargill, Vollers, TMA, Tony's Chocolonely and banks.
The cocoa mission had four objectives:
To promote the importance of cooperation between the cocoa cluster of the North Sea Canal area and the Ghanaian and Ivorian cocoa representatives in the field of trade and development.
To identify market opportunities and partners.
To strengthen the national cocoa community.
To draw attention to and to support sustainable initiatives (CSR agenda).
Because of the latter two objectives, development organizations such as Solidaridad and Rainforest Alliance also took part in the mission.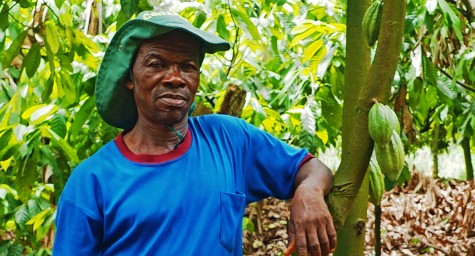 On behalf of Port of Amsterdam, Marika Santvoort travelled to Ghana and Cote d'Ivoire in spring 2019. She spoke with several cocoa farmers and this resulted in some beautiful stories and portraits:
Cocoa chain
Cocoa comes a long way before it ends up on Dutch shelves. There is little knowledge about the links in the cocoa chain, especially at the beginning and at the end. From the cocoa farmer in Ivory Coast to the chocolate lover in the Netherlands.
Get in touch with one of our experts
Want to know more about cocoa, Port of Amsterdam International or corporate social responsibility?