The feedback form is used by the Director of Central Nautical Management as a means of understanding how bunker deliveries are made in the port.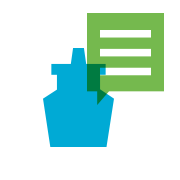 What happens with my feedback?
We use the feedback to continuously monitor the situation in our region. Based on this feedback, we can decide whether actions are needed to improve our services. Following the completed feedback form, we may contact you. We do this to discuss any confusion in more detail.
The feedback will be treated confidentially and not shared with third parties. The Director of CNM does not interfere with individual issues between parties regarding bunkers or the method of delivery.
Development around bunkering of conventional fuels
Based on the Regional Port Ordinance North Sea Canal Area 2019, the Director of Central Nautical Management North Sea Canal Area may decide to introduce a permit requirement for the supply of conventional fuels such as fuel oil and gas oil. This licensing requirement already applies in the Rotterdam-Rijnmond region.
In this region, there is no reason yet to introduce this licensing requirement. From the character of the feedback and the number of reports received, as well as from the results of a further investigation on board ships in our region, no reasons were found to introduce this licensing requirement here.
The feedback form for bunkering can still be used when an incident occurs so that we can continuously monitor the situation.
Direct contact with our expert
Do you have questions, desires or want more information on this topic? Contact us.