Three questions to Graham Wastell from Silver Star Agencies
The new sea lock that is now being built will replace the IJmuiden North Lock. This new 'front door' for the area around Amsterdam has many advantages. Companies in the region are preparing for the moment when the lock will be put into operation.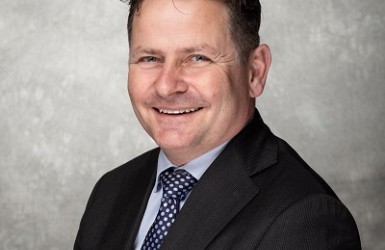 Graham Wastell, director at Silver Star Agencies, explained what the new sea lock means for Port of Amsterdam and how he is preparing for when the lock will be operational.
What exactly does Silver Star Agencies do?
"At Silver Star we handle the logistics of sea-going ships in port. This means we take care of customs clearances, inform the authorities and coordinate with berth managers so that ships can moor on time. On behalf of the shipping company, we also take care of the crew on board. If they need anything, we take care of it. Ships make their way from the North Sea to Amsterdam and that means we are very dependent on the sea lock as access point to the port."
Why is the new sea lock so important for the port?
For the port of Amsterdam, a new 'front door' is very important. Graham explained: "We have noticed that the current lock is in need of replacement. The lock's mechanical system has slowed down and don't forget that the lock itself has been through a lot. Ships are also getting bigger with more powerful engines and because of the dimensions of the North Lock we are up against a kind of 'Amsterdam max'."
"As an agency we are adapting to the changing world around us. An increase in scale is part of this. Ships calling at the port are getting bigger and bigger. If you want a transition, then as a port you have to be ready to go through that transition. An increase in scale will make a positive contribution to sustainability."
"The larger ships that will soon be able to pass through the new sea lock will be able to transport a great deal more cargo. As a result, fewer ships will be needed for the same amount of cargo. By creating more space for larger ships in the future, we will be able to reduce CO2 and our own footprint."
How are you preparing for preparing for when the new sea lock will be operational?
Of course the port of Amsterdam should also prepare for the arrival of these larger ships and their passage through a larger sea lock. Graham explained how they are preparing for this:
"With a larger lock, bigger ships will soon be able to come to the port of Amsterdam. With the new sea lock, the biggest ships will be able to lock through independent of the tide. Ships will therefore be able to enter the North Sea canal at any time. Because the new sea lock is so large, it will also be possible to lock through several ships at the same time."
"At Silver Star, we do not manage any berths but, just like Port of Amsterdam, we are discussing things with companies that have opportunities to increase the number of berths."
"The size of ships - length as well as breadth - has increased notably over recent decades. With wider ships, the available space will become relatively narrower. We need to prepare for this. That is why we are working together to ensure that a number of terminals will be extended before the lock is put into operation. As you will understand, the new sea lock is very important for our business."