Port of Amsterdam supports blue hydrogen plant initiative in port of Den Helder
A plant to produce blue hydrogen on a large scale could be operational in Den Helder by 2027. Research by H2Gateway, a consortium of businesses and public bodies, shows that this is possible.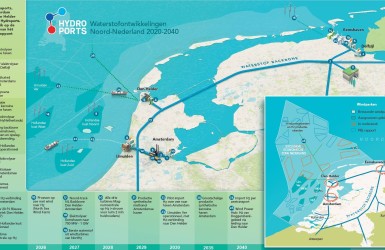 Port of Den Helder, Groningen Seaports and Port of Amsterdam are collaborating closely on a transition to a hydrogen economy under the name Hydroports. Hydroports believes that it is very important to construct the hydrogen backbone between these seaports. A blue hydrogen factory in Den Helder would provide an important stimulus.
The port of Den Helder is playing an important role in this initiative, according to Jacoba Bolderheij, managing director of Port of Den Helder: "Our port offers a unique location for a central blue hydrogen plant, thanks to the proximity of the gas fields under the North Sea and the presence of Western Europe's largest gas processing station. The gas infrastructure present in Den Helder together with the activity, knowledge and skills in that field can be used to speed up the supply of carbon-free hydrogen to industry elsewhere in the Netherlands. For this reason, this project also occupies an important position in the Regional Deal for Noord-Holland North which has recently been awarded by the Dutch government. Businesses in Groningen, Amsterdam and elsewhere in the Netherlands can also benefit from a blue hydrogen plant by allowing them to speed up their innovation towards more sustainable production without having to invest in carbon capture at their own location."
Blue hydrogen
Blue hydrogen is produced using natural gas, just like standard 'grey hydrogen'. CO2 is released when hydrogen is produced from natural gas. By capturing and storing this CO2 in empty gas fields it is prevented from entering the atmosphere. The hydrogen produced in this way is called 'blue hydrogen'. H2Gateway's blue hydrogen plant could boost industry's ambition to switch to carbon-free production technologies, and could reduce the total industrial carbon emission from the major industrial clusters in the Netherlands by some 14% and thereby make a substantial contribution to climate goals.
Amsterdam's hydrogen initiatives
Eduard de Visser, head of Strategy & Innovation at Port of Amsterdam, says: "We are working towards a carbon-free society, and are therefore opting for hydrogen as a sustainable energy source. A blue hydrogen plant in Den Helder fits well with the other initiatives that we are also developing under the Hydroports banner. We are, for example, working with Gasunie to examine whether a regional hydrogen pipeline between IJmuiden and Amsterdam is feasible. We are also looking at creating a 100 MW hydrogen plant with Nouryon and Tata Steel. This could produce 15,000 tonnes of green hydrogen per year. Hydrogen occupies an important place in the Dutch climate agreement. The potential introduction of a blue hydrogen plant brings a circular and emission-free economy a step closer."
A good national transport network - a hydrogen backbone - is required in order to develop an open market for hydrogen. The Ministry of Economic Affairs and Climate and the network operators TenneT and Gasunie are working on that hydrogen backbone in the Highway27 project in order to be able to connect all the regions. The blue hydrogen plant in Den Helder will be able to supply hydrogen on a large scale via that network. It would allow this plant to act as a stimulus for businesses that want to switch to hydrogen but are still hesitating because a 24/7 supply of green hydrogen on a large scale cannot be guaranteed in the near future.