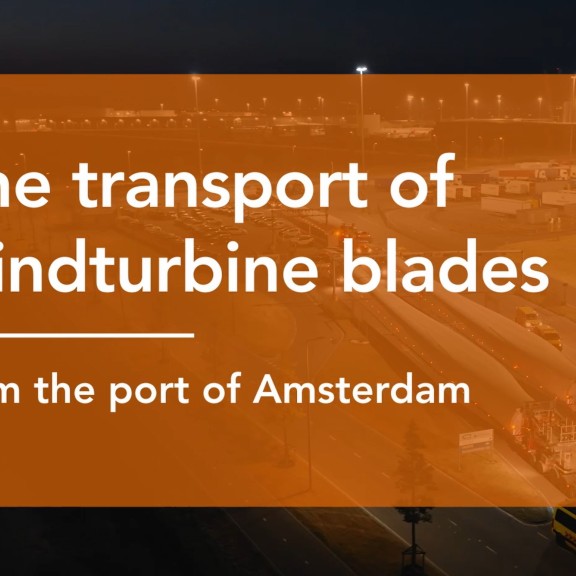 Special cargo of 83 meters long wind turbine blades through the Amsterdam port area
In July 2023, a very special transport took place in the Amsterdam port area. With the help of a convoy of trucks, wind turbine blades with a total transport length of about 95 meters per truck were transported. Quite a challenge, but it ran smoothly thanks to the collaboration between TMA Logistics, Van der Vlist and Port of Amsterdam.
Good logistical accessibility is important to Port of Amsterdam. Because of this, we can guarantee the quick processing of existing activities, as well as cargo flows of the future, such as wind turbine components.
What was needed to make the transport of wind turbine blades possible?
Allard Klinkers, Commercial manager at Port of Amsterdam: "The longest wind turbine blades that are being used in this country at this moment, had to be transported to the Flevopolder. These blades are almost 85 metres long, and to be able to transport them, a 95 metre long convoy of trucks was necessary. It was quite the undertaking to go on the road with these trucks, as well as making bends and going over roundabouts. Thankfully, we are prepared for these types of special transports. Roads and roundabouts are strategically designed, so the transport of long objects is made possible.
Unfortunately, the lamp posts at the entryway to the highway had to be moved to be able to make the bend. Van der Vlist made this possible, in cooperation with TMA Logistics and Port of Amsterdam."
How important is the wind industry to Port of Amsterdam?
Allard: "Very important. The Amsterdam port are is positioned strategically for wind at sea, as well as wind on land, and wind in the Ijsselmeer. Because of the excellent logistical accessibility (through water, railroads, and roads), I see huge possibilities for the growth of on- and off-shore wind industry within the Amsterdam port area."
What makes the transport of wind turbine blades special?
Pieter Boer, Managing Director at Van der Vlist: "What makes it special is the length of the blades. Also, they act as part of the trailer during the transportation. Every turbine consists of about 13 special transports. Some parts are so big we have to transport them multimodally, because of the restrictions of the road network. We ship them to the Flevokusthaven, where we unload them with our own Reach Stackers and transport them with special trailers to the site. The past one and a half years, we have transported some 200 big windmills that way, through the port of Amsterdam and through our own terminal in Moerdijk to the Flevopolder.
These turbine blades were destined for Windplan Groen in the Flevopolder. But we also transport a lot of turbines to multiple destinations in the Benelux, Germany, and France."
How was the collaboration with Port of Amsterdam?
Willem Mantel, General Manager at TMA Logistics: "The collaboration with Port of Amsterdam was excellent. Mainly because they see the importance of making or keeping the port accessible through all modalities. Through the adjustments we have made together, TMA Logistics is the current terminal for land turbines."