New relaxations for river cruising in Port of Amsterdam
New relaxations will take effect for river cruise ships in the Port of Amsterdam with effect from 26 June. What exactly do these entail and what are the prospects for the future? We discuss it with Monic van der Heyden, Commercial Manager Cruise. "We are delighted to be able to welcome more vessels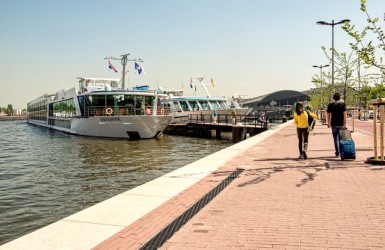 100 people in a space
The river cruise is subject to the rules that apply to the hospitality industry. The most important relaxation is that from 26 June a maximum of 100 people will be allowed in a space. Monic says: "Please note that this does not necessarily mean 100 passengers per ship. Suppose you have two restaurants on board where sufficient distancing is possible. Then you can carry 200 passengers." The basic rules such as those relating to social distancing and hygiene will continue to apply. Port of Amsterdam thereby always follows the government's national guidelines. You can read find all the details and the other measures on the Dutch Government's website.
Valuable partnerships
Port of Amsterdam has been working towards this restart alongside the municipal health service (GGD), the National Institute for Public Health and the Environment (RIVM) and the Ministry of Health. "Last year, each region had different rules. That was very difficult in practice. That is why we have done a lot this year in collaboration with all the parties to ensure that the same rules apply in all ports and regions. And we have succeeded in that. The partnership was so valuable that we will definitely continue it in the future," says Monic.
Immediately after the first Covid-19 outbreak, Port of Amsterdam also sought to work with river cruise shipping companies and the regional partnerships Amsterdam Cruise Port and Dutch Delta Cruise Port. This resulted in the PORT SEE app, amongst other things. "The app shows shipping companies at a glance which ports are open, whether there are any free berths and what measures apply. That means that you don't have to go through every port's website," explains Monic. Read more about the PORT SEE app here.
More European passengers
Monic expects river cruising to gradually return to normal going forward. "I am anticipating that we will have a busy autumn, because the season has started late. Bookings will not reach pre-Covid numbers this year, but we do expect to be back to 2019 levels by next year. If the pandemic remains under control, obviously." 
She has also noticed a striking development. "The vessels are now carrying a lot of Dutch and other European passengers, whereas previously they were mainly intercontinental travellers. As a result, a new target group is being introduced to river cruising. That may make it busier in future, although I think it is too early to say whether this development will be permanent."