Jan Lagasse is new Chairman of the Supervisory Board of Port of Amsterdam
Shareholder the City of Amsterdam has appointed Jan Lagasse as Supervisory Board (RvC) Chairman of Port of Amsterdam with effect from 1 April 2022. He succeeds Jeroen de Haas, who will be standing down from the Port of Amsterdam Supervisory Board after nine years as a supervisory director.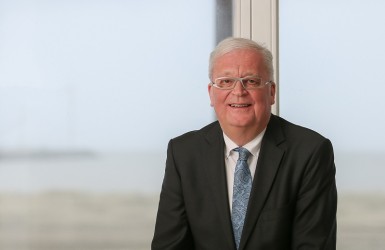 Jan Lagasse (62), who is from Flanders, is a well-known manager with a long track record at industrial companies including Dow Chemical, Corus and Fokker Elmo. In 2014, he became CEO of Zeeland Seaports, which successfully merged with Ghent Port Authority in 2018 to form the Dutch-Belgian North Sea Port, of which he became joint CEO.
Lagasse ended his tenure at North Sea Port at the end of 2020 and further expanded his advisory, management and supervisory roles. He became an independent strategic adviser to ports and port cities, was appointed as Honorary Consul-General for the Kingdom of the Netherlands in Belgium by the Ministry of Foreign Affairs, and joined the Supervisory Board of a healthcare network with hospitals and residential care centres in Zeeland. Lagasse also lectures on contemporary port development at the University of Ghent. Lagasse is married and has two daughters.
Skilled manager
Acting port alderman Egbert de Vries says that it is Lagasse's demonstrable experience in business at the interface between the public and private sector and in working with public shareholders that make him a skilled manager and the right candidate. "With the cross-border merger, Lagasse has demonstrated his ability to connect and direct, and he has solid experience with the world of port companies in which Port of Amsterdam operates. We are pleased to be able to appoint this professional to our port company."
Departure of Jeroen de Haas
With Lagasse's appointment, Jeroen de Haas (62) is stepping down as Supervisory Board Chairman. Over his long term of office, mainly as a supervisory director and more recently as chairman, De Haas has shown himself to be a committed director of Port of Amsterdam. CEO Koen Overtoom says: "As a supervisory director, Jeroen de Haas played an important role in the port authority corporatisation in 2013. After that, he continued to play an inspiring role in the dynamic development of the port, particularly in the field of energy transition and the growth of circular activities. Jeroen was the stable factor that gave the Port the space and direction to grow into the professional organisation and successful business that we are today. We are very grateful to him for that. In Jan Lagasse, we are welcoming a very experienced port manager. We look forward to working with him."