Harbour Master Milembe Mateyo: 'To change the world is to start with yourself'
The climate problem is huge and all-encompassing. 'That's why my motto is: change the world and start with yourself.' As (State) Harbour Master of the Port of Amsterdam and the North Sea Canal Area, Milembe Mateyo wants to make vessel traffic more sustainable.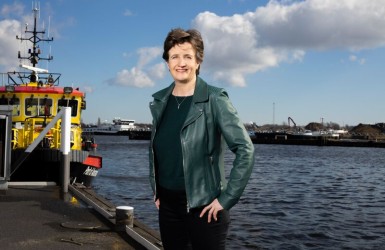 But she also lives by her own motto: she believes in 'decluttering,' hardly eats any meat and her car runs on hydrogen: 'I feel a great responsibility.'
Milembe heads up the Harbour Master's Division. The Harbour Master's Division's mission is the safe, smooth and sustainable handling of vessel traffic. The 24/7 operation consists of about 150 people, including hazardous materials inspectors, traffic controllers, lock-keepers and harbour officials who sail on the patrol vessels, among other things. She also has her own Policy Department.
Vessel traffic was not included in the 2015 Paris Climate Agreement. What do you think of that?
'That was a missed opportunity. What I notice is that vessel traffic is a blind spot in the whole discussion. It's a world of its own, so I can understand why it was skipped. That's why the responsibility to do something about it feels even stronger.'
So what exactly do you do?
'The Port of Amsterdam will become a Multi Fuel Port. We've been working on that since 2013. After all, clean fuels are going to make a difference! That is why we're working hard in the North Sea Canal Area to ensure that all green fuels are bunkered safely and efficiently, now and in the future. We also develop port emission reduction technologies, such as ship-to-shore power. But we also have to set an example, of course, so we're also tackling our own fleet. We have divided our sustainability project into several steps. We have formulated a number of objectives for each step.
The first step runs until 2025. By then, the emissions of SOx, NOx and CO2 from vessel traffic in our port, both sailing and stationary, will have been reduced by 10%. The next step runs to 2030. In that year, we decreased the reduction by 20%, and the sea cruise at the quay is emission-neutral. The third step, which runs until 2050, means emission-neutral vessel traffic.'
Much remains to be done to achieve these goals. What is needed for this?
'In the next three years, we will make our own fleet more sustainable. Three of the four patrol vessels are getting new engines. We've investigated the possibility of going hybrid. But a conversion was an enormous amount of work, with a small profit. We therefore opted to replace the engines of our patrol vessels. These workhorses get smaller and cleaner engines that can run on less fuel and biofuels. In addition, there will be a filter that captures the emissions that occur due to post-combustion. In doing so, we will reduce emissions by 90% of NOx and SOx and 20% of CO2 compared to today. We will find out how it works in practice. It's a true case of learning by doing.
Furthermore, our new representative vessel, the Neo Orbis, will be powered by hydrogen. It will be built next year. In addition, 50% of our vessels currently run on biofuels, such as old frying fat. In the future, the percentage of biofuel that is added will increase. Finally, we use ship-to-shore power when we are moored at the quay. DA ship on ship-to-shore power does not need to run its engine for light and heating, which also saves emissions.
In the period between 2025 and 2030, we will increase the number of ship-to-shore power points throughout the port. Now these points are only inside the ring. We are also investigating the ship-to-shore power option for the sea cruise industry. This should be emission-neutral by 2030. And we have a 'dedicated' Clean Vessel traffic Team within the Port of Amsterdam. This team deals with policy and innovation and makes sure that our story about the sustainability of vessel traffic is told in all kinds of national and international meetings.'
A new Clean Vessel traffic vision will be presented at the end of this year. What does this vision say, and how does it differ from the first one?
'Our first Clean Vessel traffic vision ran until 2020. The difference with this vision is that we have now included CO2 reductions. Furthermore, we focus on three pillars in this vision:
Port Emission Reduction Technologies
These are means to reduce emissions from moored ships. This includes (mobile) ship-to-shore power, mobile exhaust, extraction systems and degassing. Ships carrying benzene-containing cargo must - if they get other cargo on board - degasify in a degasification installation. This means that the vapours are captured so that they do not become airborne.
Port Call Optimization
The aim is to reduce emissions through efficient vessel traffic operations, such as easy-to-find berths and optimal lock scheduling. By facilitating this, ships use less fuel.
Maritime Energy Carrier
With this third pillar, we focus on sustainable fuels. It must be possible to bunker them safely and in an environmentally friendly manner. We are also working on setting up Green Corridors. Ships should not only be able to bunker fuel with us, but also in the port they are going to or coming from. We have different roles here. We facilitate by providing the right infrastructure, such as biofuel bunkering facilities. We also provide encouragement, by giving discounts to clean ships. We also advocate for sustainable legislation and regulation both nationally and internationally. Finally, we cooperate as much as possible and set up pilots, nationally and internationally. We can't do it alone.'
Is Amsterdam leading the way in this?
'We are one of the forerunners. Scandinavian ports are also doing well, but the size of their ports is again smaller than that of Amsterdam.' What is needed to make vessel traffic more sustainable? 'A lot of knowledge is needed about technology, innovations and costs. And we must work together, hand in hand, and start pilot projects. I reiterate, it's learning by doing. We cannot solve this as Amsterdam and as the Netherlands on our own. Of course, money is also needed to make a fleet sustainable, but it all starts with the aspiration.'
What are your personal ambitions in the area of environment and climate and what is needed to achieve them?
'Changing the world starts with yourself. That's my motto. I try to reduce my own footprint. I hardly eat meat, have less stuff, cycle and walk a lot and my car runs on hydrogen.'
What are you proud of as a harbour master?
'I'm incredibly proud of the enthusiasm and commitment of all the people involved in our sustainability projects. I'm very much looking forward to the scoop on the hydrogen vessel. And to the first patrol vessel to get a new engine.'
What will vessel traffic look like in 2050?
'Emission-neutral, in any case. Other than that, I'm not sure. There are so many future innovations that we can't yet imagine, but which will play a major role in making vessel traffic more sustainable. If you had a picture of what that would look like now, we wouldn't get there.'