Corona: protocol coronavirus for marine traffic
Worldwide there is an outbreak of a new Coronavirus (COVID-19). The virus has also appeared in the Netherlands and other parts of Europe. In this article, you can find out more about the protocol of Port of Amsterdam concerning this virus.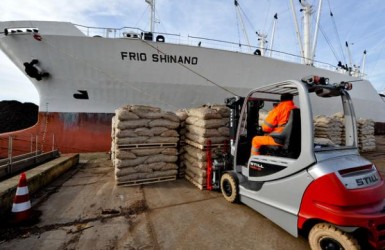 What is our protocol?
Port of Amsterdam requests all seagoing vessels entering the port to submit a Maritime Health Declaration (MDoH), regardless of the situation on board. This MDoH must be sent at least 6 hours prior to arrival at Pilot Station and must have been signed in the last 24 hours. In case of deviations from the Maritime Health Declaration, Port of Amsterdam will contact the Municipal Health Service. Please pay attention to the following: during your stay in the port, it is obligated to notify us of any changes in regards to the health and medical situation on board of your ship. If this is the case, you can contact the Port Operation Centre in IJmuiden (+31(0)20 5234600, option 1) or send an e-mail to VTSadmin@portofamsterdam.com.
Download the Maritime Health Certificate
You can submit the Maritime Health Declaration to the Port Operations Centre in IJmuiden (+31(0)20 5234600, option 1 or via VTSadmin@portofamsterdam.com).
Port of Amsterdam is in close contact with the doctors of the GGD. In turn, they are in contact with the national RIVM. The situation is closely monitored. Should there be any change in the situation, we will inform you.
For up-to-date information or more information about the working methods of the GGD, please consult the following websites: