Circular disrupts misguided linear system
'For us, engaging in circular business means restoring balance in the world. That balance has been lost owing to the linear system in which raw materials are used only once and then discarded. A very misguided and expensive system, as raw materials are becoming depleted. This can and must change.'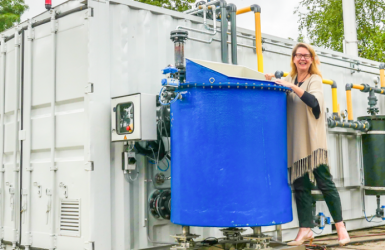 The Waste Transformers do this by transforming waste into financial value at the location where the waste originates. 'In this way we offer waste producers such as hotels, ports and cities the possibility of transforming their own waste into clean energy and more,' says Lara van Druten, CEO and founder of The Waste Transformers.
Transporting waste is wasting waste
Van Druten: 'Waste travels huge distances before it is incinerated. That's a real pity! Because that's wasting waste. This is why we unlock value from waste on site and give it back to the waste producer. This allows you to achieve cost-savings relating to waste and energy, and to make new products. With our small-scale "Waste Transformer", we get the most out of waste flows.'
One of those digestion plants is located in Colombia. Druten: 'The Waste Transformer converts 2000 kg of organic food waste a day here at a local market. The market waste is digested and transformed into clean energy for the market. The residual heat is used for the large refrigerators, allowing fruit and vegetables to be stored for longer. This leads to less food wastage. The natural rich fertiliser that remains goes back to the farmers who come to the market to sell their products.'
Modular system of sea containers
Van Druten developed her idea when, working as a consultant, she was faced with a client's waste problem. 'Waste processing is a cost item. The solution had to be good and financially attractive. That got me thinking, and that's how The Waste Transformers got started. Our digestion plant is a modular system of sea containers, which can be expanded by an additional container for every 600 kg of waste per day. A Waste Transformer pays for itself within three to six years.'
It takes courage
There are several things that The Waste Transformers needs to advance its development. Such as early adapters: businesses and organisations that have the courage to work in a different way and to look at future regulations. 'And we also need administrators with courage. Politicians and policymakers who look closely, both nationally and internationally, at laws and regulations, because these are often still based on the linear economy. We also need slow and smart capital. What I mean by that is money that is not required to produce returns immediately. And lastly: sustainable investors. Port of Amsterdam could be a good investor.'
Use Port's international network
Van Druten: 'Prodock's plug-and-play concept is very attractive. We want to produce closer to home and welcome Port of Amsterdam's willingness to contribute to thinking creatively about a solution. Personally, I would like to see even more commitment from Port of Amsterdam to its tenants. Port of Amsterdam has numerous international contacts. We are eager to introduce our innovative, locally applicable technology to this network.'
In Amsterdam, a Waste Transformer is located beside the Westergasfabriek, where it is used by established restaurants. A Waste Transformer is also set to be integrated into one of the towers of the former Bijlmer prison, which is currently being developed into a residential area. The Johan Cruijff Arena will use a Waste Transformer to convert organic waste from the stadium and the neighbouring buildings. The Waste Transformers is also active in Sierra Leone, South Africa and Colombia.
More information: thewastetransformers.com