Bambooder establishes itself in the port of Amsterdam
Bambooder, a company specialising in recovering fibres from bamboo for high-grade reinforced composite applications, has recently set up shop in the port of Amsterdam.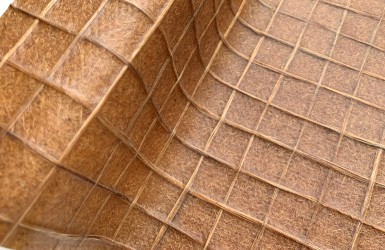 In doing so, it fits seamlessly into the strategy of Port of Amsterdam to provide space for circular process industry.
Sustainable alternative
Bambooder was founded in 2015 and offers a sustainable alternative to, for example, glass fibre and carbon but also steel and aluminium. The bamboo arrives by container ship from Indonesia, among other places. The raw materials are then first processed into fibres and then into processable semi-finished products in the form of mats. These mats are used by end users in markets where reduction of CO2 emissions and weight are very important. Examples include structural applications for transport (e.g. cars, planes, trains), sports (ski, kite, surfboard), energy (wind turbines), building constructions and design (furniture). No chemical processes are used in the production process.
Collaboration
Together with Bambooder, Port of Amsterdam has searched for the right location. We are very pleased that this has succeeded. The Amsterdam Climate & Energy Fund (AKEF) also played a role in the establishment process. Their investment made this possible.