App to control light intensity
The individual components are familiar and have already proven their worth, but these components combined have created a world premiere. A self-illuminated bicycle path operated by LED lamps, with the electricity being supplied by locally generated solar and wind energy sources.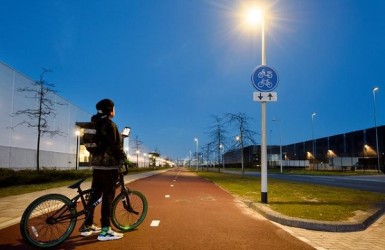 Cyclists can adjust the intensity of the street lights themselves using the Geolight app, which can be downloaded free of charge from today.
How did the idea come about?
Koen Overtoom, interim CEO of Port of Amsterdam, was contacted last year by entrepreneurs who had developed a floating solar panel system and were looking to market their invention.
Stefan Bakker, Sustainability Coordinator at Port of Amsterdam: 'We had just completed the BREEAM certification process for the Atlas Park logistics hotspot when Koen asked me: "Stefan, could this be an opportunity for innovation for the Port?" We were interested in projects involving lighting in the public space, local energy generation, storage and transport. We then went on to explore the various opportunities available, and during my search I came into contact with Wilfred Akerboom at CityTec.'
Wilfred is a man with a mission. A self-described 'DC voltage disciple'. 'The benefits of DC voltage include the fact that there's no energy loss, your electronic equipment stays cool, and it also lasts longer. I develop lighting products for public spaces which are more sustainable, meaning they have a longer economic life and are more affordable – including lower costs for society – as well as being safer and more dynamic. I was commissioned to create something new and innovative which would allow us to test a completely new concept and implement it if it turned out to be successful. The result was customised lighting, where the actual user controls the intensity of the light as opposed to, say, someone in a control tower the next town over.'
A pilot project is currently underway to test this new invention, so as to ensure that it can soon be seamlessly implemented on a larger scale and in other parts of the public space.