Arrival and departure information about ships with web app Arrivals
Looking for up-to-date arrival and departure information about sea-going vessels and (river) cruise ships in the Amsterdam port region? With the free web app Arrivals you can easily find information about ships in the Amsterdam port and North Sea Canal area.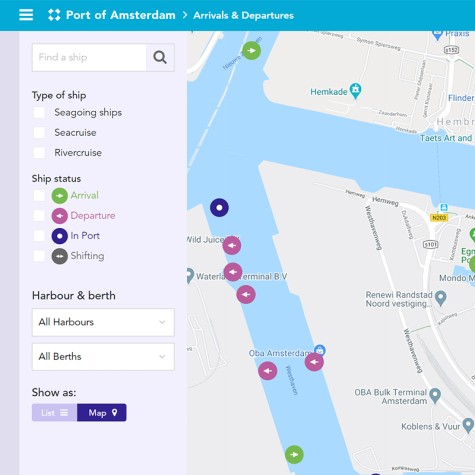 Available for all devices
With Arrivals you can view current ship information on all your devices. The web app works on your desktop, tablet and mobile phone. Convenient! This way you can follow ship movements in the Amsterdam port and North Sea Canal region anytime, anywhere.

Adding arrivals to your home screen
Arrivals totally feels like a mobile app, but it's not. That's why you don't need to download Arrivals to your phone or tablet first. Just go to myport.portofamsterdam.com/arrivals and the ships will appear directly on your screen.
You can add the web app to your home screen, so you always have the service at your fingertips. This is how it works:
Android
Open your Chrome browser and go to myport.portofamsterdam.com/arrivals
Tap the 3 dots icon at the top right of your screen
Tap "Add to Home Screen"
Tap "Add" again
Tap and drag the 'Arrivals' icon to the desired location on your screen