"You win the sustainability battle in shipping with fuels"
They both have salt water running through their veins, but do not shy away from far-reaching measures: Henri van de Weide and Peter Alkema believe that we should refuse ships - which emit too many emissions - in the Amsterdam port. 'The first ships will be refused access to the centre within a few years, if they do not meet our requirements. And one step further: from 2030 onwards, sea cruise vessels at the quay must reduce all their emissions to zero.'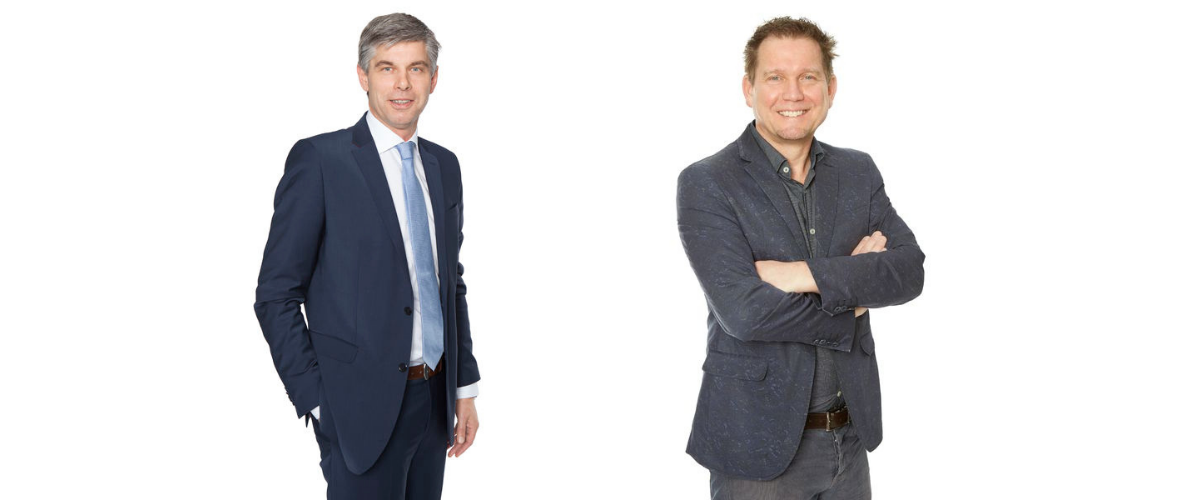 Messed up
Henri van der Weide and Peter Alkema, both active as advisors at the Harbour Master's Division, are real 'nautical men'. Both have a background in shipping. They have been around for quite a few years and have experienced what a lack of regulations, responsibility and sustainability can do to the oceans, 'Our generation messed up pretty badly. We hope to make up for it a little, by working hard on making shipping more sustainable.'
Accelerating the transition
They therefore wholeheartedly support Port of Amsterdam's Clean Shipping Vision 2030 - with a look ahead to 2050. 'This is my dream', says Peter, and Henri agrees, 'We want to be at the forefront of the transition. We want to accelerate.' The reassessed vision will be released next month. Below you can see the three pillars through which Port of Amsterdam wants to make shipping more sustainable.
Port of Amsterdam: towards a clean shipping
The climate crisis is urgent. To prevent worse, large industries must become sustainable as soon as possible. This also applies to the shipping industry. With this Clean Shipping Vision, Port of Amsterdam is taking the lead in stimulating and accelerating the sustainability of this industry. 
Three pillars 
The vision aims to realise clean shipping quickly and is based on three pillars:
MEC: Maritime Energy Carriers 
The aim of this pillar is to offer sustainable shipping fuels in the port and to influence the shipping industry to use them. 
PERT: Port Emission Reduction Technologies 
The aim of this pillar is to use technologies, such as shore-based power, to reduce emissions from ships at berth in the port, thereby improving air quality and noise and contributing to CO2 reduction.   
PCO: Port Call Optimization 
The aim of this pillar is to reduce emissions through the efficient handling of shipping. 
Three targets 
By 2050, shipping in the Amsterdam port area will be emission neutral. Within this vision we have set two measuring points to determine whether we are on track: 
2025: we are on course to become a zero-emission port.

Air quality: - 10% NOX, SOX, PM shipping; 
Greenhouse gases: contribute to 10% reduction in the port area. 

2030: the emission reduction will be accelerated. 

Air quality: - 20% NOX, SOX, PM shipping; 
Greenhouse gases: 15% reduction (shipping) and 30% reduction (inland shipping); 
Cruise at the quay is emission neutral. 

 

 

2050: shipping in the port area is emission neutral.
Our role in the transition
 Port of Amsterdam facilitates and stimulates the shipping industry to achieve these objectives. We are constructing the infrastructure and creating the preconditions for the shipping industry to become more sustainable. We also reward desired behaviour and adjust our pricing policy accordingly. Furthermore, we set an example: we are making our own fleet sustainable, we help service providers in the port to make their operations as sustainable as possible, and we carry out demonstration projects in cooperation with our network. 
Excruciatingly slow
Because of their expertise, both men are actively involved in the International Maritime Organisation (IMO). This is an organisation, set up by the United Nations, which makes agreements at an international level between participating member states. According to Henri, 'The more ships a member state has, the greater its voice in this organisation. Large flag states have major financial interests and this slows down the process. Decision-making for sustainable measures therefore takes an excruciatingly long time.'
Getting to zero
Much too slow for the gentlemen, 'Together with the Scandinavian ports, the Dutch ports are leading the way in Europe. Together with Rotterdam, we are frontrunners and we want to move towards zero emission shipping. As quickly as possible. That is why we joined the 'Getting to Zero Coalition'. This coalition is an initiative of the World Economic Forum and aims to achieve zero emission shipping by 2050. We are one of the 150 participants in this coalition and are fully committed to this goal.' Sustainability increase with fuels And at the IAPH, the International Association of Ports and Harbors, an NGO, they are also making their voices heard on behalf of the port of Amsterdam. Henri is a member of the ESI working group and chairman of the cruise task force. Peter is chairman of the Clean Marine Fuels group. Peter indicates, 'Clean fuels are the key to increase sustainability. That is where you make the difference. Not so much with biofuels, because although they emit less CO2, they still emit particulates and nitrogen. The ideal fuel emits no particulates or nitrogen either, such as green hydrogen and green methanol. We want to be a multifuel port for these clean fuels. Ships can bunker any kind of sustainable fuel with us. For example, a ship will depart for the maintenance of the wind farms mid-November. This ship sails on hydrogen and can then bunker at the IJmond port in IJmuiden.'
Goals achieved
Next month, the revised Clean Shipping Vision 2030 will be published. The first vision, with an action plan running from 2017 to 2021, primarily focused on achieving goals in the area of local air quality. One of the goals at the time was to achieve an emission reduction of 50% by 2030 for sea cruise. This has since been adjusted upwards and is now set at 100%. According to Henri, 'We have achieved many of the goals set at the time. For example, we created an emission model. With this model, we can calculate both the emissions from industry and the emissions from the ships in our port area. What does a ship emit when it is sailing, manoeuvring or moored? With the help of this model, we have substantiated the installation of shore power in our port. Another goal was to realise a bunker facility for LNG and to adapt our port regulations for new, sustainable fuels. We can also tick that box.' 'Did we achieve all of our goals? No, our aim was for all river cruise ships that visit Amsterdam (several thousand a year before COVID-19) to be in possession of the Green Award, a sustainability certificate. That was not achieved, in large part due to COVID-19. Shipping companies that do not yet have a Green Award must have arranged this by January 2023. Only the cleanest river cruise ships will be given a berth near the centre of Amsterdam.'
Shipping will be neutral in 2050
Shipping in the port of Amsterdam will be emission neutral in 2050. Whether that will be achieved internationally is a matter of opinion for Peter and Henri. Henri has his doubts, 'It will only be feasible if we accelerate globally and have a big stick with regulations.' Peter is more optimistic, 'Yes, we have to, because with this climate crisis there is no alternative.'