Breakbulk and project cargo
The Amsterdam port region is a very important hub for breakbulk and project cargo. The port has dedicated terminals, excellent accessibility and is congestion free.
Experienced terminals with tailor made solutions
The Amsterdam port area has specialised terminals. These include four all-weather terminals and several heavy-lift cranes with a lifting capacity of up to 800 tonnes. In this way, the port area serves customers with widely differing cargo needs.
The port area processes 2.8 million tonnes of import and export goods annually. Bulk goods are not only transhipped and stored in the Amsterdam port, some of the goods are also processed in the port area.
And there is still plenty of room to grow. Our experienced terminal staff are ready to offer you tailor-made solutions for general cargo and project cargo.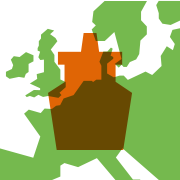 Excellent multimodal connections
The Amsterdam port has excellent, multimodal connections via short sea, inland shipping, rail, road and air. Countries and regions such as England, Scandinavia and the Baltic States are easy to reach, as is the rest of Europe. And completely without traffic jams.
Breakbulk & Project cargo terminals
Eight terminals handle more than 2.8 million tons of breakbulk and project cargo yearly.
Direct contact with our experts
For questions, wishes or more information on breakbulk and project cargo