Give your work a new impulse and join Port of Amsterdam. A workplace that is in motion 24/7 and where themes such as energy transition, digitalisation, innovation, and shipping set the course.
Do you want to be part of a world that looks ahead? Apply for one of the vacancies at Port of Amsterdam!
Excited about working at Port of Amsterdam?
Apply for one of our vacancies via Spielwork. Most of our vacancies are only available in Dutch. Not fluent in Dutch? Or are you looking for an international internship? Please, do not hesitate to contact us to find out more about job opportunities.

Explore & Go team looking for intern
Team Explore & Go is looking for an ambitious student who can strengthen Port of Amsterdam as an Innovation Scout. You would work in the innovation team, focusing on optimizing and conducting the innovation sourcing strategy. This means you would dive deep into the world of the most advanced technology and business models, as well as researching how this could be applied in the Amsterdam port.
This is why you want to work at Port of Amsterdam
You can work anywhere, but working in the Amsterdam port is slightly different. Let us paint you a picture: work meetings on one of our own boats or regular visits to extraordinary companies in the area.

Besides a beautiful and special workplace, with us you also get the opportunity to work on themes that matter, such as energy transition, clean shipping, digitalisation and circular economy. And of course, we offer excellent employee benefits:
Flexible working hours 
End-of-year bonus 
Personal training budget 
A home office equipped with all necessities 
Unique working environment with views of the harbour, the IJ and the city 
Bicycle or public transport reimbursement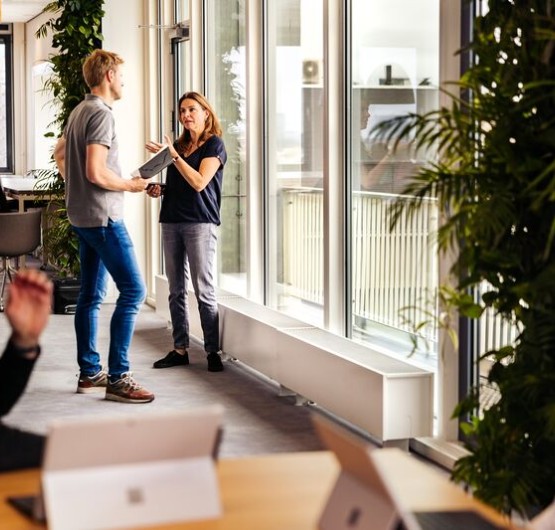 Podcast: working at Port of Amsterdam
What does a Strategic Advisor at Port of Amsterdam do? And what does a workday look like for port official?Mies, a trainee at Port of Amsterdam, talks to colleagues about their work, ambitions, and motivation in the second season of our podcast, Boegpraat. You also get a behind-the-scenes look at the goings-on at the Amsterdam port.
The way we work at Port of Amsterdam
Every Port of Amsterdam employee meets our core values: respect, togetherness, drive, and responsible. This is how we build a culture in which everyone comes into their own.
We aim for results. We are flexible within our business framework, to ensure we enjoy working towards a clear goal.
We stimulate new forms of cooperation and innovation. For example, every potential employee takes an Agile test as part of the application process.
We want to be a reflection of society. With employees of all ages, educational levels, and backgrounds. We also offer work experience places for people distanced to the labour market.