Setting the course for the Netherlands Hydrogenland now
With less than 100 days to go until the postponed Olympic Games in Tokyo, the leaders of Nederland Waterstofland are seizing the moment to draw attention to the strength of the Netherlands as a hydrogen country.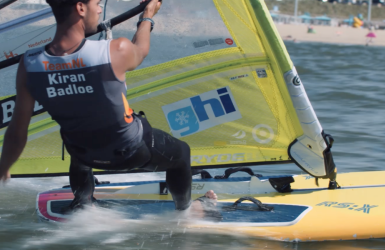 Under the name Mission H2, an initiative of Gasunie, Groningen Seaports, Remeha, Shell, Stedin Group, Toyota and Port of Amsterdam, together with the ambassadors of TeamNL, awareness is generated for hydrogen as a pillar underpinning the climate ambitions of the Netherlands. The campaign with the message "Together we will make the Netherlands Hydrogen Land" was launched today.
In the campaign, Olympic sports personalities Marit Bouwmeester, Kiran Badloe, Ferry Weertman and other Olympic and Paralympic water sport heroes show that if we choose the right course now, we will all soon experience the dazzling energy of hydrogen. And that is necessary. Because if we do not scale up to large-scale hydrogen applications now, we will lag behind our neighbours, we will not achieve our climate targets and we will not make sufficient use of the national earning power of hydrogen. Reason enough for this hydrogen consortium to sound the alarm!
Thanks to its links with wind and water, the Netherlands is excellently positioned to become the hydrogen country of Europe. We have everything: the North Sea for offshore wind, seaports, knowledge and infrastructure. But then we have to get going today: Together we will make the Netherlands hydrogen country!
Vision, decisiveness and acceleration
Last week no fewer than 80 Dutch companies presented their hydrogen commitments to the government. In doing so, the Dutch business community demonstrated its decisiveness and willingness to invest in accelerating the hydrogen economy, for employment, the economy and the climate. The next move is up to the government!
Ulco Vermeulen, Executive Board of Gasunie, one of the Mission H2 partners: 'The comparison between hydrogen transition and top-class sport is perfect. At this very moment national sports federations, Olympic and Paralympic committees and above all our athletes are preparing with full dedication and unanimity for the biggest sports event in the world. That is exactly why we are now fully committed to a green future with hydrogen. The government, the business community and knowledge institutes must now show the same vision, focus and decisiveness as our top athletes. We won't make it with less.
Collaboration TeamNL & water sports unions
The campaign is being run in close cooperation with TeamNL and the water sports associations KNZB, KNRB and Watersportverbond. Our water sports enthusiasts know the power of wind and water like no other. That is why we are so proud of our multiple Olympic, Paralympic, World, European and Dutch champions: Marit Bouwmeester, Ferry Weertman, Kiran Badloe, Liesette Bruinsma, Ilse Paulis & Marieke Keijser.
H2Gate: towards transhipment of 1 million tons of green hydrogen in the Amsterdam port
Port of Amsterdam and tank storage company Evos aim to import large volumes of green hydrogen into the Amsterdam port.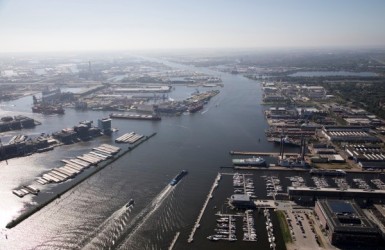 Over the next six months, they, together with three specialised hydrogen companies, will investigate the feasibility of large scale imports, drawing up a blueprintand outlining a roadmap towards 2030 and beyond.
Port of Amsterdam, Evos, Electriq Global, Hydrogenious and Hysilabs have joined forces to investigate the technical and commercial feasibility of importing and storing hydrogen on an industrial scale. This initiative is dubbed H2Gate. The parties are jointly working on a blueprint for an import, storage, distribution and trading hub, consisting of facilities with a total throughput capacity of 1 million tonnes of hydrogen per year.
Good starting position
The five parties expect hydrogen to play a central role in the transition to a sustainable energy system. This transition is necessary if we are to meet the European target of becoming climate-neutral by 2050.
The Amsterdam port area is well positioned to play an important role in this transition. For decades, the port has been a leading international hub for the trade in energy products. There are many initiatives underway in the region to develop a green hydrogen cluster, including production facilities. The H2Gate partners share the vision that alongside local production of hydrogen, imports are needed to meet future demand in Europe.
Building an international supply chain
Moving to overcome the challenges with transporting and storing compressed and cooled hydrogen, the H2Gate project is exploring several hydrogen carrier technologies in parallel, also to determine potential energetic and operational synergies between them. Subsequent studies into design and realization, including pilots, are conceivable.
As such the H2Gate project is an important step towards the realisation of an international supply chain for hydrogen on a commercial scale. Depending on the availability of green hydrogen worldwide and the growth of demand in Europe, such supply chains are expected to scale up towards the end of this decade.
According to Ramon Ernst, Managing Director of Evos Amsterdam, 'This project fits perfectly with our ambition to develop infrastructure solutions for a carbon-free energy future. The expertise of Evos lies in the storage and handling of large quantities of energy products and we would like to expand our portfolio with new clean forms. We are pleased to be able to work with capable and motivated partners towards a shared vision.'
Eduard de Visser, Head of Strategy and Innovation at Port of Amsterdam, shares this view, 'As the Port of Amsterdam, we want to be at the forefront of the energy transition. Our established position as a formidable, international energy hub means we have the infrastructure, the partners and the knowledge and experience to be a catalyst for new, sustainable energy products. We are proud to work with Evos and other partners on H2Gate. It shows how innovative and enterprising the Amsterdam port is.'
First hydrogen filling station opened in Amsterdam port
The first hydrogen filling station in the port of Amsterdam opened today. The filling station of OrangeGas is located on the Australiëhavenweg, along the A5 motorway and is open 24/7. This is another step towards a hydrogen economy.
Only clean fuels are offered at the location on the Australiëhavenweg. In addition to hydrogen, bio-CNG (green gas), electricity and liquid CO2 will also be added later, HVO100 and LBG. HVO100 is a synthetic fuel made 100% from residual materials from vegetable oils and fats. LBG is Liquefied Bio Gas.
Joyce van Os de Man, director Benelux at OrangeGas: 'It's incredibly cool that the hydrogen station in Amsterdam is now open. This filling station also offers other clean fuels. With this station we are perfectly in line with Amsterdam's zero-emissions policy'.
The municipality of Amsterdam is one of the customers of the hydrogen filling station. Together with seven other port companies, their ambition is to have 20 vehicles running on hydrogen within two years. There are also taxis and private individuals that are already running on hydrogen. There is a great deal of interest from the transport and construction sectors in switching to hydrogen-powered trucks. More hydrogen stations will follow soon in the Amsterdam port.
Port of Amsterdam will be focusing on hydrogen in the coming years. In order to achieve a climate-neutral society in 2050, we will need not only sustainable energy sources such as solar and wind energy, but also bio- and synthetic fuels and hydrogen. This hydrogen station is one of the many initiatives in which Port of Amsterdam is playing a role by facilitating and/or investing. Driving on hydrogen is emission-free. Hydrogen is not a fuel but an energy carrier. The cars fill up with hydrogen, which is converted into electrical energy by a fuel cell in the vehicle.
More information about our other hydrogen initiatives can be found on our hydrogen page. 
Missie H2 in the port of Amsterdam
Port of Amsterdam is committed to scaling up the production and use of hydrogen. We see green hydrogen as an important building block for the energy transition and a future product for the port.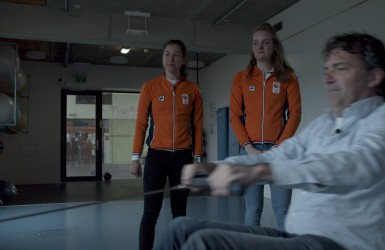 Together with Missie H2 we aim to make the Netherlands a hydrogen country. With the (water) athletes of TeamNL as the driving force.
But what exactly is the important role of hydrogen? And what are we already doing in the port with hydrogen? Eduard de Visser, Strategy Director at Port of Amsterdam, tells Olympic rowers Ilse Paulis and Marieke Keijser all about it.