Amsterdam is a very popular destination for sea cruises. Terminals and berths are located in the middle of the city centre. They are also close to Amsterdam Airport Schiphol and Amsterdam Central Station. Amsterdam is therefore a logical cruise port for turnaround calls.
Amsterdam is a popular destination for sea cruises
With its central location in the city, the Port of Amsterdam is a strong player in the sea cruise market. The city offers vibrancy, its history, bustling sights, culture and luxury hotels. The port region of Amsterdam has excellent facilities for cruise ships bound for Amsterdam.
The modern passenger terminal in Amsterdam is close to all the tourist attractions that Amsterdam and its surroundings have to offer . Also the terminal is easily accessible; 20 minutes away from Amsterdam Airport Schiphol and right next to Amsterdam Central Station. There is also special parking for coaches and berths for touring boats.
The terminal combines efficient handling of ships and baggage with a warm welcome for passengers and crew. Moreover, Amsterdam is a logical cruise port for turnaround calls.
On course for emission-free docking of sea cruise vessels
We aim for emission-free docking of all sea cruise ships in our port by 2030. In doing so we improve air quality and contribute to the sustainability ambitions of the city of Amsterdam. As of January 2022, Port of Amsterdam applies a fee structure based on the emission certification of the ships' engines (TIER). In addition, we give discounts to sea cruise ships that report their emission levels and those with below-average emission levels.
Measures & ambitions for the coming years
Berth reservation
For ocean cruise berth reservations, please contact Passenger Terminal Amsterdam.
+31 (0)20 509 10 00
info@ptamsterdam.com
Cruise calendar
In the sea cruise calendar you will find all information about the arrival and departure of the sea cruise ships at Passenger Terminal Amsterdam.
Arrivals & departures
View the Arrivals web app for arrival and departure times of sea cruises.
The ms Koningsdam in her home port Amsterdam
The cruise ship ms Koningsdam of Holland America Line in the port of Amsterdam. Holland America Line has chosen Amsterdam as home port for this ship from the 'Pinnacle' class.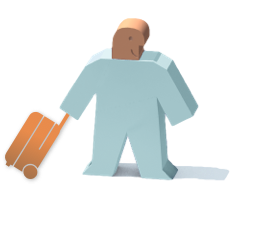 Day tourist tax for cruise passengers
The Municipality of Amsterdam charges a day tourist tax for TRANSIT sea and river cruise passengers who moor within the municipal boundaries of Amsterdam. For whom the day tourist tax has to be paid and how it works? Read more.

Cruise passenger speaking
'Our cruise departed from Amsterdam. Our taxi brought us right in front of the entrance of the cruise terminal. We were able to drop off our bags immediately and walked straight through to check-in, which took place quickly and efficiently. After only a 30-minute wait, we boarded the MS Koningsdam. We departed right on time and we enjoyed the view from the deck while the ship was turning.'
'The journey to IJmuiden was wonderful and getting to see the scenery and the locks was just fantastic. At the end of our two-week cruise we returned to Amsterdam and also the debarking process ran like clockwork. We were on our train within 30 minutes after debarking. In short: a beautiful cruise, wonderful location and perfect organisation!'
- mr Van der Hoest, cruise passenger
Direct contact with our expert
For questions, wishes or more information on sea cruise.