Internship: Start-up scout for innovation team
We are looking for an intern who can join our innovation team 'Explore & Go' on its mission to find innovative solutions that aim to renew and change our current products, services or processes.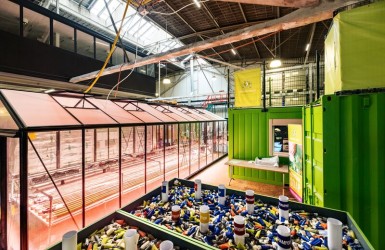 Number of work hours per week: 36 hours
Position Closing date: 15 January 2022
The Amsterdam port region is one of the world's largest logistics hubs. Handling 100 million tonnes in cargo traffic annually, Amsterdam is one of Western Europe's Top 5 sea ports. The Port's strategic and central location within Europe makes it easily accessible and ensures excellent connections to all major European markets.
The world is developing at lightning speed, standing still means going backwards and in order not to fall behind, Port of Amsterdam must continue to innovate. Innovation is the application of new technologies in products, services and processes, or the development of new products, services and processes.
The Explore & Go team has been established for innovation initiatives that aim to renew and change our current products, services or processes.
What is your job Description?
Team Explore & Go is looking for a high-potential and ambitious student to join our company as a Start-up Scout Intern. You'll work in our dedicated Horizon 2 (Moon) and 3 (Mars) innovation team Explore & Go to optimize and execute our start-up sourcing strategy. This means that you dive deep into the world of the newest technologies and business models and that you will learn how to assess their commercial potential and quality, and their alignment with Port of Amsterdam's innovation visions.
Your role:
Reach out, plan meetings and speak to innovative start-up founders working within Port of Amsterdam's areas of interest from all over the world;
Identifying new scouting platforms & keeping up to date information on those platforms;
Researching and scraping different start-up databases, social media platforms, events and conferences, and other parts of start-up ecosystems;
Identifying suitable events and conferences for the Explore & Go team to take part in;
Setting up an efficient system for capturing incoming start-up related data;
Helping us in planning and executing events such as conferences, hackathons, etc. Rating start-ups based on each innovation vision's criteria and current challenges;
Creating tactics and templates for reaching out to start-ups.
Why would you do your internship at team Explore & Go?
You will have the opportunity to work in the heart of Amsterdam in one of the leading ports in Europe, and be in direct contact with some of the largest Dutch and international companies in the Netherlands;
You'll be encouraged to experiment and learn from the Explore & Go team, our start-ups, and the start-ups you will be in contact with;
You're in a role in which you can pick your responsibilities and grow the skills you want to grow. We'll be there to support you in your personal goals along the way;
We'll be having Thursday drinks with the team;
Appropriate compensation;
Flexible working hours and the possibility to work from home;
Our team will support you in everything you do. We've worked at all kinds of companies, from small ones to big ones, and some of us are experienced entrepreneurs. We'll teach you all of our joint experiences.
What is your profile?
You are registered as a student during the course of the internship. Preferred fields of study: Innovation, Entrepreneurship, Business Administration, Engineering;
You are available for at least 6 months starting in February 2022 (Until the end of July 2022);
A special interest and experience in innovation/technology/start-ups;
Familiar with start-up vocabulary and ecosystem;
Fluency in English both written and spoken ( knowledge of Dutch is a big plus);
You are able to work with data.
Are you interested in this internship? Apply now by sending your application to hr@portofamsterdam.com. If you have any further questions regarding this internship, please contact Navid Ardakanian (Innovation Lead) via: explore&go@portofamsterdam.com and mention Start-up Scout Internship in the subject.