Amsterdam Vaart! results in reduced emissions and congestion in the city
37% fewer CO2 emissions, 1,600 fewer truck trips in the city and a reduction of 19,700 trips outside the city. The Amsterdam Vaart! project is making a difference. The results were achieved over the past 2 years by using construction logistics by water in 9 construction projects in & around the city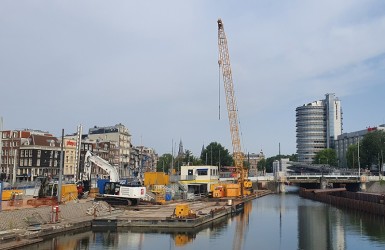 This is evident from the report published today by Amsterdam Vaart!, prepared by TNO. Freight over the canal appears to be a dire necessity. Yesterday additional research by the municipality revealed that the condition of the bridges and quays is very poor. Further relief of the urban infrastructure by more transport over the water seems inevitable.
Accessibility and livability
But not only wear and tear on bridges and quays is the result of intensive freight transport. Accessibility and air quality are also under pressure. This affects the quality of life in the city. According to Top Sector Logistics, approximately 27% of CO2 emissions in the city are related to construction logistics.
With the project Amsterdam Vaart! a consortium of Waternet, City of Amsterdam, TNO and Port of Amsterdam, supported by the Ministry of Infrastructure and Water Management, supports nine construction projects in reducing construction logistics flows in the city center. The goal is to shift urban traffic from trucks to transport by water.
There are several hubs in the port of Amsterdam where construction materials are collected and then transported by water to construction projects elsewhere in the city. Among other things, transport by water should lead to lower CO2 emissions, fewer inner-city trips and less heavy transport by road.
Koen Overtoom, CEO Port of Amsterdam: "The results of Amsterdam Vaart! show that water transport contributes to improving the quality of life in Amsterdam. It makes the city and port more sustainable and brings us closer to our common goal: zero-emission transport."
More efficient construction process and less failure costs
The motivation for construction companies to participate in Amsterdam Vaart! is to improve the efficiency of the construction process, in part by reducing failure costs in transport by water. Nine construction projects have received support over the past two years in drawing up a logistics plan to make the most of waterborne transport of goods. Waterborne transport is also being anchored in Amsterdam policy. Opportunities are being worked out for waterborne transport without further increasing congestion on the water.
More information about the results of Amsterdam Vaart! can be found in the TNO report or on our website.
26,522 new solar panels at CWT Europe in the port of Amsterdam
Unpublished
In the past few months, no fewer than 26,522 solar panels have been installed on nine different roofs at logistics service provider CWT. This is over 45,000 square metres of solar panels. Good for the electricity of about 2,700 average Dutch households.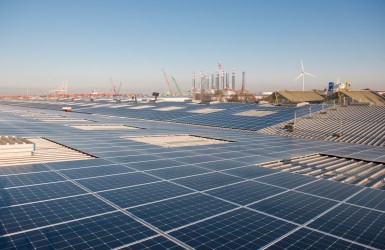 Making work more sustainable
CWT is active in the storage of cocoa and coffee in the port of Amsterdam. In order to carry out its activities in a sustainable manner, CWT has chosen to use the roofs of its buildings to generate solar power. The more than 26,522 solar panels generate more than 7,500,000 kWh of green electricity annually. The panels were installed by KiesZon, which made use of the SDE+ subsidy. This government subsidy stimulates sustainable energy production.
Quarter of a million m2 of solar panels by 2024
Port of Amsterdam's ambition is to have 250,000 m2 of solar panels in the port by 2024. The port wants to lead the way in the transition to a sustainable society. In doing so, we stimulate clients to make their cargoes and activities more sustainable. In this way, we contribute to a climate-neutral port and region.
Climate neutral in 2050
The City of Amsterdam aims to be climate neutral by 2050. Art van der Giessen, Program Manager Solar Energy for the City of Amsterdam: ''The port plays an important role in the sustainability ambitions of the City of Amsterdam. This is a fine example of how the Port Authority, the business community and the government work together to achieve the ambition of a climate-neutral Amsterdam''.
How to make offshore wind circular?
By: Dorothy Winters, programme manager Offshore Wind, Amsterdam IJmuiden Offshore Ports (AYOP)
Offshore wind is one of the fastest growing sectors, with Europe investing some 26 billion euros in wind at sea during 2020 alone. Wind is one of the main components for generating sustainable electricity as part of the energy transition. With the first generation of wind turbines from the period 2007-2008 reaching the end of their lifespan, the sector is facing new challenges with regards to circular decommissioning.
The offshore wind industry is becoming increasingly aware that while it designs, builds and maintains, it was until recently set up in a linear way. In other words, there are no functions for wind turbines after use. James Hallworth, Allard Klinkers (both from Port of Amsterdam) and Dorothy Winters (AYOP) participated in a number of sessions in recent months focused on the sustainability and circularity of wind turbines.
The circular perspective is a broader subject than offshore wind alone of course. Port of Amsterdam and the Amsterdam Metropolitan Region are now considering how the linear approach can be translated into a circular one.
Challenges
The development of circular wind turbines comprises various focal points, three of which are covered in this article: the continuous development of the turbine, the differences between various turbine generations, and challenges related to composite processing.
Fast development
A major demand for wind energy combined with a strong technological development is literally making the turbines grow in height, volume and weight within a substantially price-driven background. The focus is on making everything stronger, lighter in weight, larger and, therefore, more efficient. Circularity has not been sufficiently taken into account.
Multiple generations
There are differences between the various generations of turbines. The materials used in a blade in the first generation were not applied in later ones. This also means that solutions we can apply now to the first generation may not be easily transferable to the second or third generation, and so forth. The first generation of turbines were so 'battered' by the saline offshore conditions that their parts are no longer suitable for reuse.
Composite challenge
The blades are made from composite combined with other materials such as wood, fibre, resins and glues; materials that are difficult to separate into individual elements. As the first blades return from sea there are only a few possible applications for reuse, such as reinforcing concrete, placing in playgrounds or as roofing for bicycle sheds. It is important to note that although the volumes of the blades are a significant part of the turbine, they are relatively small for a specific composite processing market on an industrial scale.
What can we learn from other sectors?
Looking at the production, construction and dismantling of offshore wind equipment and the related electrical infrastructure, there is plenty of common ground with other sectors. The production industry, high-tech sector, logistics, maritime, offshore oil & gas, data-driven maintenance, energy and infrastructure; our North Sea Canal region features a wide diversity of industries. So which examples do we see around us that can be applied to offshore wind? And what can we learn from other sectors?
Integrated design
Like cars, wind turbines have a LEGO-like design and include parts from various suppliers. In contrast to electrical plants, for example, the lack of design integration is an issue during the decommissioning process. Manufacturers look almost exclusively at their own components. We believe that exchanging options and opportunities could reap rewards and help avoid dismantling risks. Rather than simply reversing the construction process, things should be set up so that the parts can be reused.
Service concepts
Nowadays, you can lease a car or office lighting, and the batteries of your Tesla remain the property of the builder. New business models are popping up in various sectors such as car sharing or leasing household appliances. Ensuring that a turbine remains the property of the builder or OEM avoids discussions about ownership and who's responsible for decommissioning.
Reusing parts
On land we see that revised wind turbines find a second life at other locations. When repairs are needed turbine manufacturers just replace the relevant parts. In the aircraft industry, a sector with similarly high standards, there is a market for revised parts – with certification. This means that data-driven maintenance would have benefits during use as well as enabling a proper inventory for an end-of-life turbine.
How can the region contribute?
Our region has a healthy ecosystem for high-quality circular processing within a range of 30 kilometres. The success of this ecosystem relies on various factors: knowledge of materials, experience in reuse and processing, and logistical expertise.
Material expertise
The North Sea Canal region and Amsterdam Metropolitan Region accommodate a broad range of highly technical companies. From the processing of electronics, fibres and end-of-life plastics or composites to environmental expertise, applied research and non-destructive testing, these organisations could play a role in assessing the materials and options for reuse and even function as potential buyers.
Experience & space
Circular activities are already ongoing with sectors such as waste processing becoming increasingly refined. There are many companies with knowledge and expertise related to circularity which they can apply to turbine materials. The potential for our sector lies with a broad number of companies and start-ups that apply these techniques in other sectors, but have yet to enter the offshore wind sector. A decommissioning location in the Amsterdam port would provide the space for these activities.
Logistics
Decommissioning does not revolve around reverse logistics, or dismantling something in the way it was built. The next stage should determine how the dismantling and transportation are set up. Whether a blade is used to provide shelter at a bus stop or for a pyrolysis process to create an oil product defines how the dismantling takes place. Moreover, accommodation and processing within a range of 30 kilometres prevents unnecessary transportation of materials and provides a sustainable option.
Yes we can!
Various members of Amsterdam IJmuiden Offshore Ports are involved in decommissioning oil & gas platforms. It is good (and promising) to see they have already jointly determined that it is feasible to make a circular case commercially successful. And this is Port of Amsterdam's and Amsterdam IJmuiden Offshore Ports' aim for offshore wind, too. In a region that represents the entire chain, our knowledge and experience can contribute to smart solutions. Together, we can learn how to expand the applications at the end of a wind turbine's lifespan and use this as input for designing the front.
Setting the course for the Netherlands Hydrogenland now
With less than 100 days to go until the postponed Olympic Games in Tokyo, the leaders of Nederland Waterstofland are seizing the moment to draw attention to the strength of the Netherlands as a hydrogen country.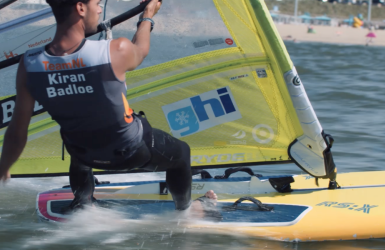 Under the name Mission H2, an initiative of Gasunie, Groningen Seaports, Remeha, Shell, Stedin Group, Toyota and Port of Amsterdam, together with the ambassadors of TeamNL, awareness is generated for hydrogen as a pillar underpinning the climate ambitions of the Netherlands. The campaign with the message "Together we will make the Netherlands Hydrogen Land" was launched today.
In the campaign, Olympic sports personalities Marit Bouwmeester, Kiran Badloe, Ferry Weertman and other Olympic and Paralympic water sport heroes show that if we choose the right course now, we will all soon experience the dazzling energy of hydrogen. And that is necessary. Because if we do not scale up to large-scale hydrogen applications now, we will lag behind our neighbours, we will not achieve our climate targets and we will not make sufficient use of the national earning power of hydrogen. Reason enough for this hydrogen consortium to sound the alarm!
Thanks to its links with wind and water, the Netherlands is excellently positioned to become the hydrogen country of Europe. We have everything: the North Sea for offshore wind, seaports, knowledge and infrastructure. But then we have to get going today: Together we will make the Netherlands hydrogen country!
Vision, decisiveness and acceleration
Last week no fewer than 80 Dutch companies presented their hydrogen commitments to the government. In doing so, the Dutch business community demonstrated its decisiveness and willingness to invest in accelerating the hydrogen economy, for employment, the economy and the climate. The next move is up to the government!
Ulco Vermeulen, Executive Board of Gasunie, one of the Mission H2 partners: 'The comparison between hydrogen transition and top-class sport is perfect. At this very moment national sports federations, Olympic and Paralympic committees and above all our athletes are preparing with full dedication and unanimity for the biggest sports event in the world. That is exactly why we are now fully committed to a green future with hydrogen. The government, the business community and knowledge institutes must now show the same vision, focus and decisiveness as our top athletes. We won't make it with less.
Collaboration TeamNL & water sports unions
The campaign is being run in close cooperation with TeamNL and the water sports associations KNZB, KNRB and Watersportverbond. Our water sports enthusiasts know the power of wind and water like no other. That is why we are so proud of our multiple Olympic, Paralympic, World, European and Dutch champions: Marit Bouwmeester, Ferry Weertman, Kiran Badloe, Liesette Bruinsma, Ilse Paulis & Marieke Keijser.
H2Gate: towards transhipment of 1 million tons of green hydrogen in the Amsterdam port
Port of Amsterdam and tank storage company Evos aim to import large volumes of green hydrogen into the Amsterdam port.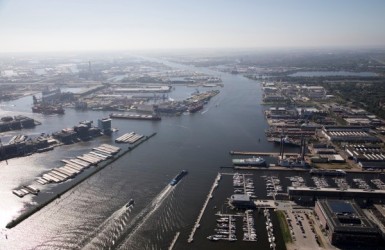 Over the next six months, they, together with three specialised hydrogen companies, will investigate the feasibility of large scale imports, drawing up a blueprintand outlining a roadmap towards 2030 and beyond.
Port of Amsterdam, Evos, Electriq Global, Hydrogenious and Hysilabs have joined forces to investigate the technical and commercial feasibility of importing and storing hydrogen on an industrial scale. This initiative is dubbed H2Gate. The parties are jointly working on a blueprint for an import, storage, distribution and trading hub, consisting of facilities with a total throughput capacity of 1 million tonnes of hydrogen per year.
Good starting position
The five parties expect hydrogen to play a central role in the transition to a sustainable energy system. This transition is necessary if we are to meet the European target of becoming climate-neutral by 2050.
The Amsterdam port area is well positioned to play an important role in this transition. For decades, the port has been a leading international hub for the trade in energy products. There are many initiatives underway in the region to develop a green hydrogen cluster, including production facilities. The H2Gate partners share the vision that alongside local production of hydrogen, imports are needed to meet future demand in Europe.
Building an international supply chain
Moving to overcome the challenges with transporting and storing compressed and cooled hydrogen, the H2Gate project is exploring several hydrogen carrier technologies in parallel, also to determine potential energetic and operational synergies between them. Subsequent studies into design and realization, including pilots, are conceivable.
As such the H2Gate project is an important step towards the realisation of an international supply chain for hydrogen on a commercial scale. Depending on the availability of green hydrogen worldwide and the growth of demand in Europe, such supply chains are expected to scale up towards the end of this decade.
According to Ramon Ernst, Managing Director of Evos Amsterdam, 'This project fits perfectly with our ambition to develop infrastructure solutions for a carbon-free energy future. The expertise of Evos lies in the storage and handling of large quantities of energy products and we would like to expand our portfolio with new clean forms. We are pleased to be able to work with capable and motivated partners towards a shared vision.'
Eduard de Visser, Head of Strategy and Innovation at Port of Amsterdam, shares this view, 'As the Port of Amsterdam, we want to be at the forefront of the energy transition. Our established position as a formidable, international energy hub means we have the infrastructure, the partners and the knowledge and experience to be a catalyst for new, sustainable energy products. We are proud to work with Evos and other partners on H2Gate. It shows how innovative and enterprising the Amsterdam port is.'
First hydrogen filling station opened in Amsterdam port
The first hydrogen filling station in the port of Amsterdam opened today. The filling station of OrangeGas is located on the Australiëhavenweg, along the A5 motorway and is open 24/7. This is another step towards a hydrogen economy.
Only clean fuels are offered at the location on the Australiëhavenweg. In addition to hydrogen, bio-CNG (green gas), electricity and liquid CO2 will also be added later, HVO100 and LBG. HVO100 is a synthetic fuel made 100% from residual materials from vegetable oils and fats. LBG is Liquefied Bio Gas.
Joyce van Os de Man, director Benelux at OrangeGas: 'It's incredibly cool that the hydrogen station in Amsterdam is now open. This filling station also offers other clean fuels. With this station we are perfectly in line with Amsterdam's zero-emissions policy'.
The municipality of Amsterdam is one of the customers of the hydrogen filling station. Together with seven other port companies, their ambition is to have 20 vehicles running on hydrogen within two years. There are also taxis and private individuals that are already running on hydrogen. There is a great deal of interest from the transport and construction sectors in switching to hydrogen-powered trucks. More hydrogen stations will follow soon in the Amsterdam port.
Port of Amsterdam will be focusing on hydrogen in the coming years. In order to achieve a climate-neutral society in 2050, we will need not only sustainable energy sources such as solar and wind energy, but also bio- and synthetic fuels and hydrogen. This hydrogen station is one of the many initiatives in which Port of Amsterdam is playing a role by facilitating and/or investing. Driving on hydrogen is emission-free. Hydrogen is not a fuel but an energy carrier. The cars fill up with hydrogen, which is converted into electrical energy by a fuel cell in the vehicle.
More information about our other hydrogen initiatives can be found on our hydrogen page. 
Synkero builds facility in the port of Amsterdam, producing sustainable aviation fuel from CO2
Synkero, a project development start-up, was launched during the European Conference for Sustainable Aviation Fuel (SAF). Synkero aims to develop a commercial plant for the production of SAF.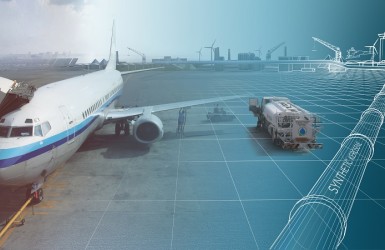 This so-called "e-fuel" will be produced using green hydrogen and CO2. This green hydrogen is produced from water and renewable energy. The factory will be located in the Port of Amsterdam, which has an existing kerosene pipeline to Schiphol Airport. The factory is scheduled to be completed in 2027. With this plant, Synkero's ambition is to produce 50,000 tons of sustainable aviation fuel annually. The production of sustainable aviation fuel is extremely important in order to achieve climate targets.
The current generation aircraft engines require liquid fuels. These aircraft engines cannot switch to alternative energy sources such as hydrogen or electricity in the short term. SAF is, therefore, the solution to drastically reduce CO2 emissions in aviation. This aviation fuel is known as a 'drop-in' fuel, meaning that pure SAF can be mixed with fossil kerosene. No further modifications to infrastructure or equipment are required. It is a clean, liquid alternative to fossil kerosene.
Synthetic SAF
Several technologies currently exist to produce SAF. One of these technologies is the synthetic route. As a feedstock, this 'e-fuel' uses CO2 from unavoidable industrial processes or the air directly. The CO2 is then converted to SAF through a chemical process in combination with green hydrogen. Synthetic SAF is sustainable in all aspects and does not contribute to further unsustainable practices such as displaced land use and deforestation. This route of producing SAF is also scalable and integral in making aviation more sustainable.
Start-Up
Synkero is a project development start-up. Together with partners Port of Amsterdam, Royal Schiphol Group, SkyNRG and KLM, Synkero will focus on realizing the aforementioned commercial SAF factory in the Port of Amsterdam. The project will seek to connect with sustainable initiatives in the North Sea Canal area, such as the Hermes project.
Joost Brinkman, Managing Director Synkero: 'To keep the world habitable, it is paramount that aviation also becomes sustainable. However, it is also one of the most challenging sectors to make emission-free. Cooperation, technical innovation, and European policy are all crucial for this. Therefore, we are delighted to have founded Synkero and, in close cooperation with our various partners, to take the next steps towards building a factory for the production of sustainable aviation fuel'.
Quote Koen Overtoom, CEO Port of Amsterdam: 'Making aviation more sustainable is very important for the region and the Netherlands. A factory in our port that produces SAF in a circular way fits seamlessly with our new four-year strategy to be a leader in the energy transition. This is a great initiative, and we are proud to be part of this great transition.'
Dick Benschop, CEO Royal Schiphol Group: "Worldwide people, business and countries are connected through aviation. To pass on that pleasure to future generations, we need to get rid of the carbon. Our goal is a net zero aviation sector in 2050. To achieve that, the development of sustainable aviation fuels is essential. With Synkero, we are taking the next step."
Jurrian de Jonge, Director Fuel, KLM Royal Dutch Airlines: 'As a sustainable aviation fuel (SAF) user, KLM welcomes initiatives that contribute to the further development of SAF. In 2019, KLM released Fly Responsibly, through which we commit to creating a more sustainable future for aviation. A cornerstone in our approach is to scale up SAF and its use. There are still many challenges in the field of synthetic kerosene, including the technology, the availability of green power, and obtaining CO2 from the air. This is why we have been working for some time with Synkero to help with research, and accelerating developments.
Bambooder establishes itself in the port of Amsterdam
Bambooder, a company specialising in recovering fibres from bamboo for high-grade reinforced composite applications, has recently set up shop in the port of Amsterdam.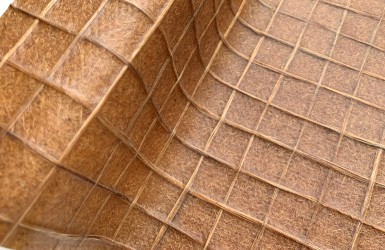 In doing so, it fits seamlessly into the strategy of Port of Amsterdam to provide space for circular process industry.
Sustainable alternative
Bambooder was founded in 2015 and offers a sustainable alternative to, for example, glass fibre and carbon but also steel and aluminium. The bamboo arrives by container ship from Indonesia, among other places. The raw materials are then first processed into fibres and then into processable semi-finished products in the form of mats. These mats are used by end users in markets where reduction of CO2 emissions and weight are very important. Examples include structural applications for transport (e.g. cars, planes, trains), sports (ski, kite, surfboard), energy (wind turbines), building constructions and design (furniture). No chemical processes are used in the production process.
Collaboration
Together with Bambooder, Port of Amsterdam has searched for the right location. We are very pleased that this has succeeded. The Amsterdam Climate & Energy Fund (AKEF) also played a role in the establishment process. Their investment made this possible.
Container barges have wind in their sails
Last week TMA Logistics did a test on container barge Ms Royaal with eConowind. This is a container with collapsible sails that can be sailed partly on wind.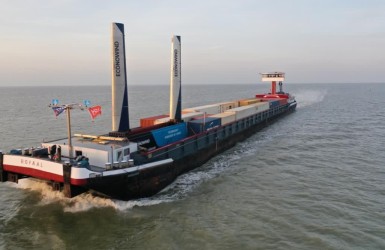 The container takes up little space and can therefore easily be placed on board (inland) vessels.
10% fuel savings with eConowind
On the IJsselmeer and the Wadden Sea, between Harlingen and Amsterdam, it almost always blows. This made that location ideal for testing the eConowind. Folding the system only takes five minutes. The test yielded a fuel saving of 10%. Enough reason to test this further.
Inland shipping connections with the port of Amsterdam
Logistics service provider TMA Logistics connects terminals in Harlingen, Hasselt, IJmuiden, Velsen and Amsterdam with the deep sea terminals in Rotterdam and Antwerp. TMA has fixed agreements with the deep sea terminals and bundles large volumes. With these inland shipping connections, fixed and reliable sailing schedules have been created for their customers.
Further greening
By using inland navigation, unnecessary waiting times with trucks are avoided. It also reduces traffic jams and CO2 emissions. TMA logistics wants to make their ships even greener. For example, by making more use of the wind, such as the eCono wind. TMA has also been using the MS Phoenix since 2018. This is a fully hybrid ship.
Startup ReefSystems installs artificial reef in IJmuiden
The Amsterdam Startup ReefSystems, based in Prodock, installed artificial reefs in IJmuiden on Monday 26 October to promote biodiversity.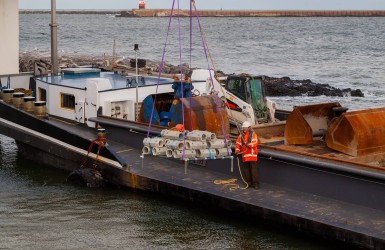 With these reefs ReefSystems creates habitats, a natural habitat, to stimulate the growth of local marine life. With this installation ReefSystems hopes to take a step towards larger reef installations at wind farms in the North Sea.
ReefSystems' various microhabitats provide food, shelter and breeding grounds for a wide variety of species, allowing populations to grow again and restoring local ecosystems. The reef installation near IJmuiden is the first of three installations of the overarching North Sea Canal project. Wednesday 28 October a reef was installed near the Moezelhaven (brackish water) and on 3 November a reef near the Amsterdam Marine area (sweeter water).
ReefSystems designs and produces systems that promote biodiversity. In this case an artificial reef; the 'Modular Sealife System', as the founders call it. In collaboration with Port of Amsterdam, Rijkswaterstaat and Wageningen University, it stimulates the growth of various underwater populations in the North Sea Canal. Lack of habitats is, after fishing, blocking migratory routes and pollution, the biggest cause of declining biodiversity. The installation of artificial reefs creates new habitats for local and migratory fish species, crustaceans and shellfish.
Port of Amsterdam has been an active member of the North Sea Canal Fish Migration Working Group for many years. Together with the province of North Holland, Hoogheemraadschappen Hollands Noorderkwartier and Rijnland, Waterschap Amstel, Gooi and Vecht, Rijkswaterstaat, Municipality of Amsterdam and Sportvisserij MidWest Nederland. This group is trying to strengthen fish migration.