H2Gate: towards transhipment of 1 million tons of green hydrogen in the Amsterdam port
Port of Amsterdam and tank storage company Evos aim to import large volumes of green hydrogen into the Amsterdam port.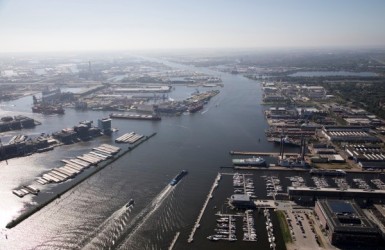 Over the next six months, they, together with three specialised hydrogen companies, will investigate the feasibility of large scale imports, drawing up a blueprintand outlining a roadmap towards 2030 and beyond.
Port of Amsterdam, Evos, Electriq Global, Hydrogenious and Hysilabs have joined forces to investigate the technical and commercial feasibility of importing and storing hydrogen on an industrial scale. This initiative is dubbed H2Gate. The parties are jointly working on a blueprint for an import, storage, distribution and trading hub, consisting of facilities with a total throughput capacity of 1 million tonnes of hydrogen per year.
Good starting position
The five parties expect hydrogen to play a central role in the transition to a sustainable energy system. This transition is necessary if we are to meet the European target of becoming climate-neutral by 2050.
The Amsterdam port area is well positioned to play an important role in this transition. For decades, the port has been a leading international hub for the trade in energy products. There are many initiatives underway in the region to develop a green hydrogen cluster, including production facilities. The H2Gate partners share the vision that alongside local production of hydrogen, imports are needed to meet future demand in Europe.
Building an international supply chain
Moving to overcome the challenges with transporting and storing compressed and cooled hydrogen, the H2Gate project is exploring several hydrogen carrier technologies in parallel, also to determine potential energetic and operational synergies between them. Subsequent studies into design and realization, including pilots, are conceivable.
As such the H2Gate project is an important step towards the realisation of an international supply chain for hydrogen on a commercial scale. Depending on the availability of green hydrogen worldwide and the growth of demand in Europe, such supply chains are expected to scale up towards the end of this decade.
According to Ramon Ernst, Managing Director of Evos Amsterdam, 'This project fits perfectly with our ambition to develop infrastructure solutions for a carbon-free energy future. The expertise of Evos lies in the storage and handling of large quantities of energy products and we would like to expand our portfolio with new clean forms. We are pleased to be able to work with capable and motivated partners towards a shared vision.'
Eduard de Visser, Head of Strategy and Innovation at Port of Amsterdam, shares this view, 'As the Port of Amsterdam, we want to be at the forefront of the energy transition. Our established position as a formidable, international energy hub means we have the infrastructure, the partners and the knowledge and experience to be a catalyst for new, sustainable energy products. We are proud to work with Evos and other partners on H2Gate. It shows how innovative and enterprising the Amsterdam port is.'
Samskip expands short sea network with liner service Grangemouth - Amsterdam
This past Saturday, the ms Vanquish of multimodal logistics company Samskip was welcomed at TMA Logistics in the port of Amsterdam. This reception marked the start of a new container liner service between the Scottish port of Grangemouth (owned by Forth Ports) and Amsterdam.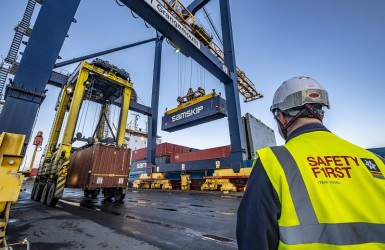 Over the past months, Samskip has significantly increased its services in Amsterdam, utilising the geographical location, hinterland connections and competitive advantages of the port to take advantage of recent and future market developments. This aligns with the strategic focus of Port of Amsterdam on the further development of its short sea and intermodal propositions.
This new service is an important step a few months before Brexit. There is increasing demand for reliable and efficient connections between the Netherlands and the United Kingdom, that will perform their tasks even in new, complex situations.
Additionally, Samskip sees growing demand from the Scottish market for transport options to continental Europe, including for food & beverages, paper and steel products. The port of Amsterdam traditionally has a strong trade relationship with the United Kingdom and this connections offers additional options for exporters to and importers from the Scottish and the North of England markets.
The short sea and intermodal connections have continued to grow in the port of Amsterdam over the last couple of months. In August, a direct rail service was launched between Amsterdam – Duisburg and Amsterdam – Wuhan by Samskip and Nunner Logistics. The cargo that is transported from Asia to Amsterdam is mostly destined for the British market and therefore plugs right into the short sea connections to the United Kingdom.
In addition to Grangemouth, there are liner services to Hull and Tilbury. Moreover, TMA Logistics also welcomed a new liner service to Norway, connecting the ports of Stavanger, Haugesund and Bergen to Amsterdam. These developments underline the attractiveness of short sea in the port of Amsterdam.
Koen Overtoom, CEO Port of Amsterdam, 'Europe's largest multimodal logistics company Samskip is an important strategic partner for us with regards to the creation of new logistical connections. With this service to Grangemouth, we are putting Port of Amsterdam further on the map in Scotland and we provide our clients with additional possibilities. This new, weekly liner service fits perfectly with our shared ambition with TMA Logistics to continue to expand our short sea network. The international partnerships we set up with parties like Forth Ports play a facilitating role in realising this ambition.'
David Besseling, Head of UK Trade at Samskip said: "Apart from the geographical advantage for some shippers, with TMA in Amsterdam Samskip also provide efficient cross docking and intermodal hinterland connections alongside our Rotterdam based services. It is great to see our customers supporting us to extend these benefits to the Scottish market too. The second weekly Grangemouth call will further improve the reliability of our overall short sea services enabling clients to further reduce their carbon footprint and provides more trailer conversion opportunities."
Commenting on the new service, Derek Knox, Senior Port Manager at The Port of Grangemouth said: "It's great news for Grangemouth and for the Scottish market that Samskip have chosen the port for this additional call on their growing short-sea European service. The Port of Grangemouth plays a key role in Scotland's logistics and freight sector and this additional call will increase the frequency of vessels connecting to mainland Europe and provide an enhancement to the current offering from the Port to the Scottish Market. Grangemouth is Scotland's key strategic freight hub with the country's largest container port. Samskip's customers will benefit from our efficient and fast turnaround times in addition to the many advantages that can be obtained from our key strategic location within Scotland."
Samskip launches Duisburg - Amsterdam rail service
Multimodal company Samskip and Nunner Logistics are launching direct rail services between Amsterdam and Duisburg, in a new and far-reaching commitment to shippers using rail, road and waterborne transport services out of two of North Europe's main container ports.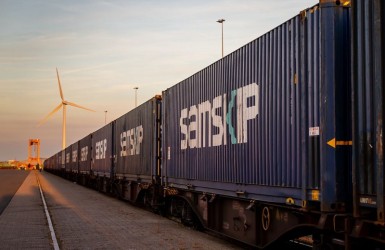 Press release by: Samskip
From August 20th, 2020, the new service will connect Samskip's rail terminal in Duisburg with TMA Terminal Amsterdam, initially with two weekly departures in each direction. Service frequency will increase to three roundtrips per week from September.
Nunner Logistics operates weekly trains from the Chinese cities of Xi'an and Changsha to Duisburg. With both Duisburg and Amsterdam linking seamlessly into Samskip's European rail, road and short sea network, the six-hour rail transit between the two provides a reliable and flexible transport option, optimized for prompt delivery of 40ft/45ft containers, reefer units, flat racks and tank containers.
The new rail shuttle has been launched in collaboration with TMA Terminal Amsterdam, the Port of Amsterdam and Duisport Group, with DistriRail to provide rail haulage services.
The first of its kind link to-from Amsterdam adds a new dimension to Samskip's weekly short sea service connecting to the Norwegian Westcoast, and for shippers using its three-times weekly departures to Hull and Tilbury. High frequency rail shuttles will also extend the penetration of short sea services into Amsterdam beyond Duisburg, to Sweden, Denmark, Poland, Italy and Turkey.
"We are excited to launch this missing link in our network and offer an even stronger intermodal product," says David Besseling, Samskip Head of UK Trade. "The combination of the Samskip rail and short sea service networks creates a variety of efficient long-distance intermodal services for a sustainable Door-to-Door solution. Together with our partners, we look forward to increasing frequency and geographical reach even further."
At Port of Amsterdam, we are a strong supporter of transport by rail. Rob Smit, Manager Hinterland said, 'Samskip's new rail service further strengthens the intermodal network in Amsterdam and is efficient, clean and safe. It further solidifies the strong trade position of our port and offers new opportunities.'
Erik Groot Wassink, Director Special Products at Nunner Logistics, comments: "Nunner Logistics transports a lot of containers from China destined for the UK on the new silk road, with most trains arriving in Duisburg without a suitable intermodal link onwards to the Dutch ports connecting to the UK. This new service bridges the gap, ensuring a sound intermodal connection for cargoes destined for the UK. It is also a wonderful intermodal addition for our services between the Netherlands, the UK and CIS countries."
"This greatly enriches our current rail shuttle services on this corridor" adds Sander de Roo, Managing Director, DistriRail. Duisport Group Chief Executive Erich Staake describes the connection as a "central project" in enhancing intermodal networks and supply chain resilience, while TMA Logistics Chief Executive Gerben Matroos sees the service as the means to "further shape Amsterdam's position as a short sea hub".
Fourth covered terminal commissioned
VCK Group commissioned its fourth covered cargo terminal in the Suezhaven in Amsterdam today.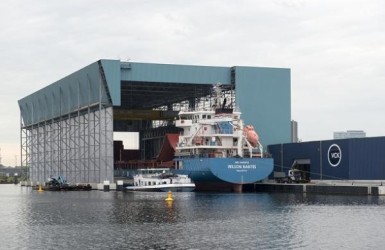 The All-Weather Terminal 4 has attracted an investment of around € 11 million. The commissioning of the new terminal means that covered transhipment capacity in Amsterdam has risen to between one and a half and two million tonnes. This now makes Amsterdam the largest provider of covered transhipment in Europe.
Developments in the market for all-weather transhipment have spurred growth in volume. Sea-going vessels are becoming larger and often require immediate transhipment between sea-going and inland vessels. The all-weather terminal is therefore three metres wider and four metres higher than the three terminals constructed previously. Moreover, Port of Amsterdam has applied for LME certification. With approval from the London Metal Exchange, the terminal will soon be able to attract cargo from the global market for industrial metals. LME certification is expected to be issued in early 2018.
The new terminal measures 100 metres long, 22 metres high and has a water depth of 30 metres; it is also equipped with a transhipment crane with a capacity of 50 tonnes. The commissioning was marked by a transhipment of steel coils from an inland vessel onto the sea-going vessel Wilson Nantes. The ship's owner Wilson is the largest user of all-weather terminals in Amsterdam.
An all-weather terminal is a terminal that allows sea-going vessels carrying weather-sensitive cargo, such as paper and steel, to keep their cargo dry while transferring it to other forms of transport, whatever the weather. These terminals comprise a large canopy over the quay and water, with an opening on both sides to allow vessels to pass in and out. At the top of the canopy is a crane which can move along the full length and breadth of the terminal to assist with loading and unloading cargo.
Amsterdam port area to be graced with new 'Royal' presence
With the arrival of Royal Huisman, the port of Amsterdam has attracted yet another yacht manufacturer with a Royal Charter. The company will be operating from the former Holland Jachtbouw wharf in Zaandam, which will be owned by Port of Amsterdam from the 14th of May 2019.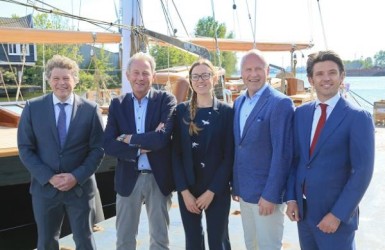 The Netherlands is a leading global player in the manufacture of superyachts. Royal Huisman is the second superyacht manufacturer to join the port of Amsterdam community, following Feadship Royal van Lent, which opened its facilities there in 2016. The arrival of Royal Huisman will generate high-quality jobs in, as well as bring innovation and craftsmanship to, the Amsterdam region.
Port of Amsterdam CEO Koen Overtoom: 'Our acquisition of the wharf and the decision to lease it to Royal Huisman is a boost to the manufacturing industry, which adds significant value to our port.
It is also an excellent way for us to promote our "Port of Partnerships" concept. The arrival of Royal Huisman to the Amsterdam port region is one step further towards fulfilling our goal of becoming a superyacht hub. The Amsterdam area is highly sought-after by yacht manufacturers owing to its highly skilled workforce, international airport and the celebrated Dutch sense of enterprise.'
Jan Timmerman, CEO of Royal Huisman: 'In extending our facilities in the Amsterdam region, we will be able to properly meet the growing demand among current and new customers. This second wharf will, over a longer period of time, serve as an excellent addition to our existing site in Vollenhove, both for new builds and for refits.'
The City of Zaanstad is likewise delighted with the arrival of Royal Huisman. Gerard Ram, Alderman for Economic Affairs: 'Shipbuilding has been well-established in the Zaanstreek area since the days of the United East India Company (VOC). Royal Huisman's arrival is a boon to the local yacht-building industry, leading to future economic growth. With its high-quality employment opportunities and low environmental impact, the company will help us achieve our plans of converting the Achtersluispolder area into a unique space that can accommodate both commercial and residential needs.'
Hiswa Holland Yachting Group also welcomes the arrival of Royal Huisman and the greater diversity of yacht-related services this will bring to the Amsterdam area.
Jeroen Sirag, Export Director at Hiswa Holland Yachting Group: 'We entered into a partnership with Port of Amsterdam in 2017 to put Amsterdam on the map as a superyacht destination among yacht owners and as a business location for superyacht manufacturers and suppliers.'
'This area has always been renowned for its craftsmanship and high quality standards. We offer our customers the full package: construction, maintenance and refits. This will bring excellent employment opportunities to the area.'
Bio-based welding gas production facility to open in the port of Amsterdam
The US-based Taronis Fuels will be launching its first-ever production facility in Western Europe in the port of Amsterdam. The new site will be dedicated to the production of bio-based welding gas, a fuel type commonly used in the construction and shipbuilding industries.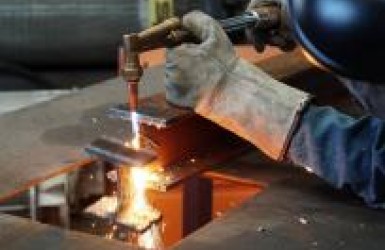 Taronis Fuels, a wholly-owned subsidiary of Taronis Technologies, decided on Amsterdam on account of its strong focus on sustainability and innovation, combined with a fertile sales market due to its proximity to the sea, good port-hinterland connectivity, and aviation links.
The process of cutting steel (including bar and plate elements) with welding gas (also known as acetylene gas) involves the use of ultra-high energy density in order to ensure consistently high flame temperatures. Since workers are exposed to certain safety risks, the use of the gas is subject to a number of very strict rules. The renewable variety of the fuel developed by Taronis Fuels, known as MagneGas, is an alternative to acetylene gas produced from several types of liquid waste.
The Amsterdam facility will initially be used for processing ethanol waste. MagneGas is regarded by numerous end users as significantly safer in terms of use, storage and transport than regular acetylene gas. Other benefits include its superior cutting properties and superior sustainability performance due to the use of ethanol waste.
Taronis Fuels' new site will be located on the Australiëhavenweg in the port of Amsterdam. The facility is scheduled to become operational in 2020, once the development of the production plant (due to start imminently) has been finalised.
Roon van Maanen, Port of Amsterdam's Head of Circular and Renewable Industry: "Taronis Fuels is an asset to our port, also in terms of our goal of attracting biofuel producers as we work towards creating a zero-emission industry. The current expansion of Taronis Fuels is a textbook example of how new technologies find their way to the market. Our focus on sustainability and our excellent links were critical factors in Taronis Fuels' decision to build their new site right here in the port. Obviously, we're delighted they ended up making that choice."
Turning citrus waste into value-added raw materials
PeelPioneers, an organic refinery for citrus peels, has been located in Prodock since 1 March 2017. Each year, more than 250 million kilos of citrus peels are thrown away in the Netherlands and then incinerated or fermented.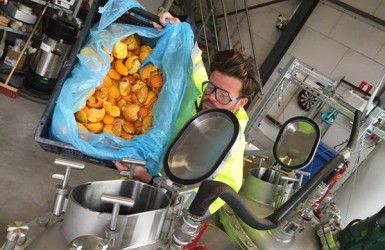 It's a pity these processing methods are used because the peels actually contain lots of valuable raw materials.
PeelPioneers has developed a process that makes it possible to convert these peels into, for example, fibres and aromatic compounds. These raw materials are subsequently processed into end products in various industries including the food, packaging and cosmetics sectors. This is how PeelPioneers transforms waste into raw materials and helps bring about the circular economy.
Since opening in March, PeelPioneers in Prodock has processed more than 200 kilos of orange peels a day that come from the catering facilities at Amsterdam Central Station. The ultimate aim is to upscale and to become the leading peel processor of the twenty-first century.
Biotech company ChainCraft to locate in port of Amsterdam
ChainCraft has chosen the port of Amsterdam as the site to build a demonstration plant in which biomass will be converted into fatty acids for use in animal feed.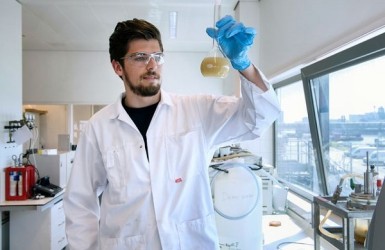 The biomass will initially consist of agricultural residuals, such as sugar beet and potato cuttings and peels. It may also be possible to use organic waste in the future.
The fatty acids are currently extracted from palm oil and fossil oil. The technology applied by ChainCraft makes it possible to replace these fatty acids with ones that are produced in an entirely circular way.
This will bring about a significant reduction in CO2 emissions. The realisation of the plant at this scale is unique in the world and represents a breakthrough in greening the chemical industry.
The construction of the demonstration plant follows a successful pilot that was conducted in the port of Amsterdam. This pilot was supported by a grant from the former DIHA fund (Port of Amsterdam Sustainability and Innovation Fund).
ChainCraft's ambition is to realise a full-scale commercial plant that is ten times larger than this demonstration plant within a few years.
Fourth Feadship yard taking shape in Amsterdam
Feadship has celebrated a major milestone in the construction of its fourth shipyard, located in a prime water-side location in the heart of Amsterdam.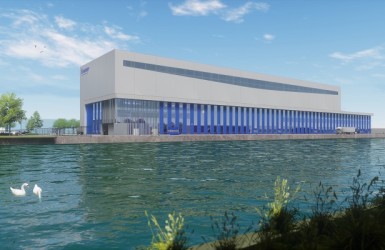 In the presence of invited guests, the first concrete was poured into the giant dry dock, part of an impressive feat of engineering involved in building such a facility in a city that is several metres under sea level. When completed at the end of 2018, the yard will also include a giant hall for building new superyachts of up to 160 metres in length along with refits of existing Feadships.
The Amsterdam yard will be the second facility operated by Royal Van Lent, which will also continue to operate its Kaag Island yard at full capacity. The two premises will share the same management team and corporate culture, with some 450 skilled employees from across the spectrum of outfitting and refit activities moving between the facilities when required. Along with the two Feadship yards run by Koninklijke De Vries in Aalsmeer and Makkum, there will now be a total of four Feadship facilities in the Netherlands.
Added attraction
The Dutch capital of Amsterdam is already a city with global allure, renowned the world over for its iconic buildings. Now the city will also be the launch pad for some of the finest superyachts available, matched only by those built at the other three Feadship yards.
More information: https://www.feadship.nl/press/fourth-feadship-yard-taking-shape-in-amsterdam.
Smart building hub in the Port of Amsterdam optimises construction flows and relieves roads
The growing number of construction projects in the Greater Amsterdam Area has created a need for a smart and efficient method for transporting materials to building sites.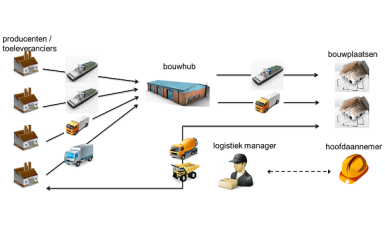 In an effort to meet this demand, the City of Amsterdam, Port of Amsterdam, Waternet and TNO (the Netherlands Organisation for Applied Scientific Research) have launched a partnership project in Amsterdam focussing on building logistics.
As part of the project, commissioned by the Ministry of Infrastructure and the Environment, the consortium partners will be facilitating the creation of a multimodal building hub in the Port of Amsterdam.
The multimodal building hub will be used to redirect a maximum amount of construction traffic from the road to the water from a single point located on the water. Combining different types of cargo before they are transported to the building site helps reduce the amount of construction traffic, which, in turn, reduces congestion and improves air quality in the city.
Keen interest among construction companies
An initial information session for businesses, held at Prodock in Amsterdam on 19 April, was attended by dozens of companies, which shared ideas on the possibilities and opportunities involved in using a multimodal building hub and transporting heavy-duty vehicles carrying building materials to the water by road.
One of the key outcomes of the session was that it sparked a keen interest among local businesses in getting involved in a pilot project to be launched later this year, eager as they are to help come up with improvements and solutions for the future.
The purpose is for construction-related companies based in the Greater Amsterdam Area to start operating this building hub and to use the hub in optimising construction flows toward building projects located in Amsterdam's city centre.
TNO to monitor building hub's effect
TNO's role in this project is to monitor the impact of using a multimodal building hub. The organisation has extensive experience in, and knowledge of, building logistics acquired in previous projects related to the Logistics top sector.
The pilot project will get underway in April 2018, with an initial evaluation scheduled for November 2018. If successful, the project will be rolled out across other construction projects in Amsterdam's city centre.
Target of emission-free urban logistics by 2025
Urban logistics tends to be associated with negative effects such as pollution and nuisance. The fact that logistics is a vital part of any city and facilitates urban life makes it necessary to improve the efficiency and sustainability of the logistics system.
The European Commission has set the binding target of eliminating harmful emissions such as particulate matter and carbon dioxide from city centres across Europe by 2030.
In the Netherlands, the Green Deal Zero Emissie Stadslogistiek ('Green Deal for Zero-Emission Urban Logistics') aims for emission-free urban logistics by 2025. This requires a variety of measures in a number of different areas, including not only studies into new technologies, but also numerous practical tests.
These tests should bear out that the proposed solution is both effective on a technical level and viable for the businesses involved from an economic and operational perspective.