Port of Amsterdam wants to be the frontrunner in transition
The City of Amsterdam has recently approved Port of Amsterdam's new Strategic Plan 2021-2025. This plan sets out Port of Amsterdam's strategic choices for the next four years. The main objective: to be a leading European Sea port in the transition to a sustainable society.
In order to realise this ambition, Port of Amsterdam is pursuing seven concrete objectives divided over three strategic choices.
Port of Amsterdam enables customers, cargos and operations to grow more sustainably
This is accomplished by attracting new sustainable activities, but also by linking producers of sustainable energy to existing clients in the port, or by ensuring that one party's residual flow becomes another party's raw material. Port of Amsterdam's objectives include attracting more circular process industry and growing non-fossil turnover.
The shipping process will be smoother, safer and more transparent
To optimally process the flow of goods, information must be exchanged between port authorities, shipping companies, ships, agents, terminals and nautical service providers. In concrete terms, the aim is that at least 95 percent of shipping arrives and departs on time. By cooperating with other Dutch ports as well, the port authority innovates faster and thus strengthens its competitive position.
Port of Amsterdam developes a future-proof port complex
Its infrastructure is the foundation of the port. Port of Amsterdam is developing it with the new sea lock and stronger hinterland connections by water, road and rail. There is a need for sustainable infrastructure, such as shore-based power, hydrogen fueling stations and bunker facilities for new fuels. An energy infrastructure is also needed for the sustainable processing of residues and raw materials. Port of Amsterdam is working on the availability of (green) hydrogen, steam, CO2 and the reinforcement of the electricity network. All this requires the creation of sufficient physical and environmental space, and (external) safety contours.
Creating a better and sustainable port
Koen Overtoom, CEO Port of Amsterdam, 'The great thing about this strategy is that we developed it together with clients and other stakeholders. It has ambition and we are also taking our responsibility as a sustainable, economic engine for the region. After our coal decision in 2017, where we indicated that we no longer wish to tranship coal in the port after 2030, this strategic plan takes us a step further, by setting concrete goals for alternative fuels and non-fossil revenues. This way, we are actively steering towards a sustainable port complex with ever decreasing CO2 emissions. At the same time, this ensures we will remain a strong player in Europe, which connects us to the world and makes us an important economic factor. We are pleased with the support of the City of Amsterdam for this new strategy and are eager to work with our clients to make the port more sustainable and to improve it.'
Find out more on the strategic plan on this webpage.
H2Gate: towards transhipment of 1 million tons of green hydrogen in the Amsterdam port
Port of Amsterdam and tank storage company Evos aim to import large volumes of green hydrogen into the Amsterdam port.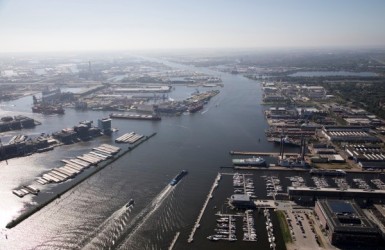 Over the next six months, they, together with three specialised hydrogen companies, will investigate the feasibility of large scale imports, drawing up a blueprintand outlining a roadmap towards 2030 and beyond.
Port of Amsterdam, Evos, Electriq Global, Hydrogenious and Hysilabs have joined forces to investigate the technical and commercial feasibility of importing and storing hydrogen on an industrial scale. This initiative is dubbed H2Gate. The parties are jointly working on a blueprint for an import, storage, distribution and trading hub, consisting of facilities with a total throughput capacity of 1 million tonnes of hydrogen per year.
Good starting position
The five parties expect hydrogen to play a central role in the transition to a sustainable energy system. This transition is necessary if we are to meet the European target of becoming climate-neutral by 2050.
The Amsterdam port area is well positioned to play an important role in this transition. For decades, the port has been a leading international hub for the trade in energy products. There are many initiatives underway in the region to develop a green hydrogen cluster, including production facilities. The H2Gate partners share the vision that alongside local production of hydrogen, imports are needed to meet future demand in Europe.
Building an international supply chain
Moving to overcome the challenges with transporting and storing compressed and cooled hydrogen, the H2Gate project is exploring several hydrogen carrier technologies in parallel, also to determine potential energetic and operational synergies between them. Subsequent studies into design and realization, including pilots, are conceivable.
As such the H2Gate project is an important step towards the realisation of an international supply chain for hydrogen on a commercial scale. Depending on the availability of green hydrogen worldwide and the growth of demand in Europe, such supply chains are expected to scale up towards the end of this decade.
According to Ramon Ernst, Managing Director of Evos Amsterdam, 'This project fits perfectly with our ambition to develop infrastructure solutions for a carbon-free energy future. The expertise of Evos lies in the storage and handling of large quantities of energy products and we would like to expand our portfolio with new clean forms. We are pleased to be able to work with capable and motivated partners towards a shared vision.'
Eduard de Visser, Head of Strategy and Innovation at Port of Amsterdam, shares this view, 'As the Port of Amsterdam, we want to be at the forefront of the energy transition. Our established position as a formidable, international energy hub means we have the infrastructure, the partners and the knowledge and experience to be a catalyst for new, sustainable energy products. We are proud to work with Evos and other partners on H2Gate. It shows how innovative and enterprising the Amsterdam port is.'
Missie H2 in the port of Amsterdam
Port of Amsterdam is committed to scaling up the production and use of hydrogen. We see green hydrogen as an important building block for the energy transition and a future product for the port.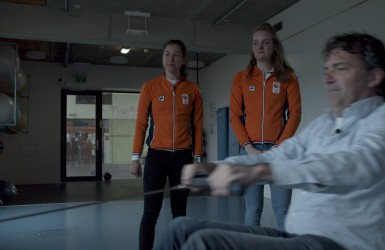 Together with Missie H2 we aim to make the Netherlands a hydrogen country. With the (water) athletes of TeamNL as the driving force.
But what exactly is the important role of hydrogen? And what are we already doing in the port with hydrogen? Eduard de Visser, Strategy Director at Port of Amsterdam, tells Olympic rowers Ilse Paulis and Marieke Keijser all about it.
Container barges have wind in their sails
Last week TMA Logistics did a test on container barge Ms Royaal with eConowind. This is a container with collapsible sails that can be sailed partly on wind.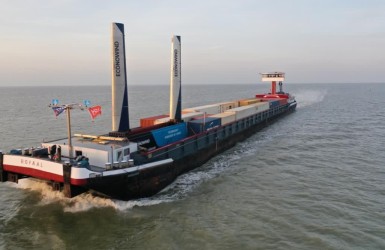 The container takes up little space and can therefore easily be placed on board (inland) vessels.
10% fuel savings with eConowind
On the IJsselmeer and the Wadden Sea, between Harlingen and Amsterdam, it almost always blows. This made that location ideal for testing the eConowind. Folding the system only takes five minutes. The test yielded a fuel saving of 10%. Enough reason to test this further.
Inland shipping connections with the port of Amsterdam
Logistics service provider TMA Logistics connects terminals in Harlingen, Hasselt, IJmuiden, Velsen and Amsterdam with the deep sea terminals in Rotterdam and Antwerp. TMA has fixed agreements with the deep sea terminals and bundles large volumes. With these inland shipping connections, fixed and reliable sailing schedules have been created for their customers.
Further greening
By using inland navigation, unnecessary waiting times with trucks are avoided. It also reduces traffic jams and CO2 emissions. TMA logistics wants to make their ships even greener. For example, by making more use of the wind, such as the eCono wind. TMA has also been using the MS Phoenix since 2018. This is a fully hybrid ship.
Port of Amsterdam supports blue hydrogen plant initiative in port of Den Helder
A plant to produce blue hydrogen on a large scale could be operational in Den Helder by 2027. Research by H2Gateway, a consortium of businesses and public bodies, shows that this is possible.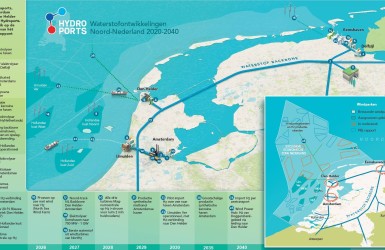 Port of Den Helder, Groningen Seaports and Port of Amsterdam are collaborating closely on a transition to a hydrogen economy under the name Hydroports. Hydroports believes that it is very important to construct the hydrogen backbone between these seaports. A blue hydrogen factory in Den Helder would provide an important stimulus.
The port of Den Helder is playing an important role in this initiative, according to Jacoba Bolderheij, managing director of Port of Den Helder: "Our port offers a unique location for a central blue hydrogen plant, thanks to the proximity of the gas fields under the North Sea and the presence of Western Europe's largest gas processing station. The gas infrastructure present in Den Helder together with the activity, knowledge and skills in that field can be used to speed up the supply of carbon-free hydrogen to industry elsewhere in the Netherlands. For this reason, this project also occupies an important position in the Regional Deal for Noord-Holland North which has recently been awarded by the Dutch government. Businesses in Groningen, Amsterdam and elsewhere in the Netherlands can also benefit from a blue hydrogen plant by allowing them to speed up their innovation towards more sustainable production without having to invest in carbon capture at their own location."
Blue hydrogen
Blue hydrogen is produced using natural gas, just like standard 'grey hydrogen'. CO2 is released when hydrogen is produced from natural gas. By capturing and storing this CO2 in empty gas fields it is prevented from entering the atmosphere. The hydrogen produced in this way is called 'blue hydrogen'. H2Gateway's blue hydrogen plant could boost industry's ambition to switch to carbon-free production technologies, and could reduce the total industrial carbon emission from the major industrial clusters in the Netherlands by some 14% and thereby make a substantial contribution to climate goals.
Amsterdam's hydrogen initiatives
Eduard de Visser, head of Strategy & Innovation at Port of Amsterdam, says: "We are working towards a carbon-free society, and are therefore opting for hydrogen as a sustainable energy source. A blue hydrogen plant in Den Helder fits well with the other initiatives that we are also developing under the Hydroports banner. We are, for example, working with Gasunie to examine whether a regional hydrogen pipeline between IJmuiden and Amsterdam is feasible. We are also looking at creating a 100 MW hydrogen plant with Nouryon and Tata Steel. This could produce 15,000 tonnes of green hydrogen per year. Hydrogen occupies an important place in the Dutch climate agreement. The potential introduction of a blue hydrogen plant brings a circular and emission-free economy a step closer."
A good national transport network - a hydrogen backbone - is required in order to develop an open market for hydrogen. The Ministry of Economic Affairs and Climate and the network operators TenneT and Gasunie are working on that hydrogen backbone in the Highway27 project in order to be able to connect all the regions. The blue hydrogen plant in Den Helder will be able to supply hydrogen on a large scale via that network. It would allow this plant to act as a stimulus for businesses that want to switch to hydrogen but are still hesitating because a 24/7 supply of green hydrogen on a large scale cannot be guaranteed in the near future.
Floating battery as clean energy source for city and port
Under the name Project Clean Amsterdam, Skoon Energy and Port of Amsterdam are launching a floating battery that provides the city and port with clean energy. In this way, the two companies contribute to relieving the burden on the electricity network.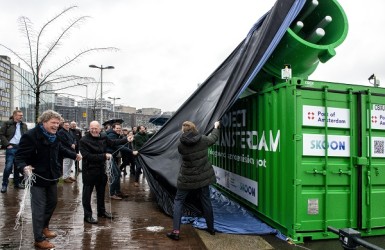 Because the battery is on a ship, green power is now available everywhere from the water.
Skoon is the platform where the use of mobile batteries is optimised by bringing supply and demand together. The platform offers all kinds of services to make the partial concept of temporary clean energy supplies as accessible as possible.
Port of Amsterdam uses the mobile battery to absorb temporary peaks in the shore-based power network. These peaks occur mainly in April and May. More river cruise ships will be visiting Amsterdam for the opening of the Keukenhof. The available shore-based power supply is not always sufficient. As a result, the moored ships turn on their diesel generators. This causes noise nuisance and extra emissions.
The battery supplies green power at peak times like these and does not cause any noise nuisance. The battery uses sustainable energy sources from the port such as Wind Farm Ruigoord, solar panels and energy from biomass from AEB. In this way it contributes to the ambition of Port of Amsterdam for a zero emission port.
Robin Schipper, innovation manager at Port of Amsterdam: "With this project we can absorb the peaks in the use of shore power for river cruise ships. With the current power connection we can now supply eight ships with shore power at one location, while power is required for ten ships. There are several times in a day when ships temporarily require more power. By switching on the battery at those moments, we create an extra buffer in the available capacity of the grid manager. Together with Skoon and Zoev City, we will also use the battery for the inner city of Amsterdam".
Daan Geldermans, co-founder of Skoon: "The possibilities of using mobile batteries are endless. For example, if there is work on the quays and bridges in Amsterdam, they can replace polluting diesel generators. Zoev City's electrically powered ship takes care of the transport of the battery. In this way we reduce pressure on the congested road network in Amsterdam and do not take up parking spaces. In addition, the battery substantially reduces noise pollution and emissions in the city. The floating battery is faster, smarter and cleaner!
Over the next six months, the floating battery will be used for a fortnight in the port, followed by two weeks of work in the city. Construction sites, events and film sets often need temporary power supplies. Traditionally, diesel generators are then used. With a growing network of mobile batteries and available grid connections, the step to an emission-free solution is a lot easier. Zoev City can deliver the battery to the city's capillaries via the canals.
There will also be a demonstration container on the Ruijterkade, near the harbour building. The joint task of the port and the city in the energy transition will be made tangible here on the basis of this project.
First degassing tests for barges underway in Port of Amsterdam
A trial involving innovative vapour recovery systems was launched in the port of Amsterdam today. The aim is to enable barges to recover vapours safely and in a controlled manner to prevent them from being released into the air. This marks a significant step towards clean shipping.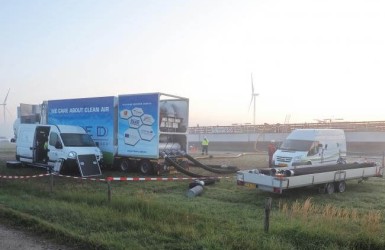 Testing by two companies
The North Sea Canal Area Environment Agency has given two providers, Triple D and 24/7 Nature Power, the green light to test their vapour recovery systems at the 'Groene Kade' ('Green Quay') in the port of Amsterdam in the week of 21 September. Both companies use a vapour recovery plant based on the mobile condensation principle (24/7 Nature Power) and for the combustion of the vapours (Triple D).
Port of Amsterdam has been working for many years on creating the conditions for safe degassing in the port. It is providing access to the public 'Groene Kade' for the tests as part of its efforts to make the port sustainable.
The Environment Agency, too, has been working on preventing illegal degassing for some time. Sensory systems known as 'eNoses' are being used as watchdogs to prevent illegal degassing, for example. This test represents an important next step.
Permit if successful
The tests involve establishing how the equipment is performing in terms of reducing the emissions of benzene and residual vapours containing benzene.
This determines whether the plant in question is meeting the set requirements. If the trials are successful, the providers will be able to apply to the North Sea Canal Area Environment Agency for a permit.
Independent measurements
The North Sea Canal Area Environment Agency has commissioned an independent agency to conduct the test measurements that can be used to establish whether the plants meet the strictest requirements or require further improvement.  
Prohibition on degassing during passage
Air quality is adversely affected by vessels degassing during passage in the inland navigation routes. This affects the health of local residents and the people working with these substances. On 1 March 2017 the Province of Noord-Holland banned the practice of degassing benzene and substances containing benzene as a measure to improve the environment and clean up inland navigation.
The industry has already succeeded in achieving a significant reduction in emissions in recent years, but this has not yet led to degassing being entirely ruled out. For that reason, the prohibitions are being extended in phases during 2020 into a national ban that will reduce the emission of these harmful substances by 98%.
National Taskforce on Degassing During Passage 
The results of the trials are being evaluated in the 'Taskforce on Degassing During Passage.' Cora van Nieuwenhuizen, Minister of Infrastructure and Water Management, set up this taskforce in 2018 to ensure the smooth introduction of the national ban.
The taskforce includes representatives of the central government, provincial authorities, ports, shipping companies, carriers, warehousing companies and vapour recovery providers.
In introducing the national ban, it is important that an infrastructure is put in place that features plants that are able to process or recycle the residual cargo vapours.
Questions? Now over to Eef
'Hi! I'm chatbot Eef, and I look forward to answering questions about your inland navigation visit.' These are the opening words of Eef, our brand new chatbot, that will be inviting boatmasters to ask questions about their visit to Amsterdam.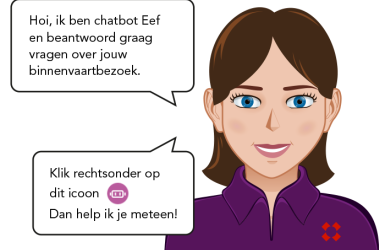 Eef will be coming online this month. At the moment she only speaks Dutch. 'We hope that this chatbot will make it far easier for inland navigation boatmasters to obtain information.'
From berths to waste disposal
Where can I dispose of my waste? What about the harbour dues I have to pay? Where can I find a berth? Not all boatmasters regularly come to Amsterdam.
'They have a lot of questions,' says Stefanie Meltzer, Manager of Customer Experience & Digital at the Port of Amsterdam. Last year, together with her colleague Pascale van Ommeren and various teams, Melzer conducted research into the boatmasters' customer journey. 'Time and again, we noticed and were told that they found our information very fragmented.'
Chatbot Eef helps everyone
Our chatbot Eef will benefit more than the boatmasters alone. 'It will also help our colleagues,' explains Stefanie. 'For example, the people who constantly take phone calls for all manner of questions. The port service is also hoping that the marine radiotelephone will be quieter. These days staff often find themselves having to answer practical questions that should be asked elsewhere. Once chatbot Eef is well-established, this will improve overall efficiency.'
Unique in the port community
According to Stefanie, Eef's success will depend on a range of issues. 'First of all, we will need to carefully look into whether the chatbot gives satisfactory answers to the boatmasters' most important questions. At present, Eef knows a lot about harbour dues, reports, berths, facilities, registration and contact. But we also have to bear in mind that a chatbot is an entirely new application for the boatmasters. It is still unique in the port community, and we're dealing with a target group that isn't used to being assisted in this way.'
Getting better and better
And yet, people are already growing accustomed to the chatbot. It's already been used a few times a day after being online for just under a month. For now, Eef is still a closed chat function. 'This means that a visitor to our site can scroll through a menu to find her answers,' says Stefanie. 'In the future, we'll see whether that proves sufficient or if we want to switch to an open chat session. Perhaps even a "real" colleague behind the scenes in case Eef doesn't know the answer. In the coming period, we'll continue to make improvements to the chatbot. Then we'll think about how to move forward.'
A tough name for a tough target group
So why is Eef called Eef? 'We cycled to the harbour with our laptops and asked the boatmasters what they thought about the chatbot', recounts Stefanie. They expressed a preference for a female chatbot. After a brief brainstorming session, we thought Eef seemed like a suitable name. A bit tough, but not too girlish because she does have to assist a tough target group, after all.'
Promote Eef
Curious? Meet Eef on our inland navigation page. We need user data to find out whether Eef adds value to our website. The more users, the better. So, it would be great if you could promote Eef in your network! And if you have any feedback for us or receive any responses in your network, please let us know by sending an email to pto@portofamsterdam.com.
Nouryon, Tata Steel, and Port of Amsterdam partner to develop the largest green hydrogen cluster in Europe
Nouryon, Tata Steel and Port of Amsterdam have joined together to study the feasibility of a large green hydrogen cluster in the Amsterdam region. The three parties consider green hydrogen as vital for reaching climate targets and building a more circular economy.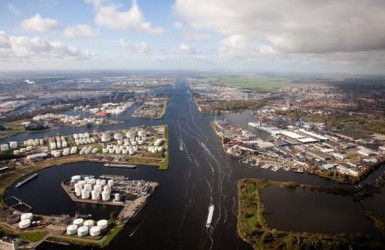 For example by combining it with emissions from steel manufacture to make new products.
As a first step, the parties will study the feasibility of a 100 megawatt water electrolysis facility to produce up to 15,000 tons of hydrogen per year as well as oxygen at Tata Steel's IJmuiden site, near Amsterdam. By using renewable electricity, the initial unit will enable a carbon saving of up to 350,000 tons of CO2 per year, equivalent to the emissions of more than 40,000 households.
A final investment decision is expected in 2021. The partner companies have the ambition to further scale up the technology.
Nouryon will operate the facility, while Tata Steel will use the oxygen to further enhance the sustainability of its production processes. The parties will jointly explore different routes to use hydrogen for turning steel mill emissions into useful chemicals and products.
Port of Amsterdam will focus on the infrastructure for further distribution of green hydrogen, which will be the basis for the development of new industries and zero-emission transport in the Amsterdam area.
"This partnership builds on our existing initiatives to support the development of a sustainable chemical industry," said Knut Schwalenberg, Managing Director Industrial Chemicals at Nouryon.
"Green hydrogen is a realistic alternative for fossil-based raw materials and enables new forms of green chemistry, such as using steel mill gas, CO2, or waste to make plastics and move to new, circular value chains," he said.
"Tata Steel is a strong supporter of hydrogen as a facilitator of the energy transition," said Hans Fischer, CEO of Tata Steel Europe. "This project could be a stepping stone to make large quantities of affordable hydrogen available in the future to enable us to become a CO2 neutral steel producer."
Koen Overtoom, CEO Port of Amsterdam, added: "Large-scale production of green hydrogen, fuelled by offshore wind, will enable the Amsterdam-North Sea canal region to make a leap forward towards a climate neutral circular industry. It will support our ambition towards synthetic fuels and synthetic kerosene and emission-free mobility."
The recently presented Dutch Climate Law sets an ambitious CO2 reduction target of 49% by 2030 compared to 1990. The parties believe that green hydrogen can make a significant contribution towards this target and aim to reach sufficient scale to absorb all emissions from Tata Steel's plant in IJmuiden and use it for the production of new materials.
The development of the green hydrogen cluster will also enable emissions-free buses and heavy transport in the entire Amsterdam area.
First hydrogen station at the Port of Amsterdam
Holthausen Energy Points (HEP) is to build the first hydrogen station at the Port of Amsterdam. Truck drivers and motorists will be able to refuel at the station 24 hours a day, seven days a week.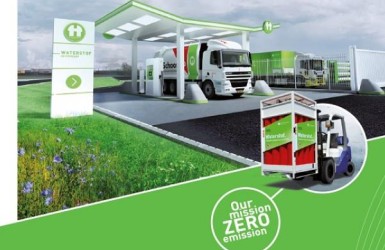 Work on the construction of the hydrogen station on Australiëhavenweg at the Port of Amsterdam will start in spring 2021.
To promote sustainable production of hydrogen at the station, the municipality of Amsterdam has issued a one-off grant of € 0.5 million. The municipality is also planning to install hydrogen fuel cell engines in its refuse vehicles. The first six of these refuse vehicles will be on the streets in 2021.
Marieke van Doorninck, Amsterdam Alderwoman for Air Quality and Sustainability: "Hydrogen-powered vehicles do not emit air pollutants such as nitrogen and particulate matter and contribute to clean air. And what's more, hydrogen produced with green power is also climate neutral. So the hydrogen station will help the city and the port achieve their sustainability targets. We want the municipal fleet to be emission free by 2030. Hydrogen is the perfect solution for our heavy-duty vehicles."
Stefan Holthausen of Holthausen Energy Points: "There are clear advantages to using hydrogen as a fuel source. Heavy-duty vehicles are emission free and have a greater radius of action. They also weigh less and can refuel at filling stations."
The hydrogen station will also refill hydrogen cylinders. This will enable local businesses to quickly and easily obtain hydrogen for their (construction) generators, and hoisting and lifting equipment such as forklifts.
Port of Amsterdam sees hydrogen as having an important role to play as an energy carrier that will support the achievement of climate targets. The availability of hydrogen will enable companies in the port area of Amsterdam to improve the sustainability of their logistics and transport systems. It will also allow them to use hydrogen as a component in the production of chemicals and fuels, such as synthetic kerosene for aviation.
Together with specialty chemicals company Nouryon and Tata Steel, the Port of Amsterdam is participating in H2ermes, a project that will enable large-scale production of green hydrogen with North Sea wind power. The port is also building a new vessel that will be powered by hydrogen fuel cells.
The municipality of Amsterdam is a partner in REVIVE (REfuse Vehicle Innovation and Validation in Europe). One of the objectives of this European project is to demonstrate that trucks with a fuel cell range extender are an effective emission-free alternative to conventional heavy-duty vehicles. The project has received funding from the EU's Fuel Cells and Hydrogen 2 Joint Undertaking (FCH JU).
Holthausen Energy Points received a grant for the construction of the hydrogen station under the DKTI-Transport scheme, which invites companies to demonstrate innovation in climate technologies and transport. The scheme supports the development of low or zero-emission transport solutions, electric vehicles and vessels, efficient ships, hydrogen as a fuel source, and the use of biofuels in aviation, shipping and heavy-duty road transport.