Port of Amsterdam wants to be the frontrunner in transition
The City of Amsterdam has recently approved Port of Amsterdam's new Strategic Plan 2021-2025. This plan sets out Port of Amsterdam's strategic choices for the next four years. The main objective: to be a leading European Sea port in the transition to a sustainable society.
In order to realise this ambition, Port of Amsterdam is pursuing seven concrete objectives divided over three strategic choices.
Port of Amsterdam enables customers, cargos and operations to grow more sustainably
This is accomplished by attracting new sustainable activities, but also by linking producers of sustainable energy to existing clients in the port, or by ensuring that one party's residual flow becomes another party's raw material. Port of Amsterdam's objectives include attracting more circular process industry and growing non-fossil turnover.
The shipping process will be smoother, safer and more transparent
To optimally process the flow of goods, information must be exchanged between port authorities, shipping companies, ships, agents, terminals and nautical service providers. In concrete terms, the aim is that at least 95 percent of shipping arrives and departs on time. By cooperating with other Dutch ports as well, the port authority innovates faster and thus strengthens its competitive position.
Port of Amsterdam developes a future-proof port complex
Its infrastructure is the foundation of the port. Port of Amsterdam is developing it with the new sea lock and stronger hinterland connections by water, road and rail. There is a need for sustainable infrastructure, such as shore-based power, hydrogen fueling stations and bunker facilities for new fuels. An energy infrastructure is also needed for the sustainable processing of residues and raw materials. Port of Amsterdam is working on the availability of (green) hydrogen, steam, CO2 and the reinforcement of the electricity network. All this requires the creation of sufficient physical and environmental space, and (external) safety contours.
Creating a better and sustainable port
Koen Overtoom, CEO Port of Amsterdam, 'The great thing about this strategy is that we developed it together with clients and other stakeholders. It has ambition and we are also taking our responsibility as a sustainable, economic engine for the region. After our coal decision in 2017, where we indicated that we no longer wish to tranship coal in the port after 2030, this strategic plan takes us a step further, by setting concrete goals for alternative fuels and non-fossil revenues. This way, we are actively steering towards a sustainable port complex with ever decreasing CO2 emissions. At the same time, this ensures we will remain a strong player in Europe, which connects us to the world and makes us an important economic factor. We are pleased with the support of the City of Amsterdam for this new strategy and are eager to work with our clients to make the port more sustainable and to improve it.'
Find out more on the strategic plan on this webpage.
Synkero builds facility in the port of Amsterdam, producing sustainable aviation fuel from CO2
Synkero, a project development start-up, was launched during the European Conference for Sustainable Aviation Fuel (SAF). Synkero aims to develop a commercial plant for the production of SAF.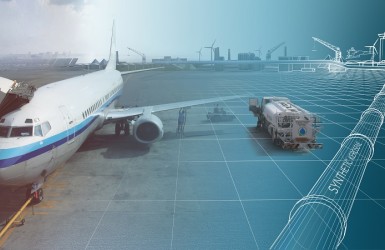 This so-called "e-fuel" will be produced using green hydrogen and CO2. This green hydrogen is produced from water and renewable energy. The factory will be located in the Port of Amsterdam, which has an existing kerosene pipeline to Schiphol Airport. The factory is scheduled to be completed in 2027. With this plant, Synkero's ambition is to produce 50,000 tons of sustainable aviation fuel annually. The production of sustainable aviation fuel is extremely important in order to achieve climate targets.
The current generation aircraft engines require liquid fuels. These aircraft engines cannot switch to alternative energy sources such as hydrogen or electricity in the short term. SAF is, therefore, the solution to drastically reduce CO2 emissions in aviation. This aviation fuel is known as a 'drop-in' fuel, meaning that pure SAF can be mixed with fossil kerosene. No further modifications to infrastructure or equipment are required. It is a clean, liquid alternative to fossil kerosene.
Synthetic SAF
Several technologies currently exist to produce SAF. One of these technologies is the synthetic route. As a feedstock, this 'e-fuel' uses CO2 from unavoidable industrial processes or the air directly. The CO2 is then converted to SAF through a chemical process in combination with green hydrogen. Synthetic SAF is sustainable in all aspects and does not contribute to further unsustainable practices such as displaced land use and deforestation. This route of producing SAF is also scalable and integral in making aviation more sustainable.
Start-Up
Synkero is a project development start-up. Together with partners Port of Amsterdam, Royal Schiphol Group, SkyNRG and KLM, Synkero will focus on realizing the aforementioned commercial SAF factory in the Port of Amsterdam. The project will seek to connect with sustainable initiatives in the North Sea Canal area, such as the Hermes project.
Joost Brinkman, Managing Director Synkero: 'To keep the world habitable, it is paramount that aviation also becomes sustainable. However, it is also one of the most challenging sectors to make emission-free. Cooperation, technical innovation, and European policy are all crucial for this. Therefore, we are delighted to have founded Synkero and, in close cooperation with our various partners, to take the next steps towards building a factory for the production of sustainable aviation fuel'.
Quote Koen Overtoom, CEO Port of Amsterdam: 'Making aviation more sustainable is very important for the region and the Netherlands. A factory in our port that produces SAF in a circular way fits seamlessly with our new four-year strategy to be a leader in the energy transition. This is a great initiative, and we are proud to be part of this great transition.'
Dick Benschop, CEO Royal Schiphol Group: "Worldwide people, business and countries are connected through aviation. To pass on that pleasure to future generations, we need to get rid of the carbon. Our goal is a net zero aviation sector in 2050. To achieve that, the development of sustainable aviation fuels is essential. With Synkero, we are taking the next step."
Jurrian de Jonge, Director Fuel, KLM Royal Dutch Airlines: 'As a sustainable aviation fuel (SAF) user, KLM welcomes initiatives that contribute to the further development of SAF. In 2019, KLM released Fly Responsibly, through which we commit to creating a more sustainable future for aviation. A cornerstone in our approach is to scale up SAF and its use. There are still many challenges in the field of synthetic kerosene, including the technology, the availability of green power, and obtaining CO2 from the air. This is why we have been working for some time with Synkero to help with research, and accelerating developments.
Port of Amsterdam welcomes new container service to Ireland
Samskip announced today that the company will start a new container service on the 25th of January, connecting the TMA Logistics terminal in the port of Amsterdam to the Irish port of Dublin.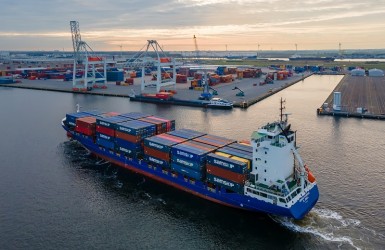 The service will start on fixed days, departing from Amsterdam on Monday and arriving in Dublin on Wednesday and returning to Amsterdam in the weekend. This expansion of the Samskip network is the latest in a series of its recent new connections via Amsterdam, including a direct rail service between Amsterdam – Duisburg and the addition of the Scottish port of Grangemouth to the UK connections this past summer/fall. It is another testament to the competitive position of the port of Amsterdam in the short sea and intermodal markets.
The service is launched at a time wherein direct connections between Ireland and the EU markets are of vital importance, as UK-routed cargo can run into Brexit related challenges. According to Thijs Goumans, Head of Ireland Trade Samskip, the service launch comes at a time when importers and exporters in Ireland-mainland Europe trades continue to weigh up options as the consequences of Brexit for supply chain management became clear. 'The Ireland-North Continent freight market is in a dynamic phase, and fixed day container services to/from Amsterdam provide the certainty on which supply chain managers serving the Dutch and German markets can base business growth,' said Goumans. Dependent on demand, Samskip will consider calls to connect other ports in Ireland to Amsterdam direct.
Michael van Toledo, General Manager TMA Amsterdam, also applauds the latest development. 'This new service could have been custom-made for our ambitions to grow as a hub for shortsea container business in Amsterdam.' It is the next step in our relationship with Samskip, targeting shippers' greater appetite for direct container services between Ireland and the North Continent, post-Brexit, with TMA's cross-docking services also winning over trailer operators in markets further south.' Richard Archer, Regional Director Samskip Multimodal, confirms the attractiveness of the port, 'Amsterdam is a high performance port connecting straight into the hinterland area and the entire Samskip Ireland team is delighted by this new commitment to pan-European transport.'
For Port of Amsterdam, the container service is another welcome addition to its short sea and intermodal network. Its strategic focus aims at leveraging its geographical position, hinterland connections, competitive advantages and strong commercial players into continued success in the short sea market. Koen Overtoom, CEO Port of Amsterdam, said, 'We are very pleased with this expansion of the short sea network of the port of Amsterdam. It underlines the strength of the services TMA Logistics and Samskip offer, as well as the strategic position of our port. Ireland is a key market, and especially in these rapidly changing times a direct connection such as this presents tremendous opportunities. As Port of Amsterdam, we will continue to work with TMA, Samskip and our international partners to make this service a success.'
Significant decrease in transhipment in 2020 due to energy transition and coronavirus   
The port of Amsterdam experienced a decrease in transhipment in 2020 for the first time in a long time. While transhipment was at a record high in 2019 at 86.9 million tonnes, in 2020 this number was 74.3 million tonnes, a 14% decrease, for the port of Amsterdam.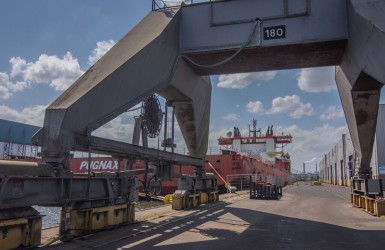 It wasn't only the coronavirus that caused the reduced transhipment numbers; it was primarily the energy transition that resulted in a significant decrease of coal transhipment in 2020. The other ports in the North Sea Canal area primarily felt the consequences of the coronavirus crisis. The total transhipment in 2020 for the North Sea Canal ports (Beverwijk, IJmuiden, Zaanstad and Amsterdam) amounted to about 91 million tonnes compared to 105 million tonnes in 2019.
In IJmuiden, transhipment decreased by 4% to 16 million tonnes. Beverwijk also saw transhipment decrease, from 648,000 tonnes to around 472,000 tonnes. Zaanstad experienced a slight increase from 194,000 tonnes compared to 180,000 tonnes in 2019. This is according to the provisional transhipment figures published today. The final transhipment figures will be announced later this year.
Impact of the energy transition on coal transhipment
The energy transition had major repercussions for coal transhipment this past coronavirus year, which decreased by 52% to 7.5 million tonnes in 2020 in the port of Amsterdam. In 2019 coal transhipment was still 15.6 million tonnes. Direct causes of this steep decrease were the closure of the Hemweg power plant in December 2019, the fact that more sustainable energy resources were available and that the gas price was low last year, making coal comparatively more expensive.
Impact of the coronavirus
Mobility came to a halt in mid-March, resulting in less demand for transport fuel worldwide. Transhipment of liquid bulk (mostly refined oil products such as petrol and diesel) decreased by 7% to 46.6 million tonnes in 2020 compared to 50 million tonnes in 2019. General cargo also decreased in 2020. Container cargo decreased by 13% compared to 2019 and Ro-Ro also experienced a 23% drop compared to the preceding year.
Amsterdam did not welcome any sea cruise ships in 2020 (2019: 117 sea cruise ships). The port of Amsterdam did welcome a number of river cruise ships during the summer months. These numbered 195 during last year's summer months when the coronavirus measures were temporarily relaxed, compared to 2,282 in 2019.
Allocations and a quay
In 2020, about 20 hectares of ground were allocated to Vollers (4.8 hectares) and Logistics Amsterdam Harbor (4.2 hectares), and a 2-hectare lot was purchased at HoogTij. The allocation to Amsterdam Logistic Cityhub was also completed. In addition, construction of the first bio-LNG plant in the Netherlands was started at Renewi Organics in cooperation with Nordsol and Shell. The cargo flow in construction products increased to almost 8 million tonnes.
Outlook
Koen Overtoom, CEO of Port of Amsterdam: 'The port and its customers were hard-hit by the coronavirus, and at the same time we are seeing that the energy transition is making its mark when looking at the major decrease in coal transhipment. I am proud of how the port and the various companies have continued to work, thereby proving how vital and crucial the port is. Core activities continued in 2020: energy was generated, waste was processed, water was purified, construction materials were delivered and the region was supplied with online orders by distribution centres located in the port. With a view to vaccination, I am hoping for a recovery over the course of 2021. Although it is difficult to predict transhipment developments due to the coronavirus at this time, we initiated our new four-year strategy on 1 January. This strategy is characterised by an acceleration of the energy transition through investment in the energy infrastructure and digitisation in order to become a future-proof port. Our efforts towards sustainability while simultaneously strengthening our role as a European seaport continue undiminished. With 7 billion added value and about 70,000 jobs, the North Sea Canal port creates many employment opportunities in the region and contributes to the Netherlands' economic well-being.'
Port of Amsterdam appoints new CFO
Alexander Kousbroek has been appointed Port of Amsterdam's new Chief Financial Officer (CFO) effective 1 January 2021. He will be succeeding Michiel de Brauw, who is resigning from his position on 31 December 2020.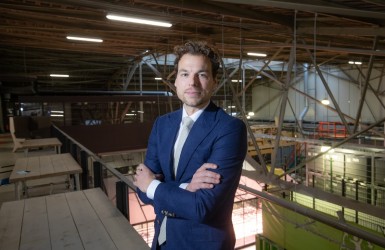 Kousbroek (40) has been working at Port of Amsterdam since 2015, including as Head of Finance and Control since 2016, a role in which he acquired extensive knowledge of and experience in the Port, including with its financial operations. Kousbroek has been the Port's acting CFO since 1 February 2020, having replaced Michiel de Brauw in the past year, who has been unable to perform his duties as CFO due to health reasons. De Brauw will remain employed at the Port, where he is set to undertake various projects.
Port of Amsterdam CEO Koen Overtoom: 'Alexander has really proved his value in recent months, during a time significantly complicated by the COVID-19 pandemic. He knows the company and our customers, and he is ambitious and results-driven. I look forward to continue working with him on a long-term basis.'
Port of Amsterdam Supervisory Board Chairman Koos van der Steenhoven: 'In appointing Alexander, we are ensuring continuity within our Board of Directors and in our company finances during uncertain times. Alexander is up to speed on everything, knows the business well and, as our acting CFO over the past year, has demonstrated he is well up to the job.'
In his role as CFO, Alexander Kousbroek is in charge of managing several departments at the Port, including Finance & Control, Risk Management, Business Control, Information Technology, Purchasing, and Legal Affairs.
Prior to joining Port of Amsterdam, Kousbroek worked for many years as an accountant at Deloitte. accountant bij Deloitte.
GPS expands terminal with rail track and three storage tanks for ethanol
Global Petro Storage Company (GPS) will construct a rail connection next to its current terminal in the port of Amsterdam. Three new tanks for the storage of ethanol will be added to its site as well. Combined, the volume of these tanks will total 15,000 m3.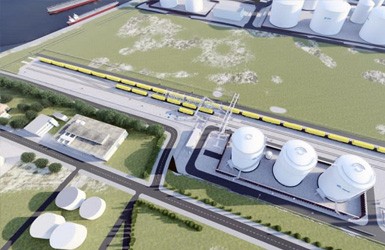 GPS is one of the first oil terminals to expand its activities with non-fossil storage. This fits nicely with our ambition to make as much capacity as possible available for alternative fuels.
With the new rail track, GPS contributes to an optimal rail connection to and from the port of Amsterdam. The GPS terminal will be the 15th terminal in the port connected to the rail network.
You can read more about the expansion of the terminal in the port of Amsterdam in the press release of GPS.
Samskip expands short sea network with liner service Grangemouth - Amsterdam
This past Saturday, the ms Vanquish of multimodal logistics company Samskip was welcomed at TMA Logistics in the port of Amsterdam. This reception marked the start of a new container liner service between the Scottish port of Grangemouth (owned by Forth Ports) and Amsterdam.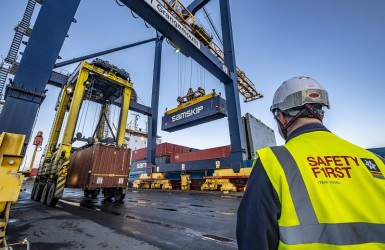 Over the past months, Samskip has significantly increased its services in Amsterdam, utilising the geographical location, hinterland connections and competitive advantages of the port to take advantage of recent and future market developments. This aligns with the strategic focus of Port of Amsterdam on the further development of its short sea and intermodal propositions.
This new service is an important step a few months before Brexit. There is increasing demand for reliable and efficient connections between the Netherlands and the United Kingdom, that will perform their tasks even in new, complex situations.
Additionally, Samskip sees growing demand from the Scottish market for transport options to continental Europe, including for food & beverages, paper and steel products. The port of Amsterdam traditionally has a strong trade relationship with the United Kingdom and this connections offers additional options for exporters to and importers from the Scottish and the North of England markets.
The short sea and intermodal connections have continued to grow in the port of Amsterdam over the last couple of months. In August, a direct rail service was launched between Amsterdam – Duisburg and Amsterdam – Wuhan by Samskip and Nunner Logistics. The cargo that is transported from Asia to Amsterdam is mostly destined for the British market and therefore plugs right into the short sea connections to the United Kingdom.
In addition to Grangemouth, there are liner services to Hull and Tilbury. Moreover, TMA Logistics also welcomed a new liner service to Norway, connecting the ports of Stavanger, Haugesund and Bergen to Amsterdam. These developments underline the attractiveness of short sea in the port of Amsterdam.
Koen Overtoom, CEO Port of Amsterdam, 'Europe's largest multimodal logistics company Samskip is an important strategic partner for us with regards to the creation of new logistical connections. With this service to Grangemouth, we are putting Port of Amsterdam further on the map in Scotland and we provide our clients with additional possibilities. This new, weekly liner service fits perfectly with our shared ambition with TMA Logistics to continue to expand our short sea network. The international partnerships we set up with parties like Forth Ports play a facilitating role in realising this ambition.'
David Besseling, Head of UK Trade at Samskip said: "Apart from the geographical advantage for some shippers, with TMA in Amsterdam Samskip also provide efficient cross docking and intermodal hinterland connections alongside our Rotterdam based services. It is great to see our customers supporting us to extend these benefits to the Scottish market too. The second weekly Grangemouth call will further improve the reliability of our overall short sea services enabling clients to further reduce their carbon footprint and provides more trailer conversion opportunities."
Commenting on the new service, Derek Knox, Senior Port Manager at The Port of Grangemouth said: "It's great news for Grangemouth and for the Scottish market that Samskip have chosen the port for this additional call on their growing short-sea European service. The Port of Grangemouth plays a key role in Scotland's logistics and freight sector and this additional call will increase the frequency of vessels connecting to mainland Europe and provide an enhancement to the current offering from the Port to the Scottish Market. Grangemouth is Scotland's key strategic freight hub with the country's largest container port. Samskip's customers will benefit from our efficient and fast turnaround times in addition to the many advantages that can be obtained from our key strategic location within Scotland."
Appointment of Head Cargo & Offshore
Alma Prins was appointed head of the new Cargo & Offshore cluster as of 1 November. This job opening arose after the departure of Femke Brenninkmeijer and the subsequent new cluster classification.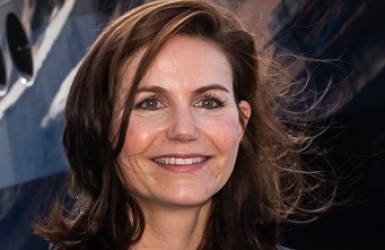 This new cluster classification means that Energy (especially the petrol and coal terminals) and Construction Materials, Metal Recycling and Industrial Minerals will be added to the existing cluster of Roon van Maanen, Circular & Renewable Industry.
This is in response to market developments such as diversification of cargo streams at coal terminals and collaboration between petrol terminals and production of renewable fuels. The cluster will henceforth be known as: Energy & Circular Industry.
Alma started working as a contract manager at Port of Amsterdam in 2009 after graduating in Business Administration at the University of Amsterdam and trying her hand in various real estate brokerage jobs. After this she was promoted to Account Manager Real Estate, and then ultimately worked as Commercial Manager in the cruise ship business in 2013.
For the past 3 years Alma has worked on developing the superyacht construction cluster for the Port of Amsterdam and launching it on the market. She has also worked and sailed for the Royal Netherlands Navy and has been a board member of the Port of Amsterdam Club (Amsterdamse Havenclub) for 5 years.
Alma is looking forward to taking this major step and working together with the team, commerce, the entire company and stakeholders to ensure that we can make our clients, cargos and activities grow more sustainably.
Follow-up
Alma's duties with regard to sea cruises will be assumed by Monic van der Heyden. Acquisition of the account and commercial management of superyacht construction will be decided later.
Building a wind farm: power for everyone
The Amsterdam/IJmuiden region and Port of Amsterdam are fully committed to (offshore) wind power. To facilitate the construction of wind farms, we are manufacturing and shipping various parts via the North Sea Canal Area.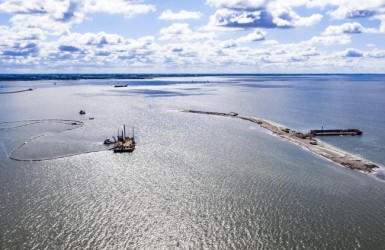 In a series of four interviews, we share everything about our views on building wind farms on the water. The first to speak: Joris Hol, project leader at Wind Farm Fryslân.
It will supply roughly 500,000 households with power: Wind Farm Fryslân. While energy expert Ventolines and Bouwconsortium Zuiderzeewind are working hard on the construction, the port of Amsterdam supports the logistics processes.
Blades, towers, hubs: via the capital city's port, all turbine parts make their way to the construction location at Breezanddijk in the IJsselmeer. And of course, so do the other components, such as Davit cranes and power cables. The Amsterdam region thus plays an important role in all this.
The world's largest wind farm to be built in an inland waterway
Joris Hol knows, better than anybody, just how much is involved in building a wind farm. As a project leader at Ventolines, he has worked on similar projects many times. This time, he's taking it one step further: coordinating the largest wind farm to be built in an inland waterway. He has been working on it for more than three years.
'A very challenging period', he says. 'It is not just the construction project that is sizable, but so are all the other extra tasks involved. For example, the works on the ground, like laying kilometres of power cables along the Afsluitdijk. Or building the transformer station along the A7 at Breezanddijk.'
Local, as much as possible
Ventolines decided early on in the process to work with local suppliers and partners as much as possible. 'This was also one of the demands from the shareholders', explains Joris. 'The province of Fryslân, for example, wanted this. They preferred a socially responsible approach, in which the expenses would trickle back to the residents of Friesland, as much as possible. For instance, in the way of employment opportunities.
We therefore had a Frisian company manufacture the internal platforms with cabling, for example. It required considerable time and energy. Bouwconsortium Zuiderzeewind rose to the challenge admirably. For instance, by conducting extra audits and safety inspections. At the same time, it was worthwhile to give the local companies an opportunity too. Not just the well-known parties that we always call on.'
Construction with respect for the surrounding environment
Corporate Social Responsibility (CSR) is essential when it comes to this project. 'It involves more than just local employment opportunities', says Joris. 'We want to be good neighbours to the people, animals and the surrounding environment. That is why we are building an island nature reserve so the bird populations in and around the IJsselmeer will have a foraging area.
Integration into the landscape was also high on our agenda. So, we did not opt for a square concrete box as the transformer house at Breezanddijk, but instead, a beautiful building with a unique architectural design, fitted with moving and reflective facade panels. The building seemingly moves with the water and wind around it.'
The transformer station will soon also be accessible to the public. There, visitors can obtain information about the station and wind farm's operations.
'This leaves everyone better off'
Amsterdam, relatively close to West Friesland...
While it is mostly Frisian companies who will help to build the wind farm, TMA Logistics, situated in the port of Amsterdam, turned out to be an excellent logistics partner.
Joris: 'The Alaskahaven in Amsterdam is large and deep enough to receive and tranship the turbine components that come from countries like China, Portugal, Morocco, Vietnam and Denmark. Sometimes, they require partial disassembly or deconstruction. The port of Amsterdam/IJmuiden is a linchpin in our project, and, thanks to its accessibility to the IJsselmeer, a logical choice for Zuiderzeewind.'
According to Joris, it is not just the port that offers many possibilities. 'The people do too. They are flexible and practical and see that offshore wind power is the future. That is precisely the energy that we need to get the turbines in Wind Farm Fryslân moving in 2021. Also, to facilitate the construction of large wind farms in the future, on the North Sea, for example.'
Operational in the summer of 2021
A great deal must still happen until then. 'We are already making excellent progress with the installation of the power supply on the land. We are also working hard building the transformer station that will convert the energy from the wind turbines to electricity. For now, we are right on schedule.'
The 'wet work', as Joris calls it, will start in September. Like getting the foundation piles into the water. And then, at the beginning of next year, construction of the actual turbines will start.
'We want to complete construction around the summer of next year. Then, roughly 500,000 households will have access to Frisian renewable electricity. Households that jointly reduce carbon dioxide emissions by more than 800,000 tonnes per year.'
Samskip launches Duisburg - Amsterdam rail service
Multimodal company Samskip and Nunner Logistics are launching direct rail services between Amsterdam and Duisburg, in a new and far-reaching commitment to shippers using rail, road and waterborne transport services out of two of North Europe's main container ports.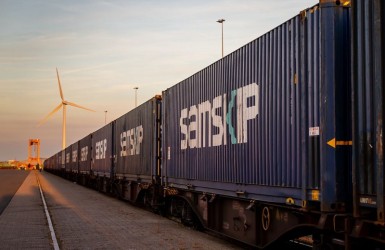 Press release by: Samskip
From August 20th, 2020, the new service will connect Samskip's rail terminal in Duisburg with TMA Terminal Amsterdam, initially with two weekly departures in each direction. Service frequency will increase to three roundtrips per week from September.
Nunner Logistics operates weekly trains from the Chinese cities of Xi'an and Changsha to Duisburg. With both Duisburg and Amsterdam linking seamlessly into Samskip's European rail, road and short sea network, the six-hour rail transit between the two provides a reliable and flexible transport option, optimized for prompt delivery of 40ft/45ft containers, reefer units, flat racks and tank containers.
The new rail shuttle has been launched in collaboration with TMA Terminal Amsterdam, the Port of Amsterdam and Duisport Group, with DistriRail to provide rail haulage services.
The first of its kind link to-from Amsterdam adds a new dimension to Samskip's weekly short sea service connecting to the Norwegian Westcoast, and for shippers using its three-times weekly departures to Hull and Tilbury. High frequency rail shuttles will also extend the penetration of short sea services into Amsterdam beyond Duisburg, to Sweden, Denmark, Poland, Italy and Turkey.
"We are excited to launch this missing link in our network and offer an even stronger intermodal product," says David Besseling, Samskip Head of UK Trade. "The combination of the Samskip rail and short sea service networks creates a variety of efficient long-distance intermodal services for a sustainable Door-to-Door solution. Together with our partners, we look forward to increasing frequency and geographical reach even further."
At Port of Amsterdam, we are a strong supporter of transport by rail. Rob Smit, Manager Hinterland said, 'Samskip's new rail service further strengthens the intermodal network in Amsterdam and is efficient, clean and safe. It further solidifies the strong trade position of our port and offers new opportunities.'
Erik Groot Wassink, Director Special Products at Nunner Logistics, comments: "Nunner Logistics transports a lot of containers from China destined for the UK on the new silk road, with most trains arriving in Duisburg without a suitable intermodal link onwards to the Dutch ports connecting to the UK. This new service bridges the gap, ensuring a sound intermodal connection for cargoes destined for the UK. It is also a wonderful intermodal addition for our services between the Netherlands, the UK and CIS countries."
"This greatly enriches our current rail shuttle services on this corridor" adds Sander de Roo, Managing Director, DistriRail. Duisport Group Chief Executive Erich Staake describes the connection as a "central project" in enhancing intermodal networks and supply chain resilience, while TMA Logistics Chief Executive Gerben Matroos sees the service as the means to "further shape Amsterdam's position as a short sea hub".