Local construction logistics by water
The port is closely connected to the city. Large quantities of goods and building materials are transported to and from the port by water every day.
De haven staat in nauwe verbinding met de stad
Dagelijks worden er grote hoeveelheden goederen en bouwmaterialen van en naar de haven vervoerd. Niet alleen over de weg, maar ook over het water. Want dat is een stuk schoner, sneller en efficiënter. Daarom zetten wij ons in voor lokale (bouw)logistiek over het water.
Zo faciliteren we bouwlogistiek over water:
Amsterdam Vaart
Er wordt flink wat gebouwd in Amsterdam. Denk aan de renovatie van de kades en bruggen, of de bouw van parkeergarages onder de grond. Hoeveel efficiënter en schoner zou het zijn als deze projecten via het water worden bevoorraad? Met het project Amsterdam Vaart! stimuleren we vervoer van bouwlogistiek over water, om zo de uitstoot en het aantal vervoersbewegingen in de binnenstad te verminderen. 
Bouw IJboulevard
Aan de IJ-zijde van het Centraal Station bouwt Gemeente Amsterdam aan de IJboulevard: een promenade langs het station, met een ondergrondse fietsenstalling. Een project dat óp het water wordt gerealiseerd. Daar komt veel precisiewerk bij kijken. Eind 2021 zijn drie immense tunneldelen voor deze stalling over het water van de terminal van TMA Logistics in de haven, naar de bouwplaats bij het station gevaren.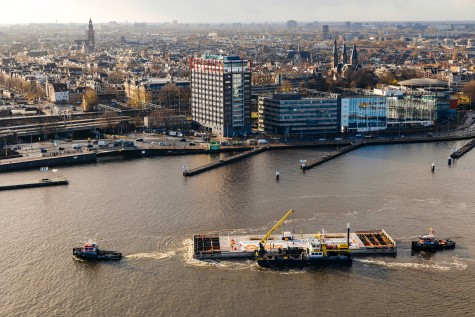 Logistieke hubs en opslag van bouwmateriaal
Verschillende terminals in de haven spelen een belangrijke rol in de logistiek van bouwmateriaal over water. Zo zijn de sluisdeuren van de Zeesluis IJmuiden een lange tijd overgeslagen bij TMA Logistics in de Afrikahaven. En ook de bladen, torens en hubs van de windmolens van Windpark Fryslân vonden vanuit de Amsterdamse haven hun weg naar de bouwlocatie op het IJsselmeer, over het water.
Project Amsterdam Vaart!
The municipality of Amsterdam, Waternet, TNO and the Port of Amsterdam are striving for cleaner and smarter city logistics and a more accessible and liveable city. Amsterdam Vaart! stimulates construction projects to transport construction equipment and materials by water wherever possible.
Are you a project developer, contractor or transporter? And would you like to know more or sign up for this? Then please contact us.
Direct contact with our expert
Would you like to know more about Amsterdam Vaart, construction logistics on water or do you have a project that you would like to apply for? Then please contact us:
We zetten de sluizen open voor lokale bouwlogistiek over water
In januari openden we in IJmuiden de grootste zeesluis ter wereld. Met deze nieuwe sluis is de Amsterdamse haven weer voor lange tijd van een betrouwbare zeetoegang verzekerd. Hiermee werken we samen met gemeente Amsterdam en de partijen in het Noordzeekanaalgebied aan een haven en havengebied die zich ontwikkelt tot een duurzame en circulaire energie- en grondstoffenhub. Zo zetten we ook in op het optimaal benutten van de mogelijkheden van logistiek over water. Dat is slimmer, schoner en efficiënter.