Port of Amsterdam is committed to scaling up the production and use of hydrogen. Do you want to know more about this energy carrier and hydrogen initiatives in the port of Amsterdam? Then read on or contact us.
Hydrogen for the port, city and region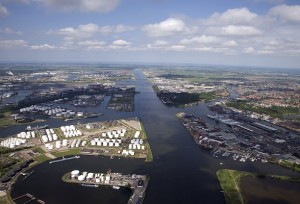 Hydrogen (H2) is an energy carrier with many applications. Not only for the port, but also for the city and region.
For example, green hydrogen can be used as a transport fuel, for households, for industry, as a sustainable industrial raw material and as energy storage to replace batteries.
The port will soon be able to produce, import, store and transport green hydrogen. It will also be processed as a raw material into other products. Synthetic fuels, plastics and fertilisers, for example.
Mission H2: Working together to raise hydrogen awareness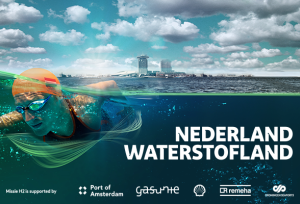 At Port of Amsterdam we promote hydrogen as a sustainable energy carrier. We do this together with Gasunie, Shell, Remeha, Stedin, Groningen Seaports and the Dutch Olympic Team (TeamNL). Our aim is to raise awareness of the sustainable potential of hydrogen among the Dutch public. We also want to draw attention to concrete hydrogen projects and initiatives.
The timing is excellent: hydrogen occupies an important place in the Dutch climate agreement. Initiatives are emerging everywhere. Japan also profiles the 2021 Olympic Games as 'Hydrogen games': hydrogen will power the games.
Visit the website of Mission H2 for more information.
Olympic rowers in the port of Amsterdam
What exactly is the important role of hydrogen? And what are we actually doing in the port with hydrogen?
Eduard de Visser, Strategy Director at the Port of Amsterdam, went out for Mission H2 with Olympic rowers Ilse Paulis and Marieke Keijser.
Hydrogen projects of the Mission H2 parties
First hydrogen filling station opened in Amsterdam port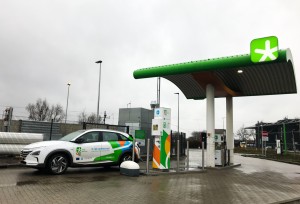 The first hydrogen filling station in the port of Amsterdam opened today. The filling station of OrangeGas is located on the Australiëhavenweg, along the A5 motorway and is open 24/7. This is another step towards a hydrogen economy.
Only clean fuels are offered at the location on the Australiëhavenweg. In addition to hydrogen, bio-CNG (green gas), electricity and liquid CO2 will also be added later, HVO100 and LBG. HVO100 is a synthetic fuel made 100% from residual materials from vegetable oils and fats. LBG is Liquefied Bio Gas.
Project H2ermes: green hydrogen for the Amsterdam region
With the H2ermes project, we are investigating the establishment of a 100 MW hydrogen plant on the Tata Steel site in IJmuiden, together with Nouryon and Tata Steel. This will make it possible to produce up to 15,000 tonnes of green hydrogen per year using sustainable electricity. Oxygen is also produced in this process.
The hydrogen can be used to make the region more sustainable. For example, by using hydrogen for public transport and transport, heating buildings or as a raw material for the development of new products and green fuels. This makes H2ermes an important part of making the Amsterdam metropolitan region more sustainable.
Hydrogen filling station of Holthausen Energy Points
Holthausen Energy Points is going to build a hydrogen filling station on the Australiëhavenweg. In mid-2021, trucks and cars will be able to refuel hydrogen here 24 hours a day, seven days a week. The construction of the filling station will start in spring 2021 and will be completed after the summer.
The station will also serve as a filling station, where hydrogen will be filled in cylinders. This filling station gives companies in the port easy and quick access to hydrogen. For example, for (construction) generators and hoisting and lifting equipment, such as forklifts.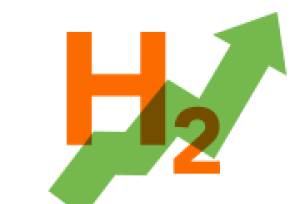 How can hydrogen help me to become more sustainable?
There are many applications for using hydrogen:
Industrial raw material
Hydrogen has been used as a raw material for decades. Among other things in the production of fertilizers and fuels and in the metal production industry.
In the Netherlands hydrogen is now produced by having steam react with natural gas, producing hydrogen (H2) and carbon dioxide (CO2). When CO2-neutral hydrogen (green hydrogen) is used, these CO2 emissions are avoided.
Port of Amsterdam, together with Nouryon and Tata Steel, is committed to scaling up the production of green hydrogen and making it available in the North Sea Canal area through the 100MW project.
Are you interested in using green hydrogen as an industrial raw material? Or is your company planning to establish itself in the port of Amsterdam and do you require hydrogen? Then please contact us.
Mobility and transport
Hydrogen as a transport fuel is seen as a good option for CO2-neutral transport, as long as the hydrogen is produced from a renewable source. This has the great advantage that transport units do not emit CO2 and other harmful elements. Only water and energy are produced in the process.
Hydrogen already presents several options for transport and mobility needs. They include hydrogen-powered passenger cars, but also trucks, hoisting and lifting equipment, and vessels.
Would you like to know more? Don't hesitate to contact us.
Energy carrier for industry
Hydrogen can be used to reduce the use of fossil fuels. As long as it is produced from renewable sources. Energy-demanding processes can be converted to hydrogen.
Examples include gas burners, steam generators and dryers. Hydrogen can be brought to the energy demand location using flexible transport (trucks, ships, etc.) and by a fixed transport solution in the form of a pipeline.
Household energy
There are various ways to make the heating needs of households more sustainable. The use of hydrogen is a realistic option, in addition to electrification through the use of heat pumps or district heating. Hydrogen can be added to the current gas network. But central heating boilers can also operate entirely on hydrogen gas.
Hydrogen gas can be supplied from the Amsterdam port, where there is room for the production of hydrogen. There are also good connections to the regional gas network.
Energy storage
Sustainable energy storage is essential to compensate for the surpluses and shortages of sustainable electricity production. Large-scale batteries are an option, but hydrogen can also perform this function well.
Hydrogen is produced cheaply by producing hydrogen via electrolysis when ample solar or wind electricity is available. Where batteries lose their energy over time, hydrogen does not.
Frequently asked questions about hydrogen
All about hydrogen
What is Port of Amsterdam's role in the hydrogen chain?
We see green hydrogen as an important building block for the energy transition and a future product for the port. There is currently a classic chicken and egg dilemma: production is waiting for sufficient demand, users are waiting for the production of green hydrogen at an attractive price. That is why we at Port of Amsterdam are taking on the role of breaking this impasse. We are doing this by:
taking the initiative to use hydrogen for one of our vessels;
participating in research projects for large-scale electrolysis;
informing and mobilising potential hydrogen buyers.
We are committed to scaling up the production of green hydrogen by electrolysis: green electricity is used to split water into hydrogen and oxygen. With the advent of large-scale wind farms off the coast, the North Sea Canal area is attractively positioned for the production of green hydrogen. The 100MW project with Nouryon and Tata Steel is a good example of this.
Hydrogen is a combustible gas, just like natural gas. That is why we have to be careful and we need effective user regulations and standards, just as there are for natural gas. However, before hydrogen burns, the right ratio to oxygen is required in addition to a flame. Hydrogen is not explosive in and of itself.
Is the use of hydrogen more dangerous than petrol, LPG or batteries?
Like any other fuel, hydrogen has its risks. However, with properly certified and professionally maintained equipment, the risks are no greater than in the case of LPG, for example.
Hydrogen is officially classified as 'highly toxic and explosive' (class 2.1), but petrol and LPG are also highly flammable. In practice, there is rarely a risk of explosion. This is because hydrogen is a light gas, so it rises rather than collecting just above the ground.
Can I use hydrogen for a forklift truck in an enclosed space such as a hall or shed?
Yes, provided the forklift is equipped with a fuel cell. With this system the hydrogen from the tank is brought into contact with oxygen (O₂) from the air. The reaction between the two substances releases electricity, which is used to drive an electric motor.
A fuel cell only emits water (H₂O) and heat. There is therefore no question of a fuel being burned or harmful substances being released.
To which subsidies for hydrogen can I claim?
Wouldn't it be better to use renewable electricity directly instead of converting it into hydrogen?
Electrifying the energy needs in industry, mobility and households is a good sustainability option. However, this is also very expensive, because it requires much more capacity from our electricity grid.
Research conducted by the province of Noord-Holland, the municipality of Amsterdam and Port of Amsterdam in cooperation with network operators Gasunie, TenneT and Alliander has shown that investments in hydrogen infrastructure are needed to substantially relieve the electricity grid in Noord-Holland.
Contact our experts
For wishes, questions or more information about hydrogen